SoundSticks Wireless Review: The 'Apple iSub' Is As Elegant And Powerful As Ever, But 'Wireless' Is Another Story
Review
The original Apple iSub Subwoofer and Harman Kardon SoundSticks are quite literally works of art: The transparent sound system -- a late 90's collaboration between the audio engineers at Stamford, Conn.-based Harman Kardon and Sir Jony Ive and his industrial and mechanical design team at Apple -- has been featured in the permanent collection at New York's Museum of Modern Art since 2000 as the first computer speaker to win awards in design.
In the 13 years since the original iSub and SoundSticks were introduced, Harman Kardon has released two iterations of the SoundSticks since -- SoundSticks II in 2005, and SoundSticks III in 2009 -- with each version making incremental improvements. Past models have added greater capacitive controls and stylized design swatches to better match the 2009 iMacs, but engineers have been careful to preserve the greatness of the original design, which earned an Industrial Design Excellence Awards gold award in 2000.
In late 2012, Harman Kardon announced its latest and most flexible SoundSticks yet, the Bluetooth-friendly "SoundSticks Wireless." New York-based photographer Damian Sandone was kind enough to help us take some shots of this unique, transparent sound system.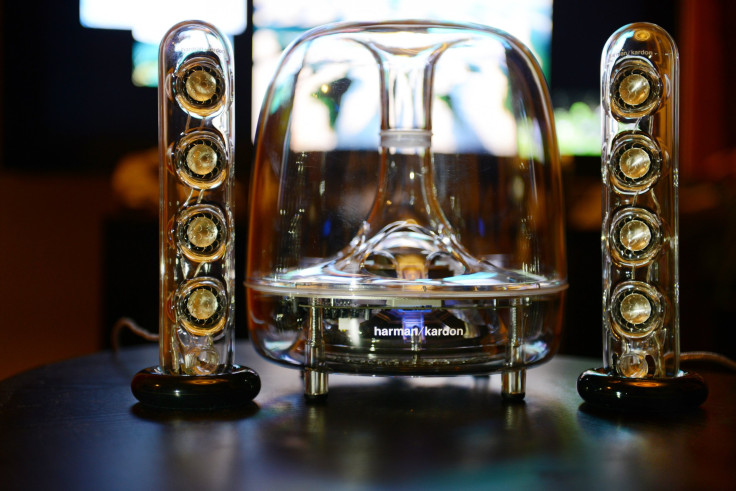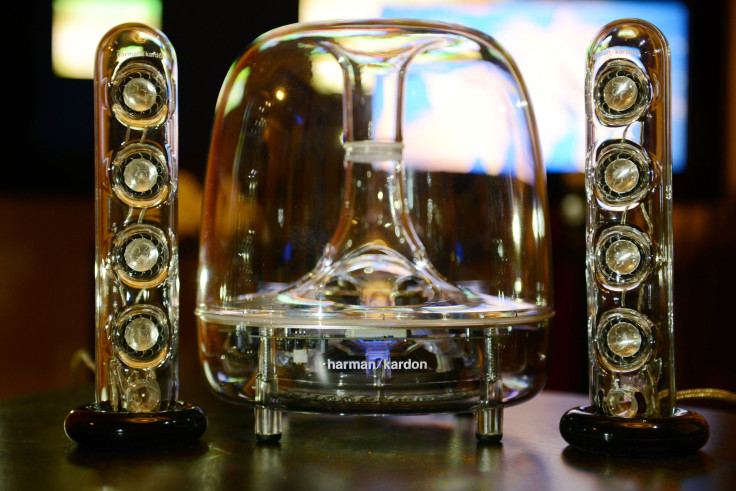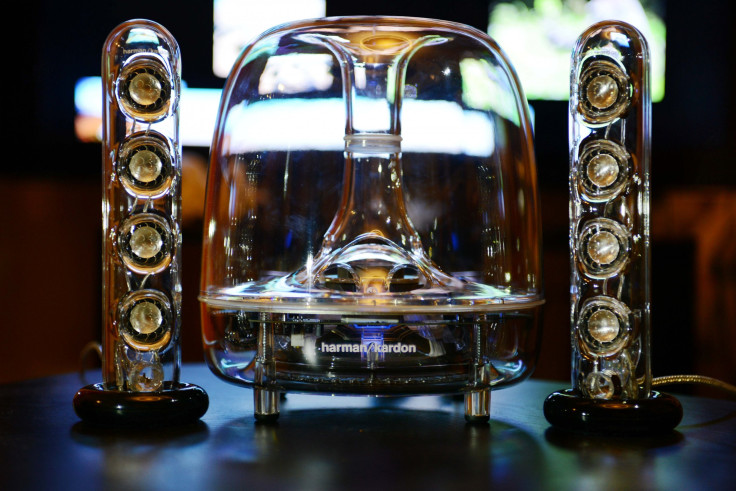 We've had a chance to spend an extensive amount of time with this sound system, and overall, we can confidently say this is an extremely strong offering from Harman Kardon. That said, the name "SoundSticks Wireless" may be misleading, as this device comes packed with plenty of wires to connect your audio device to the SoundSticks, the SoundSticks to the subwoofer, the subwoofer to the power source, and so on. The name "Wireless" simply means this device can also be paired with any Bluetooth-friendly device, which is convenient for users who stream music through their mobile devices. Otherwise, this system is identical to the SoundSticks III.
With that out of the way, the rest of this review will break down the two biggest elements of the Soundsticks Wireless: Its design, and its overall performance.
SoundSticks Wireless Review: Design
The original Apple iSub, according to Jony Ive, was inspired by a wind instrument "so sound could flow freely." The design was a testament to total transparency; similar to Apple's Bondi Blue iMac released just one year prior in 1998, every component within the iSub and SoundSticks was visible. Steve Jobs and Jony Ive shared the belief that product design should be just as beautiful on the inside as it is on the outside, and the iSub, as well as the iMac and even the architecture of the crystalline Apple Stores, are symbolic of that principle.
There isn't much to say about the SoundSticks design that hasn't already been said -- but that won't stop me from trying. The system is beautiful to look at, with its black highlights toward the base and the glowing lights to indicate power and Bluetooth, as well as the spaceship-like glass design of the subwoofer itself, which is still the star of the show (even though the name is "SoundSticks").
Speaking of those SoundSticks, the transparent satellites have a simple but smart design, with two sets of four 1 1/8-inch drivers in each SoundStick, and small volume controls on one of the two sticks, which was almost too subtle to notice.
The overall design is smart enough that I was able to assemble the system (satellites, cords and all) without needing to consult the booklet, which should make any Apple fan happy. That said, I did need the booklet on a few occasions, namely to find the volume controls on the SoundSticks (I originally wondered why they were so quiet), and learn that pushing in the subwoofer button is what activates the device in the first place.
Once you learn those two functions, this device is really a breeze to use, and despite its many cords, there's plenty of slack all around, so you should never get it too tangled in your things. That said, as "Wireless" as Harman Karmon would like you to think these speakers are, it's not the unit that's supposed to be mobile, just the audio device. So if you want a Bluetooth-friendly speaker to actually walk around with, this might not be your system; once you've set it up, you won't want to move it around too much.
SoundSticks Wireless Review: Performance
At the end of the day, design doesn't mean anything to an audiophile unless its performance can actually back it up. In this, Harman Kardon truly delivers in the SoundSticks Wireless.
With the two directional satellites and the powerful subwoofer that makes my desk feel like a car, I hear my music clearly, with highs and mids coming purely through the SoundSticks and the subwoofer generating deep lows without ever reaching distortion. Not only is the sound experience sensational, but its appeal to extrasensory stimuli is incomparable. Hold your hand above the SoundSticks' subwoofer and you can feel blasts of air with each pulsating beat; when you crank up the volume, the SoundSticks have the same effect as an air cannon.
Two of the biggest issues in speaker systems are sound distortion and proper volume gradation; distortion is never an issue with SoundSticks Wireless, and it's extremely easy to control the volume of your music to be as quiet or loud as you want to be, with all of it coming through clearly.
My only complaint with SoundSticks Wireless, unfortunately, is the system's newest feature -- the one that makes it "wireless" -- Bluetooth.
Similar to other new Bluetooth-friendly accessories from Harman Kardon, including audio products from its subsidiary JBL, SoundSticks Wireless boasts Bluetooth but doesn't get it quite right. Even though the system can be plugged into your computer but still play music from a Bluetooth device like an iPhone, I repeatedly had issues getting consistent playback with my devices over Bluetooth.
Sure, pairing SoundSticks Wireless with an iPhone or iPad is easy enough, but even when both systems show they're paired together, signals between devices and the system unexpectedly drop on a semi-regular basis. On average, I was able to play half a song -- maybe 45 to 60 seconds -- until my signal would drop without warning. Connecting and disconnecting my devices from Bluetooth didn't make a difference; I would have to walk over to the device, turn it off, and then turn it back on.
If Bluetooth is your main means of playing music, my extensive time with SoundSticks has found it to be an extremely trusty friend in playing music directly over a headphone jack, but isn't as "Bluetooth-friendly" as Harmon Kardon would like you to think.
SoundSticks Wireless Review: Verdict
SoundSticks will always be one of the premier devices from Harman Kardon, and in all, the 2012 SoundSticks Wireless is an excellent product with the high-quality audio that Harman Kardon customers have come to expect, and respect.
Its transparent design will get a "wow" from most of your friends or guests, but carrying it around from friend's house to friend's house isn't recommended; SoundSticks Wireless isn't heavy, but it's not exactly mobile either, and it's certainly not cheap to replace.
Speaking of, this beautiful device can be purchased directly through Harman Kardon for $230, and for the most part, it's absolutely worth the price. If you value classy but minimalist design and high-quality audio, this system's for you. If you like listening to loud music in your car and wish you could take that experience with you, this system's for you. Even despite its minor issues like Bluetooth playback -- and calling this system "Wireless" when it isn't -- this device is still museum-worthy. Not many speaker systems can back up a claim like that, but SoundSticks Wireless can, and does.
Grade: A-
© Copyright IBTimes 2023. All rights reserved.