South Carolina, Tennessee Considering Passage Of 'Bathroom Laws' [Video]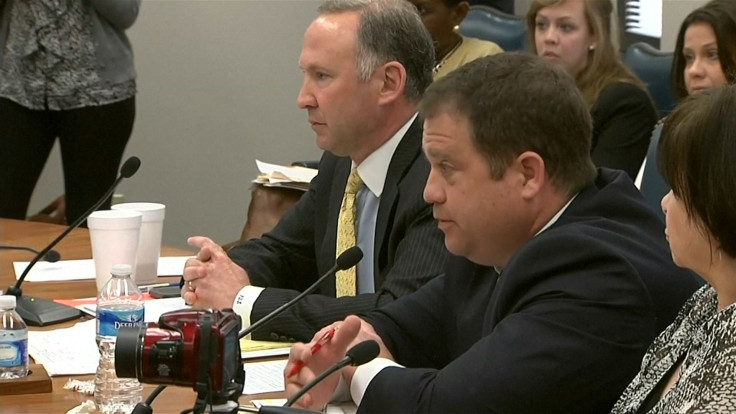 State legislative committees in Tennessee and South Carolina on Wednesday reviewed bills that would restrict transgender people from using bathrooms that did not match the sex with which they were born.
Similar measures in North Carolina and Mississippi have raised the alarm of transgender rights activists and citizens concerned the states would lose federal funding and business spending because of the laws.
Outside of the Tennessee State Capitol in Nashville, American Civil Liberties Union Executive Director Hedy Weinberg said she appreciates that people might not understand transgender issues.
"I have to believe this legislation was born out of some misguided fear rooted in a lack of understanding that transgender young people are just that — people — people who have struggled often from a young age with the sense that they knew who they are but it did not match the label that someone wrote on their birth certificate. Though legislators may have discomfort with things that they do not understand, or people who are different from themselves, that fear does not merit codifying that fear in a discriminatory law," Weinberg said.
At the South Carolina State House, three South Carolina mayors spoke out against the bill at the Senate General Subcommittee Meeting on Bathroom Privacy hearing on SB1203.
But bill supporters defended it as a public safety necessity.
"The problem and why we need these laws is, we're seeing laws being passed forcing and compelling — and fining people if they don't — to open up their bathrooms to members of the opposite sex. Which is why we need this response. We need the government to step in and say, "No, actually, government facilities, public schools you can maintain specific bathrooms,'" Kellie Fiedorek, an attorney for Alliance Defending Freedom, said.
"I don't believe transgender people are pedophiles. What I do believe is that men — grown, adult men that would choose to use these type ordinances that cities are pushing forward to allow whatever you identify yourself as that day to be your sex — would use this as a way to go in. I don't believe that transgender people are pedophiles, but I think that grown, adult men who would use this as a protection to violate young ladies in the restroom would be a problem with me," said state Sen. Lee Bright, the bill's sponsor.
Columbia Mayor Stephen Benjamin listed economic gains his city and others have made by attracting businesses, and said the bill could threaten them.
He also it would hurt people who were most in need of protection.
"This bill is an undisguised attack on some of our most talented and also most vulnerable citizens and their families, telling them that they're not welcome in South Carolina, and empowers harassment and violence against them, and strips some of the basic protections that would allow them to participate in public life," Benjamin told the subcommittee.
Florence Mayor Stephen Wukela made light of the bill, saying it was unnecessary.
"I came here from Florence today to report to the Senate that in the city of Florence, our bathrooms are just fine. They don't require any state supervision or regulation whatsoever, but we do thank you for your concern," Wukela said.
Deutsche Bank earlier Tuesday announced it was freezing plans to create 250 new jobs in North Carolina after the state enacted a law last month that bars transgender people from using bathrooms or locker rooms in schools and other public facilities that do not match the sex on their birth certificate.
Last week, PayPal Holdings canceled plans to open a global operations center in Charlotte, North Carolina, and invest $3.6 million in the area, and rock star Bruce Springsteen canceled a concert in the state to protest the law.
© Copyright Thomson Reuters 2023. All rights reserved.