Space Flyer Richard Branson's Top 6 Near-Death Experiences Revealed
KEY POINTS
Billionaire Richard Branson went to the edge of space Sunday
He recounted his many near-death experiences in his autobiography "Finding My Virginity"
He once got injured while bungee jumping off Victoria Falls as part of a television show about him
Long before his trip to space this weekend, billionaire entrepreneur Richard Branson has had his fair share of near-death experiences due to his adventurous nature and penchant for risk-taking.
On Sunday, Branson went on perhaps the greatest adventure he's had so far in his nearly 71 years. Aboard his Virgin Galactic spaceship, Branson went to the edge of outer space, which gave him a spectacular view of Earth as well as allowed him to experience a few minutes of weightlessness.
"I have dreamt of this moment since I was a kid but honestly, nothing could prepare you for the view of Earth from space," Branson told CBS News after landing. "It was just magical. ... I'm just taking it all in, it's unreal."
Prior to his space flight, Branson has narrowly avoided dying numerous times due to his many escapades over the years. Here are six of the most outrageous encounters the billionaire has ever had, in his own words, from his autobiography "Finding My Virginity."
1. Newly married and lost at sea - 1972
"Survived a fishing boat sinking on honeymoon with my first wife, Kristen, off Mexico. We decided to jump off the boat and swim for shore, while the others stayed put -- we were the only survivors."
2. A helping hand that saved his life - 1980
"I stubbed my toe while walking around Necker Island and suddenly fell down a gaping gorge. I managed to get my hand to the other side, and Steve Barron managed to rescue me, pulling me up before I fell to what would have been certain death on the jagged rocks below."
3. Free-falling with no strings attached - 1986
"On my first time skydiving, there was one cord that opened the parachute and one that got rid of it. I pulled the wrong cord by mistake. I was falling through the air before an instructor managed to yank my spare ripcord."
4. A flight above the clouds - 1987
"On the same challenge I lost my co-pilot when Per jumped into the Atlantic, leaving me alone in the hot-air balloon as it disappeared back above the clouds. I was convinced I was going to die. On that memorable flight... I managed to crash the balloon into the North Sea and was rescued by helicopter."
5. A bloody show - 2004
"Agreed to do a bungee jump off Victoria Falls as part of my TV show 'The Rebel Billionaire.' As I fell through the air I clipped my head on something and came back up with blood streaming down my face."
6. A marketing stunt gone wrong - 2007
"Jumped off Palms Casino in Las Vegas as we announced Virgin America's new route to the city. After initially refusing to do the jump, I reconsidered and plunged down the building at high speed in strong winds. I smashed painfully hard into the buildings. Fortunately, I hadn't spun around, so my backside hit the wall rather than my head. It completely ripped the back of my trousers off, cut my legs and arm open, and badly bruised my hand."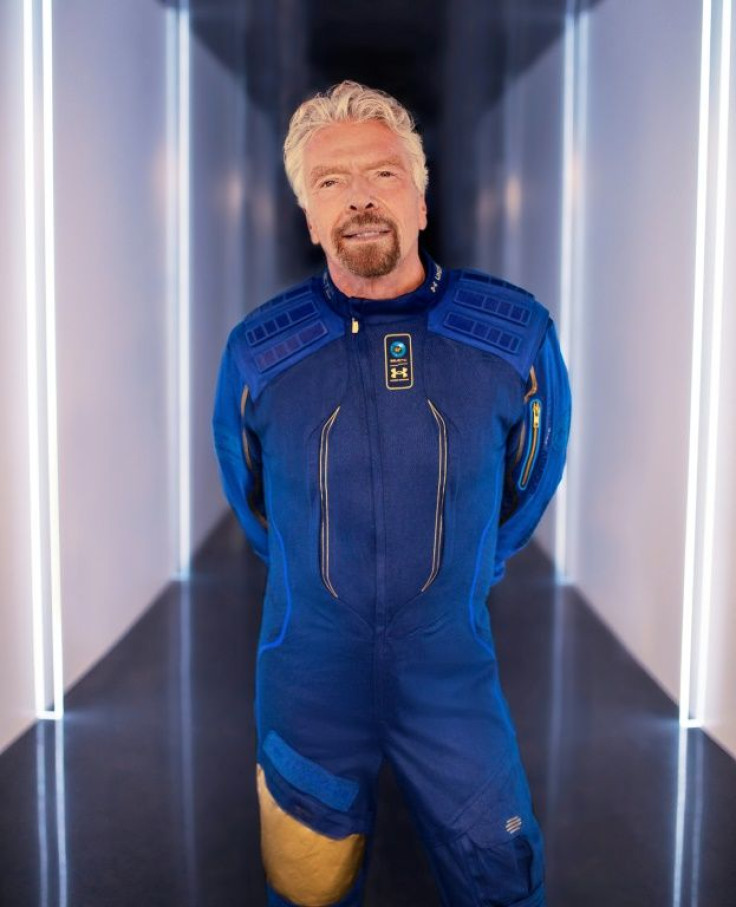 © Copyright IBTimes 2022. All rights reserved.
FOLLOW MORE IBT NEWS ON THE BELOW CHANNELS