Space Needle Lightning: Watch Seattle Tower Get Struck During Heavy Storm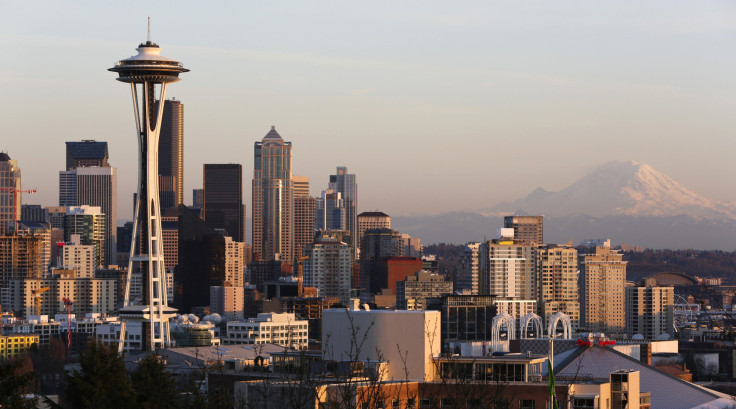 Seattle got more than just a vicious snowstorm on Monday afternoon. The National Weather Service said Seattle would receive 1 to 2 inches of snow--with the Eastside expected to receive more than 300 feet of snowfall. But on Monday evening, the state got more than just snow when a four-second video was tweeted by the building's Twitter account of a lightning bolt striking Seattle's Space Needle.
After the first video was tweeted, a second lightning strike followed almost an hour later, as more people caught the action and tweeted videos. Although not very rare according to officials at the Space Needle, who said it happens a few times a year, people were advised to remain alert. The Space Needle attracts lightning since, as one of the taller buildings in Seattle, it is more prone to being struck during thunderstorms.
On the roof of the space needle were 25 lightning rods in place to "withstand lightning strikes," according to the Space Needle website. There was no damage to the building due to the rods and spire itself, which grounded the strikes.
Though an exciting occurrence for Seattle, the Space Needle still has a long way to go to catch up to the most photographed building in the world, New York's Empire State Building--a regular to lightning strikes with an average of being struck 23 times a year.
Following the lightning strikes of Monday evening, the National Weather report in Washington released a hazardous weather statement at 3:45 a.m. PST Tuesday warning motorists and drivers to beware of icy spots in the roads. "Wet pavement following Monday's rain and snow showers combined with temperatures hovering around the freezing mark this morning will produce some icy spots on untreated Western Washington roadways," the statement read. The special weather statement predicted that temperatures would rise to warm above freezing before noon Tuesday.
© Copyright IBTimes 2023. All rights reserved.