'Spider-Man: Homecoming' Trailer: Twitter Reacts To Peter Parker's New Suit Tech
We're still several weeks away from the release of "Spider-Man: Homecoming," but to hold fans over until then, Marvel and Sony have released a new trailer for the upcoming movie.
The new "Spider-Man: Homecoming" trailer, seen above, is heavy on Tony Stark appearances and features a better look at Peter Parker's new suit. With a new heads up display and a voice assistant, Spider-Man's suit is very Iron Man-inspired and fans on Twitter aren't sure how to feel about it.
"Wow a Spider-Man with a suit designed by stark what an 'out there' concept," one Twitter user sarcastically tweeted. "Spiderman suit comes with Siri now. Great," tweeted another user. The overall reaction to Spidey's new suit appears to be mixed, with some fans loving it and others hating it. Check out some of the best Twitter reactions below:
But while Marvel movie fans come to grips with Spider-Man's new Tony Stark-designed suit, comic book fans were caught less off-guard. "Anyone concerned that Spider-man's new suit is too 'techy' shouldn't read Civil War. You'll be big mad," tweeted @JLBarrow. "People are pissed off about Spider-man's tech suit not being 'real' Spider-man. It's literally the Iron-Spider storyline from Civil War," another user said.
Releasing on July 7, actor Tom Holland, who plays Spider-Man in the film, promised the movie would be heavy on the action. Speaking with SlashFilm, Holland said, "We really pushed Spider-Man to new limits, and there are things we definitely have not seen before. Some of the abilities. And it's really fun."
He added, "We had a month before shooting where we just prepped stunts, and we trained and trained, and [George Cottle, stunt coordinator] really trusts me with my abilities and has let me do as many stunts as he feels comfortable with, so it's been really fun. I'm definitely excited for you guys to see stuff that Spider-Man has never done before."
As for Spider-Man's opponent in the upcoming film, the young superhero will be going up against Vulture, played by Michael Keaton. Like Spider-Man, Vulture has gotten a high-tech makeover in the movie which can be seen in the new trailer.
According to co-producer Eric Hauserman Carroll, the Vulture character "has a bone to pick" with Tony Stark and "sort of becomes the dark Tony Stark." Accompanied by his crew of Shocker and the Tinkerer, the team uses stolen tech and scavenged alien parts to create weapons to sell to criminals. "He thinks once he has this money and power, he'll have more control of his life," Carroll told USA Today.
"Some people see themselves as victims — he sees himself a little bit like that," Keaton said of the character. "He probably would have a strong argument that he never got a fair shot — a lot of 'Why not me? Where's mine?'"
"Spider-Man: Homecoming" stars Tom Holland, Michael Keaton, Zendaya, Donald Glover and Marisa Tomei. The film will be released nationwide on July 7.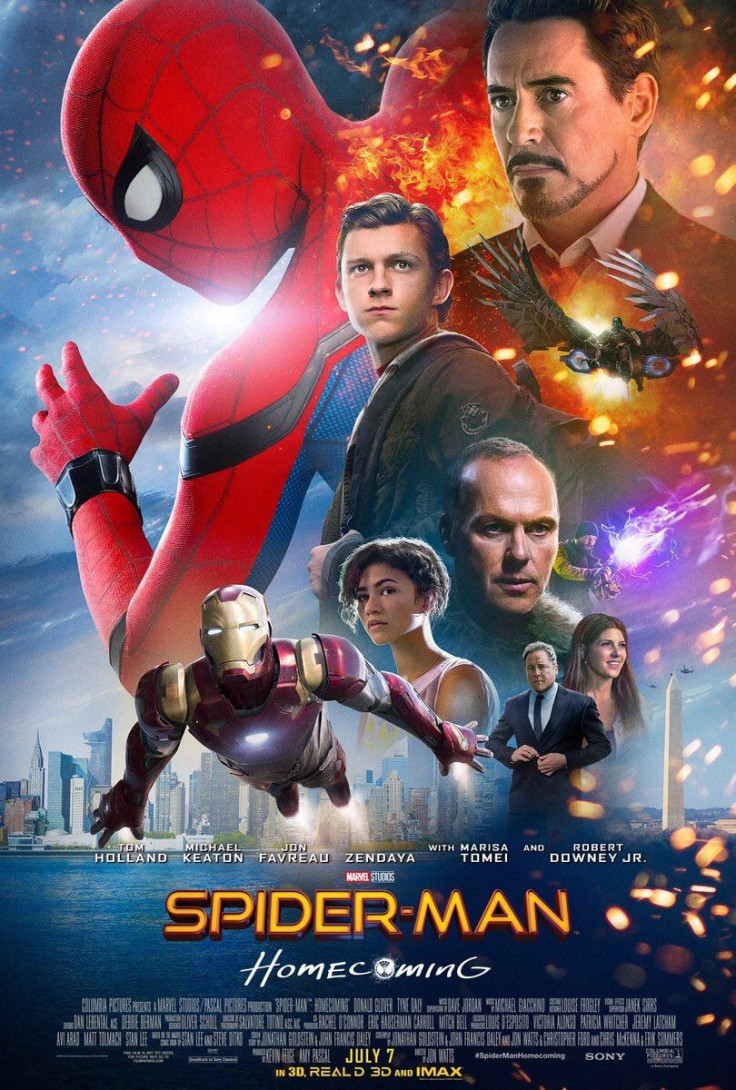 © Copyright IBTimes 2023. All rights reserved.