Spirit Airlines' New $100 Carry-On Fee Explained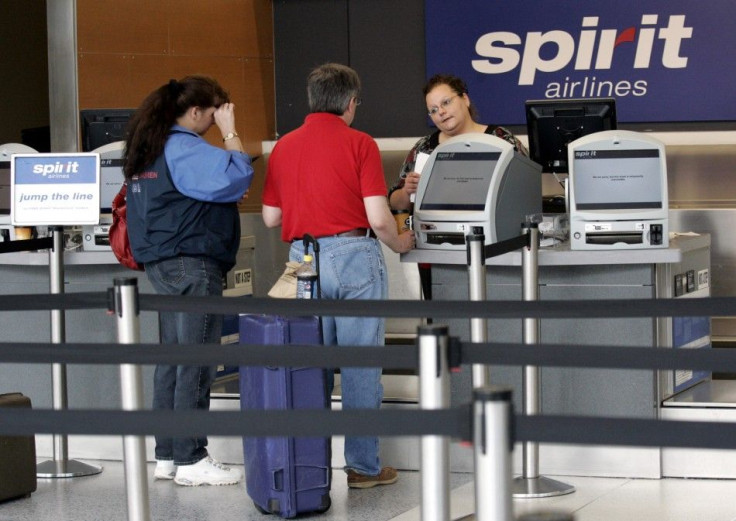 If you show up at the boarding gate for a Spirit Airlines flight with a carry-on bag, you can now expect to pay $100 to put it in the overhead bin.
In a potentially smart move by the "low-cost" carrier, it changed its policy on election day Tuesday, and news of the three-figure fee has been all but buried underneath a bombardment of political coverage.
Spirit did announce the change back in May, and spokeswoman Misty Pinson called the questionable timing "totally unrelated."
In fact, she wants people to know about the fee.
"What's most important is that we truly don't want any of our customers to have to pay $100 for a bag," she said in an email to IBTimes. "The fee is intentionally set high to encourage customers to reserve their bags in advance and it is meant to deter customers from waiting until they get to the boarding gate."
When customers wait until the boarding gate, she said, it delays the boarding process for everyone. As a caveat, Spirit includes priority boarding for those who've paid for carry-on bags.
The low-cost airline is known for its a la carte offerings and is credited with initiating the carry-on charge. It was the first airline to do so in 2010 and remains one of just two domestic carriers that charge for carry-ons after Allegiant Air followed suit earlier this year.
Spirit describes a carry-on as any bag that needs to go in the overhead bin. Smaller items that fit under the seat remain free of charge.
Starting Tuesday, passengers who wait to pay for their carry-on until they arrive at the gate will likely get sticker shock in the form the aforementioned $100 fee. The modified fee, up from $45, applies to both domestic and international flights.
Those who plan ahead, as Pinson notes, can save a substantial amount of money, though carry-on luggage paid for at booking will now cost $35 (up from $30). At online check-in, the rate is now $40 (up from $35).
Other fee changes on so-called "optional" services are laid out on the company's website. Most have increased between $5 and $10, though some international fees have been reduced.
Spirit claims these fees help keep base fares as low as possible.
"We empower customers to save money on air travel by offering ultra-low base fares with a range of optional services for a fee, allowing customers the freedom to choose only the extras they value," the company says on its website.
Essentially, Spirit argues that travelers who do not feel the need to carry much luggage or choose their seat may save a great deal of money in the unbundled pricing structure.
For those that do need these amenities, Spirit's Optional Fees page offers an expansive list of charges from seat selection to the "Unintended Consequences of DOT Regulations Fee." These fees ensure that your initial $20 airfare looks quite different when all is said and done.
But Spirit is not alone is raising its fees. Indeed, the way airlines make money these days is completely different than it was just five years ago.
Ancillary revenue grew to $22.6 billion in 2011, a rise of 66 percent in two years. This is according to a report commissioned by leading travel technology partner Amadeus and carried out by IdeaWorksCompany.
The study found that ancillary revenue, once largely limited to low-fare airlines, is now the lifeblood of many large carriers worldwide -- and big companies, according to the researchers, generate big results. The top 10 list of ancillary revenue generators is dominated by major brands in the global network like United Airlines ($5.2bn), Delta Air Lines ($2.1bn) and Qantas ($1.4bn).
Based on percentage of total revenue, however, Spirit Airlines led the way, generating a whopping 33 percent of its profits from additional charges.
© Copyright IBTimes 2023. All rights reserved.