Spoiler King! Hoshi Casually Reveals Seventeen's Second Comeback In October During Birthday Live [Watch]
KEY POINTS
Hoshi casually spoiled Seventeen's next comeback during his birthday live stream
Seventeen recently made its comeback with the album "FML" on April 24
Hoshi released the new track "Stay" on his birthday as a special treat for fans
Birthday celebrant Hoshi casually spoiled Seventeen's next comeback during his birthday live stream.
On Thursday, Seventeen member Hoshi went live on Weverse – an online community where artists can interact with their fans – to celebrate his birthday with Carats, Seventeen's fans.
During the 40-minute live, the birthday celebrant casually spoiled Seventeen's second comeback schedule in October.
"Our S.Coups hyung has effortlessly spoken about the two comebacks this year during the CARATLAND, but we haven't said when so it's that kind of situation in October," Hoshi casually blurted out, much to the fans' surprise.
"Even if I don't say October, you guys probably already know. Right?" he added.
Though it's no secret that Seventeen planned to have two comebacks this year, the date of the second comeback hasn't been disclosed yet.
Seventeen recently made its group comeback with its 10th mini album "FML" (Fight For My Life) on April 24.
The album featured two title tracks, "F*ck My Life" and "Super." "Fire," "I Don't Understand But I Luv U," "Dust" and "April Shower" completed the six-track album.
The 13-member group's "FML" album is currently the second South Korean album with the highest first-week sales on Hanteo with 4,550,214 album copies sold, beating BTS' "Map Of The Soul: 7" with 3,378,633 first-week sales.
Seventeen also sold 4,640,000 album preorders for "FML," beating BTS' 4 million and 3 million preorders for "Map of the Soul: 7" and "Map of the Soul: Persona."
As of press time, Seventeen's "FML" is the second South Korean act with the highest number of album preorders next to Stray Kids' "5-Star."
"FML" became the all-time best-selling K-pop album during its release in April, both in actual sales and preorders.
The best-selling album has also become Seventeen's first album to chart on the Billboard 200 chart for four consecutive weeks, according to Soompi.
As a special treat to Carats on his birthday, Hoshi released the song "Stay."
At noon on his 27th birthday, Hoshi posted an intriguing teaser photo, which he then followed up with his selfie with a tiger cake in the evening.
He captioned his selfie with "CARATs horanghae," which means "I tiger you." "Horanghae" is a special phrase coined by the Seventeen member that combines the Korean words "Horangi" (tiger) and "Saranghae" (I love you), according to Koreaboo.
At 10:10 p.m. KST, the birthday celebrant finally uploaded the music video for "Stay" on Seventeen's YouTube channel.
Fifteen hours after its upload, the music video gained 786,656 views on YouTube.
After Hoshi's unintentional spoiler about Seventeen's second comeback, fans can anticipate an official announcement soon.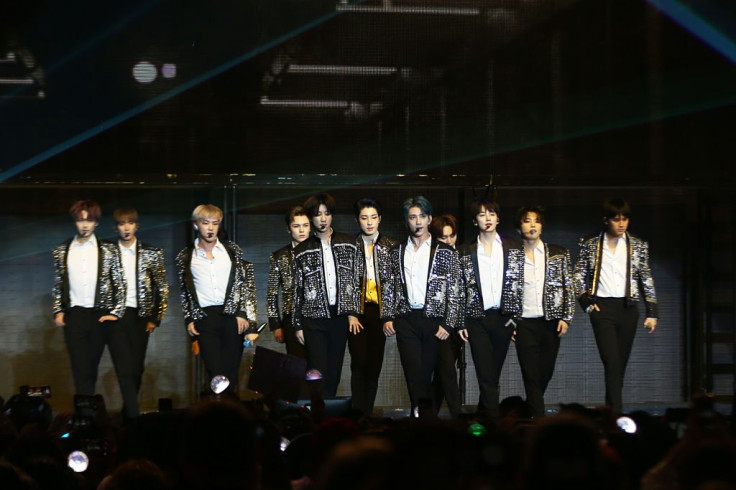 © Copyright IBTimes 2023. All rights reserved.