Is Spotify Making 'Indie' Artists Rich? Depends On How You Define 'Indie'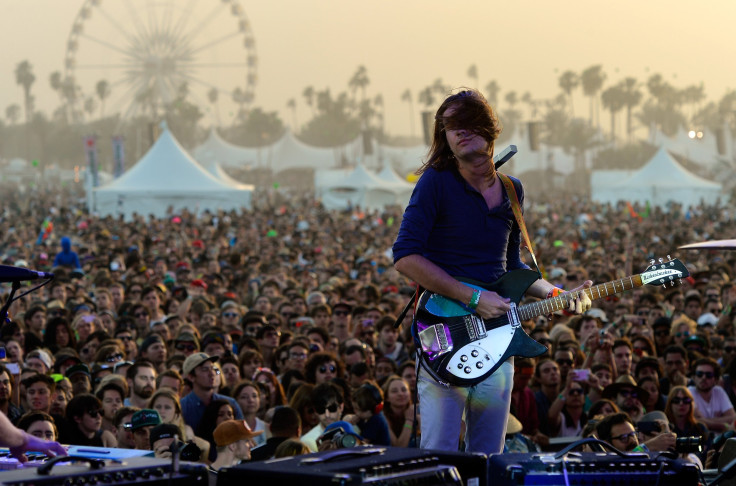 Earlier this week, Spotify released a graph suggesting that indie artists on its service weren't just surviving – they were making pretty decent money, and they were about to become millionaires. As part of a posting announcing that its service now has 20 million subscribers, Spotify said that a "indie/niche artist" typically earns $700,000 a year from its service, a total that would rise to $1.2 million with so many new subscribers now paying into the company's royalty pool.
"More people listening on Spotify means more payouts to the creators of the music you love," the post read. "As we grow, the amount of royalties we pay out to artists, songwriters and rights holders continues to climb faster than ever."
For many artists, as well as for advocates who have long complained that Spotify does not pay a fair amount for streams, that number came as a surprise. "That was pretty shocking," said Kurt Feldman, a sound designer and engineer who spent many years living as a working musician with the bands The Pains of Being Pure At Heart and the Depreciation Guild. "I don't know what they consider indie."
What's Indie?
According to a Spotify spokesman, the company used a number of criteria to identify the artists it classifies that way, including the number of Spotify users accessing that artist's music on a monthly basis and how many albums that artist sold, both in physical and digital formats. While the spokesman declined to share the number of monthly active users that fit its indie definition, he did offer the range of sales that it considered indie and niche for a U.S. artist: between 100,000 and 300,000 albums a year.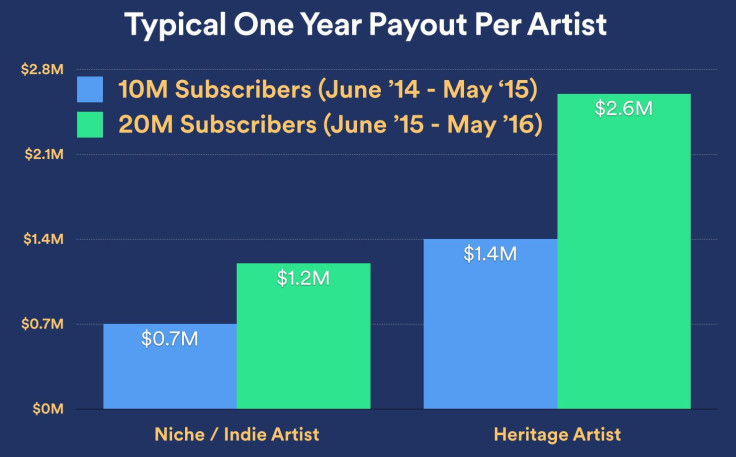 Those kinds of sales, considered respectable but not newsworthy in the days before music was widely available in digital form, are less common in 2015. "If we look at the top 200 chart from last year, there's barely 200 albums in total that sold 100,000 copies," said David Bakula, Nielsen's senior vice president of analytics. "Obviously, if you've got a couple albums in your catalog, that makes it a little bit more possible. But there's just not that many albums that sell that kind of quantity."
Asked how many artists might be selling at those levels, Bakula said it would be difficult to guess. "I don't think it would be a very big number," he said. Spotify declined to say how many so-called "indie" artists it had on its platform, noting that the number changes from year to year.
Paying Artists
As Spotify has grown, from a small startup in Sweden into a company valued at more than $8.5 billion, it has been dogged by accusations that it does not pay artists fairly. The company has vociferously defended itself, citing billions of dollars paid out in royalties and pointing repeatedly to the fact that 70 percent of its revenues automatically go to labels and publishers.
But to some detractors, those numbers do not add up.
"Music creators at all levels of the business, from indie artists like Zoe Keating, to veteran hitmakers such as Rosanne Cash & Bette Midler, to new generation hitmakers like Ne-Yo & Aloe Blacc have shared their numbers," Content Creators Coalition President Melvin Gibbs wrote in an email to International Business Times. "Their numbers are nowhere near the numbers Spotify released."
Part of the problem with Spotify's math may be the fact that they are using the average, rather than the median, of this indie population's earnings. But what further clouds the picture are the arrangements each artist makes with her respective label, publisher and management, which are often complicated and opaque. Feldman, for example, says that in one year, the Pains of Being Pure at Heart earned close to $25,000 from Spotify. But after the band's label, publisher and others had claimed what they were owed under various contracts, the band was left about a thousand dollars. "It's far less than that by the time it gets to the band and then split up four ways," Feldman said.
Long-Tail Revenue
Bakula stressed, however, that the revenue artists were seeing from streaming services like Spotify was growing in a meaningful way; last year, Nielsen, which owns Soundscan, announced that it had begun factoring streaming data into its charts.
Streaming, Bakula says, winds up extending the economic life of albums after they've been released. "You're getting a lengthening of the monetization," Bakula said. "Album sales are so heavily crunched to the front. The consumer has been trained to buy it on the first day."
Streaming, by contrast, comes in much more steadily -- "Streaming stays up over time," Bakula said -- and a look at Billboard's charts bear that out. Albums like Adele's "21," which came out nearly four years ago, are still clinging to a spot on the chart thanks to healthy streaming numbers; that album's hit, "Rolling in the Deep," has been streamed on Spotify more than 157 million times.
Indie Or Not?
Here are a few artists who recently qualified as indie acts based on their album sales. Do you consider them indie? Let us know.
FOR FREE to continue reading
✔️ Unlock the full content of International Business Times UK for free
offer available for a limited time only
✔️ Easily manage your Newsletters subscriptions and save your favourite articles
✔️ No payment method required
Already have an account? Log in
© Copyright IBTimes 2023. All rights reserved.