Spotify Party: New Feature Adjusts To Moods But Will Every Party Now Sound The Same?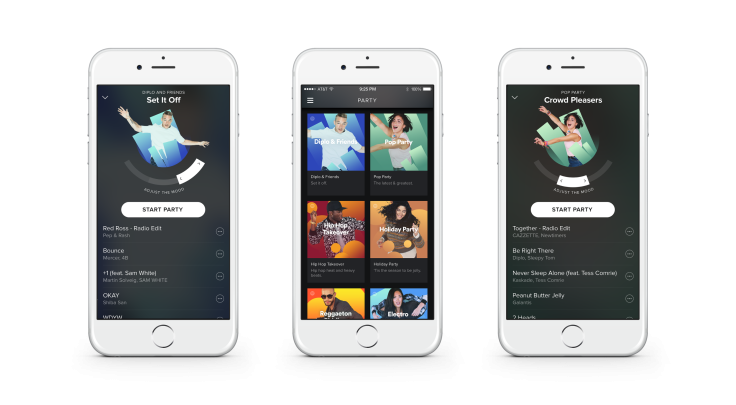 Spotify wants to DJ your next celebration. The streaming music service announced a new feature, Spotify Party, which gives listeners access to premade mixes that they can adjust based on the mood they'd like to set, as well as mixes assembled by star DJs and producers. The first of these was created by Diplo, a Grammy-nominated producer and DJ, though the company says several more will follow.
"When it comes to throwing parties you simply have to have the right playlists – or everyone will leave," Diplo said in a statement accompanying the release.
Spotify Party, then, will give listeners the chance not just to pick the right kind of music – hip-hop or holiday, for example – but to adjust that music's vibe. Spotify Party features a kind of dial that allows listeners to switch the energy level of the music being played. A party that's crested and is petering out might want a lower tempo or energy level, while one that's packed to the gills might require higher energy music.
This is the third adaptive feature Spotify has rolled out this year. In May, the company unveiled Running, which played music for listeners based on how quickly they were running, or how quickly they wanted to run, if they set it up to play music with a certain tempo. Shortly thereafter, it launched Discover Weekly, which gathers 25 songs into a personalized list based on each specific listener's activity on the service. That service has enticed more than 1 billion streams so far.
While adding a Diplo-curated list will surely attract some listeners, it's clear that Spotify's acquired some pretty good taste in party music. Prior to the launch of Spotify Party, the service had already published several context-specific lists, like Teen Party, Hipster Dance Party, and K-Pop Party, and many had upwards of half a million followers, with some, like Teen Party, having grabbed as many as 1.6 million.
The feature is rolling out gradually to Spotify's users.
© Copyright IBTimes 2023. All rights reserved.