'Spy X Family' Episode 5 Promo, Spoilers: Will The Forgers Pass The Interview?
KEY POINTS
"Spy X Family" Episode 5 is releasing Saturday
The episode will stream on Crunchyroll
The anime is based on the original story by Tatsuya Endo
The mission of Anya Forger to secure a seat at Eden Academy hangs in a balance in "Spy X Family" Episode 5. The new episode is titled "Acceptance or Rejection."
The official promo trailer of "Spy X Family" Episode 5 shows Loid, Yor and Anya enjoying dinner together as a family after the stressful parent-child interview at Eden Academy.
The second half of the preview shows Loid and Yor in the middle of a fight sequence and likely executing a covert mission.
Episode 5 of "Spy X Family" will likely reveal if Anya and her family have passed the test or not.
In the last episode, the Forgers arrived at Eden Academy and before they could even reach the interview room, the faculty, headmasters and other staff of the academy were checking their elegance quotient.
"The day they had been preparing for has finally arrived! The Forgers are fully prepared and head to the interview. As soon as they enter the school grounds, Loid feels someone watching them. All of the applicants were being observed from the shadows by the instructors of the academy," read the official synopsis of "Spy X Family" Episode 4, as per Crunchyroll.
"The exam had already begun. Housemaster Henderson, who would be grading their performance, kept a keen eye on how the Forgers were acting and seeing if they were truly worthy of the prestigious Eden College," it continued.
"Spy X Family" anime is based on Tatsuya Endo's original work, which was first serialized in Shonen Jump+ magazine by Shueisha.
The cast of the anime includes Atsumi Tanezaki as Anya Forger, Takuya Eguchi as Loid Forger, Saori Hayami as Yor Forger, Hiroyuki Yoshino as Franky Franklin, Kazuhiro Yamaji as Henry Henderson, Yuko Kaida as Sylvia Sherwood, Kensho Ono as Yuri Briar, Umeka Shouji as Camilla, Manaka Iwami as Millie, Mirei Kumagai as Sharon, Shohei Kajikawa as Dominic and Junichi Suwabe as the shop manager of Garden.
The opening theme of the anime, titled "Mixed Nuts," is performed by Official HiGE DANdism. The closing theme, "Kigeki," is by Gen Hoshino.
"Spy X Family" Episode 5 will air Saturday at 11.30 a.m. ET. The episode will stream on Crunchyroll in Japanese with English subtitles.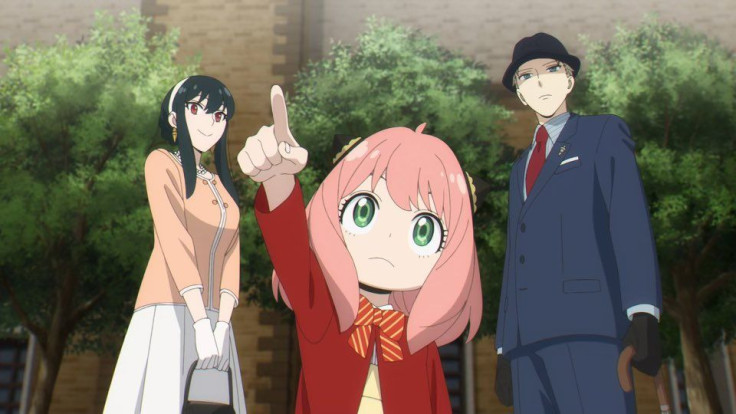 © Copyright IBTimes 2023. All rights reserved.