Sri Lankan Government Uses 'War Tourism' To Commemorate 2009 Victory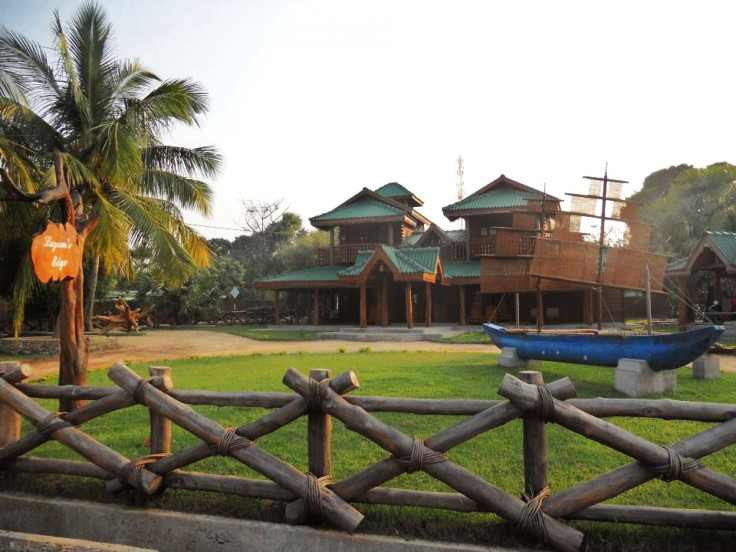 Sri Lanka's civil war came to a violent end in 2009, but the country now enjoys a peace it hasn't seen in three decades. As a result, throngs of tourists are returning to visit the island's untouched beaches, ancient temples and abundant nature preserves -- and the government is eager to greet them with a new, self-congratulatory alternative: "war tourism."
Last month, the Sri Lankan military began advertising a newly constructed hotel in the heart of the killing fields on the island's northeast coast, where the UN believes as many as 70,000 minority Tamils were killed in 2009 in the last days of the separatist struggle. The resort, called the Lagoon's Edge, was purpose-built to cater to domestic war tourists who want to visit the last bastion of the Tamil Tiger rebels.
The Sinhala-language newspaper Mawbima boasts it's a "place where thousands of war heroes, terrorists and others died." Billed as a once-in-a-lifetime experience, the Lagoon's Edge overlooks a stretch of water that became the front line of the final bloody months of the conflict. The villa is built entirely of teak and reportedly has walls lined with war memorabilia and a dance floor for parties.
Keep in mind that it's the same army that kept hundreds of thousands of people in makeshift encampments before pounding them with heavy artillery that is now in charge of running the resort and sightseeing trips here.
Frances Harrison of the Colombo Telegraph believes the tourist hotel is "part of a triumphalist approach to what's viewed as purely a terrorist problem." The hotel was opened by Sri Lanka's President, Mahinda Rajapaksa, and his brother, the defense secretary, which underscores this point.
"The victors deny the Sri Lankan military committed war crimes and crimes against humanity as alleged by a UN report. And nearly four years on, they have shown no desire to address the root causes of decades of ethnic violence and discrimination."
Harrison notes that the hotel's opening ceremony included traditional Kandyan drummers, "part of Sinhala culture, but totally alien to this exclusively Tamil part of the island."
Other newly opened attractions in Sri Lanka's north that have become popular with Sinhalese tourists from the south include an underground bunker, once home to the most feared man in Sri Lanka: Velupillai Prabhakaran, the now-deceased leader of the Liberation Tigers of Tamil Eelam, or LTTE. Another former LTTE site-cum-attraction is a shipyard where the Tigers experimented with building submersibles. Of course, what's missing at all of these sites is the bigger picture -- one that includes the war's losers, the local Tamil population.
Sri Lanka's tourism industry has been booming since the end of the civil war in 2009 and earnings grew by 22.1 percent in the first 10 months of last year to $790.5 million, according to the most recent data from the Central Bank. The government announced this past week that it had reached a new milestone of 1 million tourists in 2012 and credited tourism as a major component in lifting the economy in post-conflict Sri Lanka.
Indeed, the Economic Development Ministry has said it's working with the private sector on an ambitious program to double Sri Lanka's hotel room capacity to 50,000 and double the number of visitors by 2016. But the Sri Lanka Campaign for Peace and Justice warns that "visitors to Sri Lanka are in real danger of inadvertently supporting alleged perpetrators of war crimes and human rights abuses."
"Tourism can bring positive benefits to a country, and we are not suggesting that these be denied to a population already suffering under an oppressive regime," it says in its "Think Again" campaign. "Often the challenge is making sure your holiday spending really does go to help local communities -- in Sri Lanka there is the additional problem that it may profit from known or alleged human rights abusers. The most important thing is to make an informed choice."
The Sri Lanka Campaign for Peace and Justice says it's concerned about the army's recent tourism push in the north, where the army is involved in several hotels like the Dutch Bay Resort and wildlife sanctuaries like Mullativu, which were created on land that the Campaign believes was acquired without proper consultation with local residents.
In November, Campaign for Peace called on a collection of international travel companies like Thomas Cook, STA Travel and Virgin Holidays, as well as websites like Kayak, Expedia and Booking.com to stop supporting businesses "of concern" that may line the pockets of those who it believes are committing human rights abuses. In turn, several of these companies claim to be in the process of reviewing their offerings.
Meanwhile, UK-based nonprofit Tourism Concern has also put out a call to action to end tourism land grabs.
"Sri Lanka is a beautiful country with so much to offer visitors, but its tourism should not be built upon the misery and human rights abuses of forced displacement and loss of livelihoods of the poorest," said spokesperson Tricia Barnett.
Barnett says the solution is not to avoid Sri Lanka, but rather to seek out smaller, family-run hotels or guesthouses and community-based schemes.
In the end, however, it's mainly domestic tourists from the south who are making pilgrimages to the war-torn north. And for them, fresh wounds don't always equate to clear eyes.
© Copyright IBTimes 2023. All rights reserved.