'Star Wars 7' Plot Leak: Spoilers Could Reveal Where The Millennium Falcon Will Go In The Upcoming Movie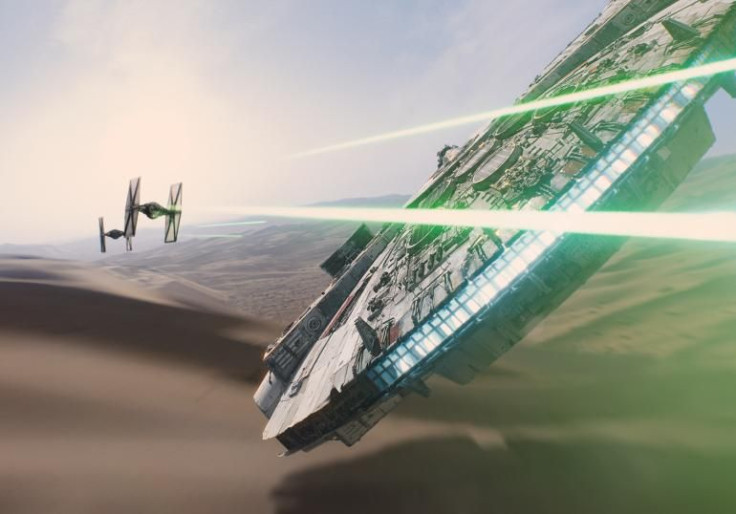 It looks like "Star Wars: Episode VII -- The Force Awakens" is just bleeding spoilers. With even director J.J. Abrams commenting on the recent slew of details supposedly leaked about the film's plot, devoted fans and information seekers appear to have a brand-new thread to pull every day. The latest speculation centers on the most iconic ship in the galaxy -- the Millennium Falcon.
Making Star Wars has been the main source of leaks about the next installment in the "Star Wars" series during the past few weeks. It's allegedly revealed the fate of an old Luke Skywalker, how the movie will begin and some major spoilers about a possible character death, which will be discussed later.
The new information posted by the site, unaffiliated with the "Star Wars" production in any way, indicated the path taken by the Millennium Falcon, which fans know infamously "made the Kessel Run in less than twelve parsecs," has already been revealed in the famous 88-second teaser video. However, if the new leaks are true (a big "if"), then [SPOILER ALERT] we now know the ship helmed by Han Solo and Chewbacca will be making seven stops throughout the film.
According to the site, the first location will see the Falcon on a sand planet, possibly the one we've already seen in the teaser trailer. Next, it will make its way to a gigantic freighter, followed by Rose's Pub, a location that Moviepilot has speculated will be home to a puppet character played by Lupita Nyong'o. Then, the ship will move to a Rebel base, an evil castle, back to the rebel base and finally to Skellig Michael (it's unclear as to what exactly this last location is).
While these reports cannot be confirmed, it's worth mentioning they coincide with previously reported rumors circulated by Making Star Wars that suggested the loss of [Seriously, read at your own risk] Han Solo.
According to set leaks, the hero will meet his end at the evil castle mentioned as one of the seven stops for the ship. While the legendary character may die at the fifth stop, it looks like his legacy will live on through his Millennium Falcon.
As of right now, there isn't much known about the plot of "Star Wars: The Force Awakens." The director is keeping tight-lipped about the whole process. Many believe more will be revealed at the annual "Star Wars Celebration" in April, where Abrams and the president of Lucasfilm are expected to give the first full-length trailer for the movie its debut.
"Star Wars: Episode VII -- The Force Awakens" is scheduled to hit theaters Dec. 18, 2015.
© Copyright IBTimes 2023. All rights reserved.
FOLLOW MORE IBT NEWS ON THE BELOW CHANNELS