'Star Wars: Episode 9' Spoilers: Lost Lightsaber, Knights Of Ren Action Sequence
New details about an action sequence in "Star Wars: Episode 9" have surfaced online. The Knights of Ren is a mysterious group that the fans will finally get to see in the movie, and this group will reportedly fight Kylo Ren (Adam Driver).
The following article contains "Star Wars: Episode 9" spoilers.
Kylo Ren has been described as the master of the Knights of Ren, which implies that he is their leader. However, Bespin Bulletin has reported that the Supreme Leader will actually be involved in a fight with the members of this group.
The cross guard lighsaber has so far been the weapon of choice for Kylo Ren, but in the upcoming film he will reportedly throw it away in Endor. Is this a set up for the weapon to return at some point in the future?
The Supreme Leader is said to fight the Knights of Ren with his grandfather's lighsaber, which he will get from Rey (Daisy Ridley) in "Star Wars: Episode 9." Kylo Ren will be beaten badly in this fight, but he will manage to defeat his enemies using the Force.
Reshoots are currently underway for the movie, which means there will be changes to the spoilers that have surfaced online. One significant change, according to JediPaxis is the shifting of the opening sequence to somewhere in the middle of the film. The movie initially was supposed to open with a flash back sequence of Luke Skywalker (Mark Hamill) and Leia (Carrie Fisher) practicing in a lightsaber duel, but they stop when she realizes that she is pregnant.
It remains to be seen what other changes JJ Abrams has planned for the reshoots. The "Star Wars: Episode 9" filming is currently taking place in Santa Monica, California. The movie will be released on Dec. 20.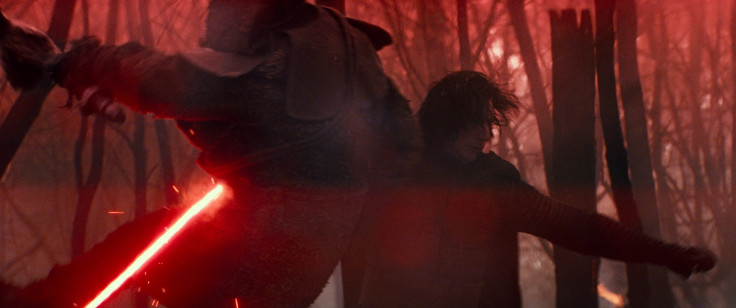 © Copyright IBTimes 2023. All rights reserved.
FOLLOW MORE IBT NEWS ON THE BELOW CHANNELS