'Star Wars: The Force Awakens' Trailer Teases Plot Details About What Motivates The Villainous First Order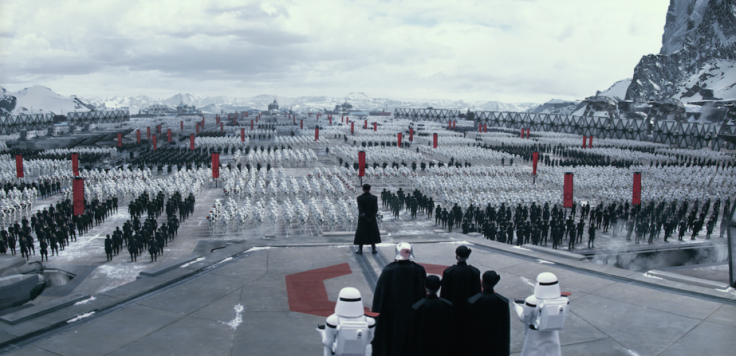 At long last, the month when "Star Wars: The Force Awakens" opens in U.S. theaters is almost here. To commemorate the big occasion, as well as to celebrate Thanksgiving, Disney and Lucasfilm released yet another trailer for the film, this time teasing what the villains have in store.
It's worth mentioning at the outset that Luke Skywalker (Mark Hamill) is not featured in this promotion, either. The character has been conspicuously left out of all of the movie's teasers for some unknown reason. That omission wasn't really an issue in the latest promo. As Wired noted, it focuses heavily on the villains Kylo Ren (Adam Driver) and the Stormtroopers of the First Order.
The trailer begins with some pretty familiar footage of the new bad guy for the next generation of "Star Wars" heroes. Then, Supreme Leader Snoke (Andy Serkis) starts talking, presumably to Ren, about the great "awakening" that's coming in the Force. He warns the young Sith master that even he may not be prepared for what's to come.
While certainly ominous, it's also impossibly vague. However, as CNET pointed out, it constitutes the fans' first look at what is motivating the villains in the film, which is just as important as anything else. The stakes rise even higher when, later in the trailer, Finn (John Boyega) reveals when his character decided to leave the ranks of the First Order Stormtroopers, he did so with some inside knowledge. Although it's not directly stated that Finn knows about the awakening, he mentioned that none of the other heroes of the film has seen what he's seen. He suggests they all run. However, Rey (Daisy Ridley) has a better idea: fight.
At this point, not much is known about this awakening. Certain theories and leaked rumors hint it may be directly associated with the reason Skywalker has been kept out of the trailers, but nobody's quite sure what director J.J. Abrams has planned for fans of the iconic science-fiction franchise. Everybody'll just have to wait until "Star Wars: The Force Awakens" hits theaters Dec. 18 to find out what the big event is all about.
© Copyright IBTimes 2022. All rights reserved.
FOLLOW MORE IBT NEWS ON THE BELOW CHANNELS