State Of The Union Best Moments: Obama Confronts Donald Trump, Says America Is Already Great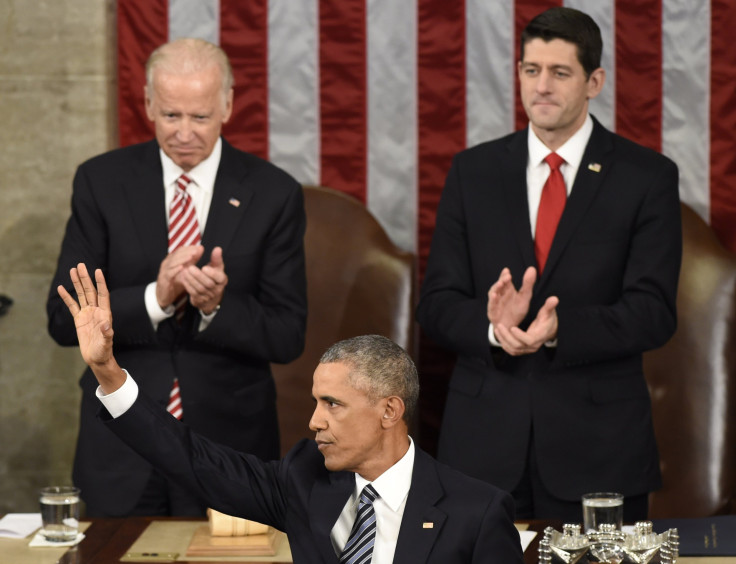 Donald Trump may have achieved front-runner status by promising voters he'll "make America great again," but at Tuesday's State of the Union President Barack Obama sent a stubborn message of his own: America is already great — and even greater days are ahead.
"America has been through big changes before — wars and depression, the influx of immigrants, workers fighting for a fair deal, and movements to expand civil rights. Each time, there have been those who told us to fear the future; who claimed we could slam the brakes on change, promising to restore past glory if we just got some group or idea that was threatening America under control," Obama said. "And each time, we overcame those fears."
Throughout Obama's 59-minute speech, he touched on several patriotic themes from history. He pulled in a quote from former President Abraham Lincoln and touched on the Constitution. He referenced civil rights leader Martin Luther King, Jr. and mentioned the first time the U.S. reached the moon. He boasted about stopping Ebola and called the U.S. economy the strongest in the world.
The bulk of Obama's address, however, centered not on the past but on the future. Obama introduced issues rapid-fire, urging listeners to take action to cure cancer, fight the Islamic State group, develop clean energy, embrace Cuba and stop racism.
"My fellow Americans, whatever you may believe, whether you prefer one party or no party, our collective future depends on your willingness to uphold your obligations as a citizen," he said. "To vote. To speak out. To stand up for others, especially the weak, especially the vulnerable, knowing that each of us is only here because somebody, somewhere, stood up for us."
Watching Obama speak Tuesday was almost like watching him speak on the campaign trail eight years ago. He seemed hopeful and eager for change as he encouraged voters to make smart choices in the upcoming presidential election.
But at the same time, it was clear Obama was no longer a young senator from Illinois. His hair was grayer, of course, but he also seemed to be finally promoting the idea of American exceptionalism — a concept he took heat for in 2009, when he told an interviewer, "I believe in American exceptionalism, just as I suspect that the Brits believe in British exceptionalism and the Greeks believe in Greek exceptionalism."
To be fair, not everyone was impressed with Obama's Tuesday address. Real estate mogul Trump tweeted that the State of the Union was "really boring, slow, lethargic - very hard to watch!" Former Florida Gov. Jeb Bush, another Republican presidential contender, wrote that Obama was "living in a different world" where he misunderstood the threats of ISIS and North Korea.
Other Republican lawmakers criticized the president for not bringing up the fact that as he was speaking, Iran was detaining 10 American sailors. "I was very concerned that he's missing where the challenge of the world is with security -- he sits and talks positively about Iran when they just took 10 of our Navy sailors," House Majority Leader Kevin McCarthy told CNN.
Those arguments aside, Obama's speech Tuesday was peppered with applause. He attempted to end the night on a positive but assertive note encouraging attendees and viewers to take on the attributes of the nation he said he loves.
America is clear-eyed, big-hearted and optimistic, Obama said, and that's why he's hopeful about the future. "I believe in you," he said as he wrapped up. "That's why I stand here confident that the State of our Union is strong."
© Copyright IBTimes 2023. All rights reserved.