Stephen Curry The 2015-2016 MVP? Warriors Guard Contending With LeBron, Durant, Westbrook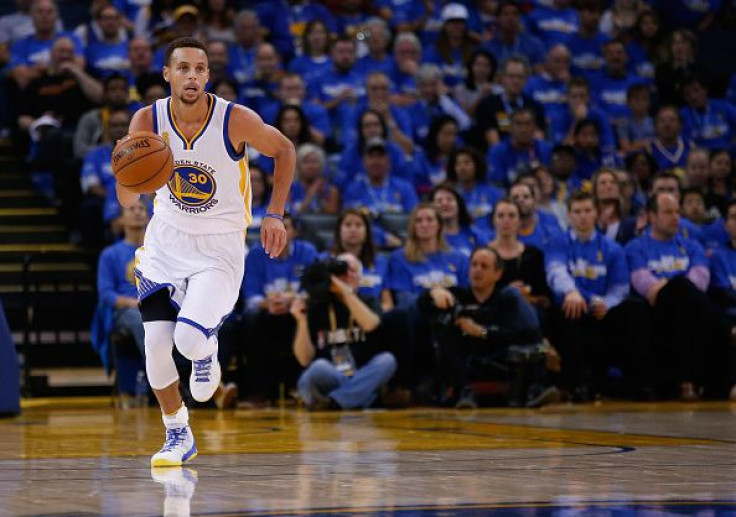 The Golden State Warriors are a perfect 11-0 and point guard Stephen Curry's has not only picked up where he left off, he's even better. The reigning MVP is posting numbers that dwarf the ones he put up early last season, and should he continue this pace will be on his way to a second award.
Curry entered the season with the fourth-best odds to win the Maurice Polodoff Trophy as MVP at +600, according to Bovada via 247Sports. LeBron James had the best odds at +275, but Curry has currently jumped to the top spot. SkyBet has Curry at +125, and ahead of James (+400), Durant (+700) and Westbrook (+700).
What contrasts most between Curry's starts the last two seasons is his shooting output. He's quickly turned himself into not only one of the premier scoring guards in the league but arguably its best scorer. In the first 11 games of 2014-2015 season, Curry was held under 22 points in six times. This season, his lowest output has been 22 points, and he has scored at least 30 in seven games.
Curry is averaging a league-best 33.4 points per game on 51.7 percent shooting and 45.2 percent from long range. The sharpshooter is five points better than the No. 2 scorer by lighting it up from beyond the arc. He's had three games with eight three-pointers. Curry's season high came on Halloween when he compiled 53 points on 17-of-27 shooting to go with nine assists and three rebounds.
Last year's start wasn't shabby by any means. Curry averaged 23.3 points on 58.4 percent shooting and 39.3 percent from beyond the arc. He went for at least 30 points in three of the games and had over 20 points in seven of them. Curry also notched five double-doubles last season, but only has one this season.
The numbers suggest that the 27-year-old is looking to shoot before he looks to pass. It makes sense for Curry to lead the league's most prolific offense (114.1 ppg), but he's taking over in a different way than in previous seasons.
Curry has 62 assists so far this season, but had 87 at this point last year. The most shots Curry took in any one game through his first 11 a year ago was 20. This season, Curry has taken 21 or more shots in six games and is connecting on more than half of them. His 367 total points aren't only 83 ahead of the next closest player (James Harden at 284) but its 111 points more than he had at this point last year.
© Copyright IBTimes 2023. All rights reserved.