Steve Bannon, Breitbart's Matthew Boyle Fighting? Right-Wing News Editor Rubbishes Report About Disagreement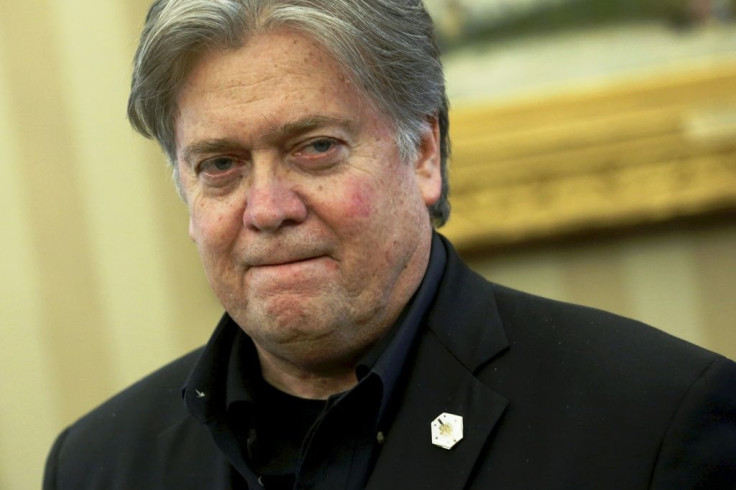 A senior editor at Breitbart News rejected a report that claimed the conservative news outlet and its former Executive Chairman Steve Bannon, who serves as President Donald Trump's chief strategist, are in disagreement over the coverage of White House Chief of Staff Reince Priebus. Breitbart Washington Political Editor Matthew Boyle told the Hill on Wednesday the report by Business Insider is "fake news."
On Wednesday, Business Insider reported Breitbart — known for its far-right leaning — published articles that slammed Priebus. Bannon was reportedly miffed and pulled up Boyle and told him not to put out any more articles critical of Priebus. Boyle told the Breitbart staff that Bannon had betrayed the news outlet and also accused him of "treason," Business Insider reported, citing sources.
However, Boyle dismissed the report to the Hill.
"This is absurd and fake news," Boyle told the Hill. "I never said those things and such instructions never happened since we are a proudly independent news organization."
Read: 'Impeach President Bannon' Posters Surface Across US Cities
According to Business Insider, Trump's adviser was upset because he and Priebus portrayed themselves as friends and allies. However, after the Breitbart article was published, it appeared to be an attack ordered by Bannon, sources told the news organization.
"They thought they could satisfy Boyle by giving him a one-on-one interview with Trump," a source told Business Insider. "But the thing about Boyle is you can't stop him. You can't control him."
On Feb. 14, Boyle wrote a critical piece on Priebus speculating his future in the Trump administration and a source told him that the latter was solely responsible for the handling of Trump's controversial immigration ban.
Also last month, a source told Axios that Bannon lashed out at Breitbart for the scathing article. The source reportedly said that Bannon was "furious" over the story.
Boyle, 28, became Breitbart Washington political editor in 2015.
© Copyright IBTimes 2023. All rights reserved.