Stevie Wonder Lights Up American Music Awards 2012 Stage With Dick Clark Tribute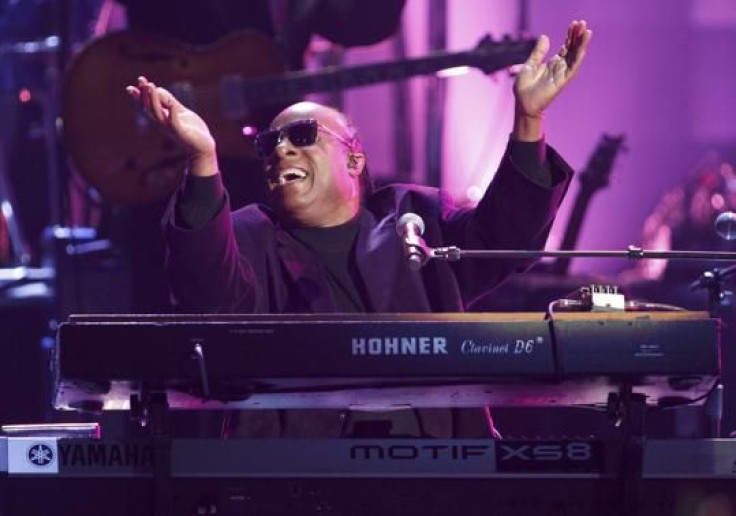 Stevie Wonder did the honors of paying tribute to the late Dick Clark at Sunday night's American Music Awards in Los Angeles.
Wonder, 62, performed a three-song medley honoring his friend and the creator of the AMA's.
After his well-received performance, Wonder told Rolling Stone, he was pleased to salute Clark, who died in April at age 82. "Truly honored to have been asked, because that spirit I knew and saw on television was his real spirit in real life," he said. "Meeting him as a person was wonderful."
While Clark's storied history goes way beyond the realms of just music, Wonder added that his friend "brought musicians, artists and songwriters of all the various genres together, and we perform in the spirit of music," he said. "It's a challenge to Americans and world leaders to do the same."
Wonder went on to speak with RS about his other current project, "Ten Billion Hearts."
"I wrote this song, music and melody, when I worked on "The Secret Life of Plants," the musical. The song that I wrote didn't make the actual film," he said.
"But I always had the song and a good melody, so after the earthquake that happened in Japan and the tsunami I just thought, if we all had the spirit of wanting to see the world better, really opening our spirits to that, how all these things we talk about wanting to see would happen. By the end of the century we will have 10 billion people on the planet, and I'm hoping we can really bring people together with that spirit of saying, 'Listen, if we put our hearts together in the spirit of helping people, then the world will be motivated to change.'"
Wonder continued to joke with RS about future material set to be released by saying "I got so many songs it's weighing me down," he said, laughing.
According to the music news outlet, the "Higher Ground" singer plans to debut new material at his annual House Full of Toys benefit in Los Angeles on Dec. 15 at the Nokia Theater.
The event has played host to previous performances by guests such as John Mayer and John Legend, but will most likely not have as large a number of guests as they've had in past years.
"We probably will not have as many people, because sometimes the show gets kind of long and the artists want to do their thing. Sometimes less is more."
© Copyright IBTimes 2023. All rights reserved.