Stock Market Today: Goldman Sachs Share Price Dips 1% After Long Post-Election Rally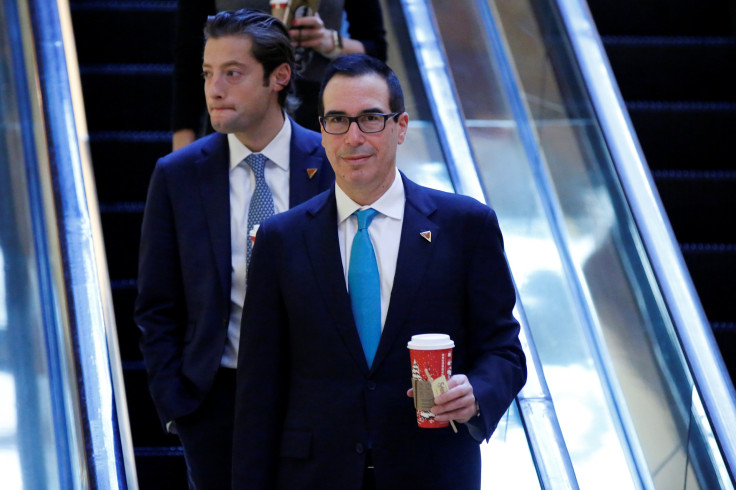 Although its shares fell as much as 1.4 percent Friday, investment bank Goldman Sachs Group Inc. (GS) has seen its share price soar 35 percent since the presidential election, to around $246 from $181.92.
Shares of the New York-based multinational finance company, which played a major role in the 2008 mortgage crisis, saw a particularly sharp rise in the wake of President-elect Donald Trump's Nov. 30 announcement that its former chief information officer, Steven Terner Mnuchin, now co-chief executive and chairman of the hedge fund Dune Capital Management LP, was his choice for Treasury Secretary.
In the second week of January, however, as Mnuchin's hearing neared, Goldman's upward swing has tapered a bit. While most observers don't expect Republicans on the Senate Finance Committee to defect from their allegiance to the president-elect when it comes to his cabinet picks, others have voiced concerns that the financier, who has no government experience, will have a tough time making it past pro-regulation Democrats in the Senate.
In an appearance on CNBC's "Squawk Box," Mnuchin named the 2010 Dodd-Frank Wall Street Reform Act, meant to correct the regulatory inadequacies that led to the financial crisis of 2008, as something he intended to change for the benefit of bankers like himself.
"As we look at Dodd-Frank, the number one problem with Dodd-Frank is that it's way too complicated and it cuts back lending, so we want to strip back parts of Dodd-Frank that prevent banks from lending," he told CNBC the day his nomination was announced. "And that will be the number one priority on the regulatory side."
Sen. Elizabeth Warren has likened him to "someone out of a bad movie for what went wrong on Wall Street," while Sen. Bernie Sanders (D-Vermont) has expressed his serious doubts about whether the hedge fund executive will "control Wall Street greed and illegal behavior," the Associated Press reported. The newswire also heard from Republicans who were "privately questioning Mnuchin's readiness to face aggressive questioning by senators."
Even Trump has referred to Goldman negatively in the past, months before he chose one of its longtime leaders for his cabinet.
As of Friday, the Senate Finance Committee did not have a date set for Mnuchin's confirmation hearing, but would announce the date one week in advance, a committee spokeswoman told International Business Times.
© Copyright IBTimes 2023. All rights reserved.