'Suits': Patrick J. Adams On Whether Meghan Markle's Royal Fame Changed The Show's Dynamic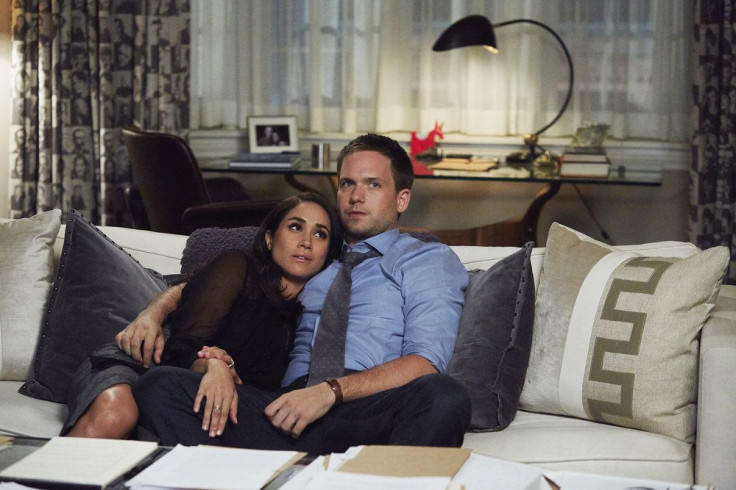 "Suits" star Patrick J. Adams reluctantly talked about what life has been on the set of the USA Network legal drama since it was revealed that his co-star Meghan Markle is dating Prince Harry.
While announcing the Moores Suit Drive initiative on Tuesday morning, Adams was asked if Markle's new international fame has changed the dynamic of the show. Although Adams pointed out that he doesn't love talking about any of his co-stars' personal lives, the Canadian actor said that the show has remained pretty much the same since Markle's romance with Prince Harry became public.
"You know, I don't love to talk about their personal lives much, but I will say it really hasn't changed anything on the show," Adams, who portrays Mike Ross on the show, told Toronto Sun. "Meghan is a consummate professional and we are having a great time shooting the Season 7."
READ: "Suits" star Rick Hoffman gets praise from co-star Ray Proscia
"I am directing the episode we are doing now, the 100th episode — and she is terrific," added Mike Ross of Markle, who plays Rachel Zane on the Aaron Korsh-created series.
When asked if it's weird for him to see Markle being talked about by a lot of people around the world, Adams said: "I don't read any of it. I learned [their relationship] long ago so it is not really weird for me because I am still just going to work with my co-star and enjoying the process of working with her — so it has been very normal."
While the dynamic between the people on set hasn't changed, Korsh admitted to The Hollywood Reporter last January that there have been security issues on set since Markle's relationship with Prince Harry was revealed to the world.
"I'm in L.A. more than Toronto but the added publicity came very late in … Season [6] … so we didn't really have a massive amount of time under that added publicity," Korsh said. "If anything [it] was more of a strain, it was the concern of outside paparazzi."
An insider told Us Weekly last month that Markle is now getting special security measures on set. The source revealed that Markle's name is no longer listed on shoot schedules.
"Suits" Season 7 will premiere on Wednesday, July 12 at 9 p.m. EDT on USA Network.
© Copyright IBTimes 2023. All rights reserved.