'Suits' Season 6 Spoilers: What's Next For Harvey And Donna's Relationship?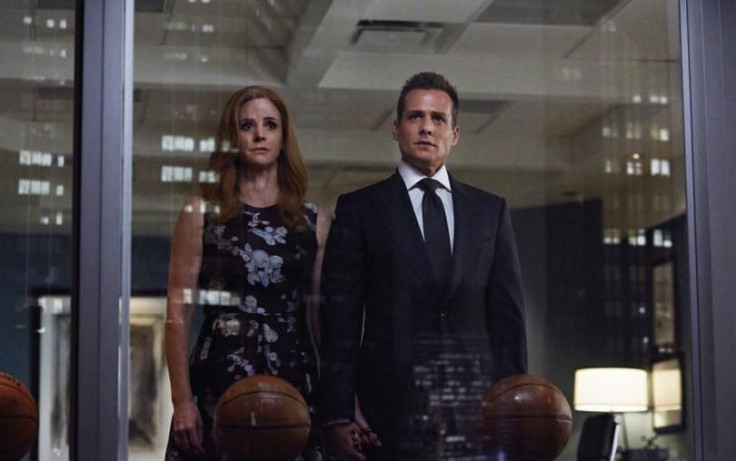 Fans are going to see some development in Harvey (Gabriel Macht) and Donna's (Sarah Rafferty) relationship in the back six episodes of "Suits" Season 6.
In a recent interview with TV Insider, series creator Aaron Korsh said that there will be a forward movement in Harvey and Donna's bond following Jessica's (Gina Torres) departure from Pearson Specter Litt. "I'll say this. We don't ignore that hand-holding moment from the [midseason] finale," Korsh said of the pair's intimate gesture inside Harvey's office shortly after Jessica bid farewell to her colleagues. "There will be some follow-up and follow-through on that."
Korsh told The Hollywood Reporter last September that the true meaning behind that scene "remains to be seen," as he didn't want to reveal too much about where Harvey and Donna's relationship is heading. "I try to be super cagey with the 'Darvey' (Donna and Harvey) stuff because any answer I give I just get in trouble," the executive producer explained. "And I prefer to let what we do speak for itself."
Whether or not that hand-holding moment was romantic in nature, Korsh previously told Deadline that the scene "was definitely a development in their intimacy." "It's going to have an effect to some degree," he assured fans. "[However,] it remains to be seen on our side what that effect is, but I think it's a small step forward in the evolution of their relationship. I would say that."
"Suits'" winter premiere (Season 6, episode 11), titled "She's Gone," airs on Wednesday, Jan. 25 at 10 p.m. EST on USA Network. The episode was directed by Patrick J. Adams, who plays Mike Ross on the series. Check out the synopsis and trailer for the episode below:
"Harvey and Louis (Rick Hoffman) and Donna plan for a future without Jessica; Mike adjusts to life as an ex-convict; Rachel (Meghan Markle) considers her options."
© Copyright IBTimes 2023. All rights reserved.