'Suits' Star Gabriel Macht Reveals What He'd Like To See In 100th Episode Of The USA Network Series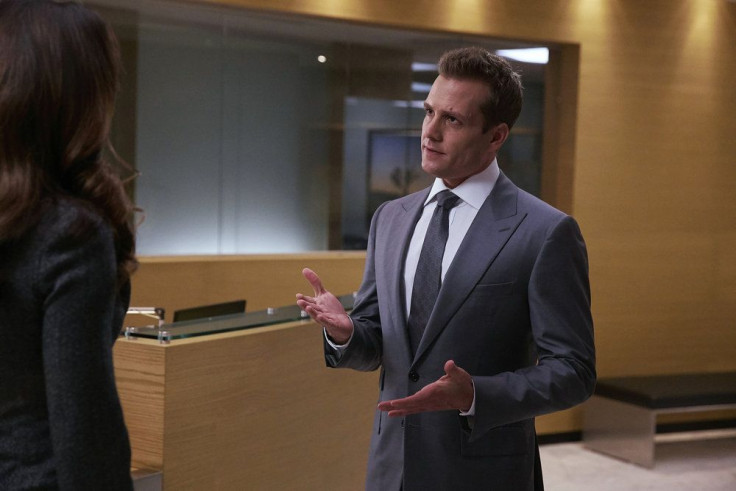 The upcoming Season 7 of "Suits" will include the show's 100th episode, and series star Gabriel Macht has already got some fun ideas for the milestone installment.
"I'd love to see us all get drunk onscreen," Macht told HarpersBAZAAR.com of his plan for the show's 100th episode. "That would be fun. That's what usually happens on celebratory episodes, right?"
In a more serious note, Macht reflected on how lucky they are to reach 100 episodes. "We've been so fortunate to get to 100 episodes," said the 45-year-old actor, who plays Harvey Specter on the legal drama. "It's so rare that a show lasts this long, and has the kind of fan base that we have all over the world. It's very humbling. I think all of us and the crew will all look around and try to just take this moment and really connect to being grateful for it. That's what I'm looking forward to."
Macht's co-star Patrick J. Adams was also asked about the rare feat in a recent interview with Entertainment Tonight, and he admitted that he hasn't wrapped his head around it.
"When you make these shows, you're so in the trenches for so long and working on the show for many years, it'll be a really wild episode to shoot," said the 35-year-old actor, who portrays Mike Ross on the series. "When it comes around, we'll be able to take stock of how far we've come and how grateful we are to have people who still tune in every single week."
"To be able to still be doing it and still be vital and still be important to viewers, it's completely unheard of," Adams continued. "If you're lucky, you get a once-in-a-lifetime experience to be a part of something like that. I'm very grateful and I'm super excited that we get another season to try and keep making the show better and keeping people loving what we're doing."
While "Suits" has yet to be renewed for Season 8, series creator Aaron Korsh believes that the network may still order another season of the show.
"Yeah, sure. I don't see why not," Korsh told The Hollywood Reporter when asked if he could see the series going beyond Season 7. "My feeling on 'Suits' in the early days was that it would go likely at least six, possibly seven and up to eight. But I wouldn't limit it to only eight now when I see shows like 'Grey's Anatomy' lasting much longer. It's still a very popular show within the network and I think worldwide. Other than that, it still has a lot of stories left to tell with our original cast, and maybe if we also bring in new people I could see it going beyond, absolutely."
"Suits" Season 7 premieres this summer.
© Copyright IBTimes 2023. All rights reserved.