Sundar Pichai's Wife: Who Is Anjali Pichai?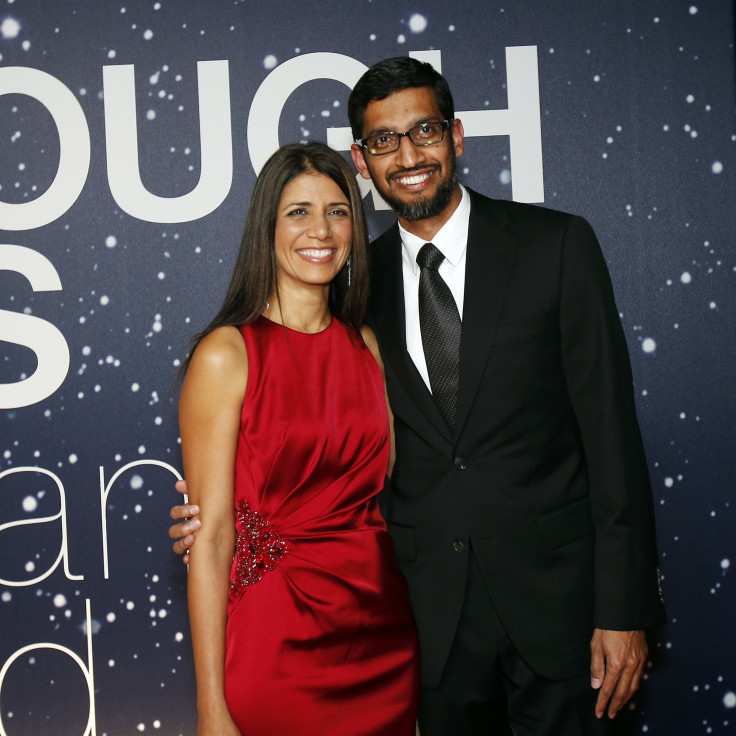 When Google CEO Sundar Pichai visited India in January, he shared his love story with 3,000 students at his alma mater, The Indian Institute of Technology, Kharagpur, located in the eastern state of West Bengal. Sundar met his wife, Anjali Pichai, at IIT where she was his classmate.
Pichai recalled his good old days when smartphones had not yet arrived and he used to walk over to the girl's hostel to ask somebody at the front desk to call Anjali and inform her that Sundar was waiting for her. "They'd go in and loudly say, 'Anjali, Sundar is here,'" Pichai said.
After several months of dating, Sundar proposed to Anjali during their last years in the IIT and she accepted. When their college days were over, the couple faced troubles as Sundar, who was not yet financially independent at the time, left for the U.S. to pursue further studies and Anjali remained in India. That phase was difficult for the lovebirds as months would pass without them communicating with each other as Sundar didn't have enough money to call, according to youngisthan.in.
Trending: How A Man Was Found Nailed To A Tree In New Mexico
Anjali was born in Kota, Rajasthan, a northern Indian state bordering Pakistan. During her years growing up, she spent a lot of time with her siblings. She studied chemical engineering at the IIT and according to her LinkedIn account, she graduated in 1993 from the institute.
In 1999, Anjali started working with Accenture as a business analyst and worked there for three years.
It is said that Sundar's success in Google is partly due to Anjali as it was she who advised him not to quit Google when he was getting other offers. Sundar, once, got an offer from Microsoft to become the CEO and he was also contacted by Yahoo! and Twitter.
The couple have a daughter and a son.
Trending: What Are Donald Trump's Bizarre Twitter Habits
Sundar's friends jokingly say that him falling in love with a girl at the same campus was unthinkable as the Google CEO was so shy. "Today, when he has become the world's most sought after CEO, I was tempted to tell friends this was easier achieved than expressing his feelings for Anjali," said his classmate Phani Bhushan, who was also Pichai's roommate in the hostel.
Sundar's friends describe him to be shy but at times would make the "wildest of jokes." Bhushan added: "He was good at carom [a board game] and TT [table tennis], but we had to drag him out of his perch to play. He loved gossip. Those days we neither had mobile phones nor computers laptops to hold us to ourselves."
Sundar's relatives said that when he was in school, he would never even look at girls sitting next to him, however, after meeting Anjali, that apparently changed.
© Copyright IBTimes 2023. All rights reserved.