'Supernatural' Season 10 Spoilers: Dean's Dark Side Exposed In First Promo Video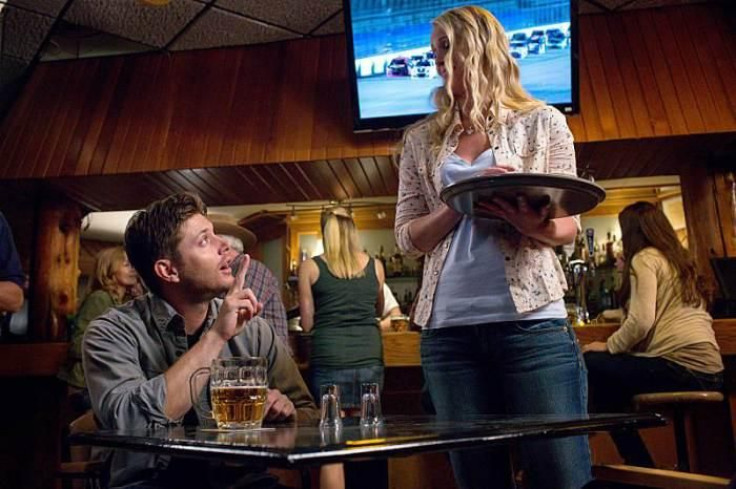 Things are about to get a whole lot darker on the set of "Supernatural." Recently the hit CW series released their first Season 10 promo video online -- and from what we saw it's safe to say that viewers of the long-running series will be in for a wild ride when the upcoming season premieres Tuesday, Oct. 7.
The trailer, "Deanmon Rises," focuses on the eldest Winchester brother and his scary transformation into a demon. Prior to the release of the promo video, Jensen Ackles, who plays Dean, teased fans with some chilling spoilers about his character.
"Oh, it's like an ultra-version of a womanizing party animal," Ackles described to TVLine of what fans can expect from his character in Season 10. "He's out partying in Vegas with the King of Hell, he's got backstage passes and he doesn't give a s--- about anything. That's essentially what we're going to see."
In "Deanmon Rises" fans watched exactly that as Crowley convinced the Winchester brother to help him create "the perfect hell." Following the King of Hell's demonic plan, Dean can be seen getting into his fair share of brawls -- one taking place in a convenience store. Sam gets hold of the frightening footage of his brother and will end up taking a trip to the drug store to ask the clerk a few questions about his brother's whereabouts. See, Sam is hell-bent on helping his brother turn back into a human ... despite Dean wishing to stay a demon.
"Did he say anything?" Sam asks the cashier.
"Where's the porn?" the kid responded as a video of Dean holding open a magazine played.
Viewers also witness Dean in bed with a blond-haired girl who we assume is the same character we saw in the premiere promo pictures. Dean is rumored to have a fling with a roadhouse cocktail waitress named Ann Marie in "Supernatural" Season 10. She's been described as a "tough but sympathetic" character. But Dean's complicated relationship status won't stop him from hitting the strip clubs.
The most exciting moment from the trailer is a scene which mimics the most iconic moment from "The Shinning." Sam, whose nursing a hurt arm, finds himself in a dark room with a chair. Next thing we know Dean is chopping down the door à la Jack Nicholson, peering his head into the hole saying, "I like disease."
Are you ready for a bigger and badder Dean in Season 10? Sound off in the comments section below
© Copyright IBTimes 2023. All rights reserved.