'Supernatural' Star Jared Padalecki Thanks Fans At SDCC For Supporting Him During Depression Battle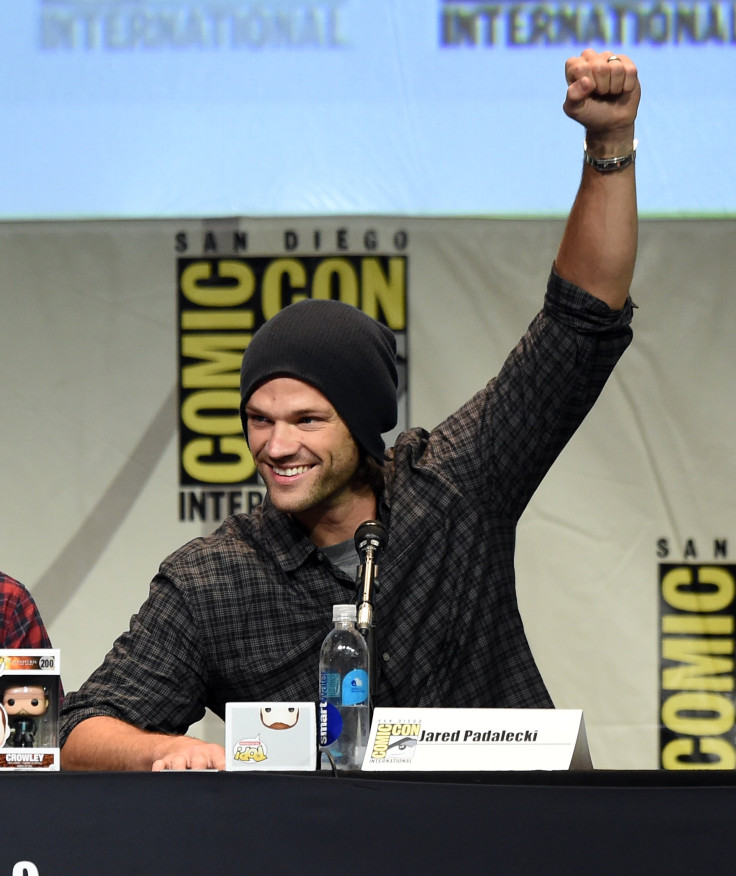 "Supernatural" fans were excited to see Jared Padalecki appear at San Diego Comic-Con, despite his recent struggles with depression. To show their support, they made a special tribute for the actor, who plays Sam Winchester on the CW drama.
During the show's panel on Sunday, the audience in Hall H (the largest room at SDCC) lifted electric candles into the air and Padalecki's co-star Jensen Ackles had to stop while answering a question and ask, "What is happening?" Several audience members called out, "Always keep fighting!"
Padalecki seemed touched by the gesture and stood up to applaud his fans. "That's awesome," he said. He also snapped a selfie with all of his supporters.
Fans who organized the demonstration made special electric candles with the slogan. They also included an instruction card.
Later in the panel, Jared picked up one of the candles and thanked the audience. "This is so touching and humbling and honoring," the Texas native said. "I don't have the proper words to say thank you or how humbled and honored and excited I am and keep it up, guys. Thank y'all so much."
Those three words, "always keep fighting," were part of a charity fundraiser Padalecki organized earlier this year. The actor, 32, put the slogan on a t-shirt and donated the proceeds to To Write Love On Her Arms (TWLOHA), an nonprofit that works with people who struggle with depression, addiction, self-harm and suicide.
The father of two admitted that he was diagnosed with depression while filming "Supernatural" Season 3. "A doctor came to set and talked to me for about 30 minutes or 45 minutes and said: 'Jared, I think you're clinically depressed. I think I should write you a note and we can shut down production for five days and then we can take it from there.' And it kind of hit me like a sack of bricks," Padalecki told Variety in March.
"Always keep fighting" became an even stronger motto for the fans in May when Padalecki had to cancel appearances at a couple fan conventions, Jus In Bello 6 in Rome and All Hell Breaks Loose 5 in Melbourne. At the time, Jared cited exhaustion as his reason for leaving and asked his fans for support.
Obviously, "Supernatural" fans were willing to give him plenty of well wishes. With recent appearances at ATX Television Festival (for the "Gilmore Girls" reunion) and Comic-Con, it seems that Padalecki is feeling better and will continue to receive tons of support from the "Supernatural" audience, or as they like to call themselves, the SPN family.
"Supernatural" Season 11 premieres Wednesday, Oct. 7, on the CW at 9 p.m. EDT.
© Copyright IBTimes 2023. All rights reserved.