'Supernatural' Stars Jared Padalecki And Jensen Ackles Are Both Expecting Kids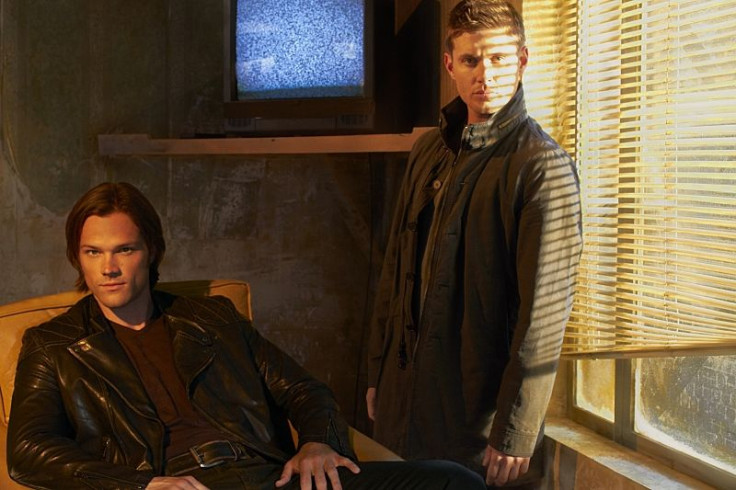 Jensen Ackles and Jared Padalecki work together a lot on "Supernatural," but they don't just bond over demon hunting and acting. Both of their wives are pregnant at the same time. Padalecki announced Monday that he is expecting his third child with wife Genevieve.
"When I started the show, I was 22 years old. I was a single guy, kind of doing my thing. Now I'm twelve years older, father of two, about to be father of three in March," Jared said on "Live with Kelly" Monday. Watch his announcement in the video above.
Genevieve was shown standing to the side of the stage with a small baby bump. The third child will join Thomas Colton, 4, and Austin Shepherd, 2. The two actors met on the set of "Supernatural" Season 4 when the former "Wildfire" star had an arc as a demon on The CW drama.
The announcement comes about three months after Jensen Ackles and Danneel Harris Ackles revealed they were expected their second and third child. A rep for the duo confirmed to People in August that Danneel was pregnant with a boy and a girl, and the twins are due before the end of the year.
Danneel and Genevieve have been pregnant at the same time before. The former "One Tree Hill" star gave birth to Justice Jay, nicknamed JJ, in May 2013, towards the beginning of Genevieve's second pregnancy. The two seem to be just as close as their husbands. Last week, Danneel showed off the flowers that Genevieve sent her.
Both couples seem to line up their major life events. Each respective couple got married in 2010. The Padaleckis wedded in February while the Ackles opted for May nuptials. Ackles and Padalecki both served as each other's groomsmen.
Having weddings and kids at the same time is probably coincidental, but hopefully, the actors will still be on the same page when it comes time to decide if "Supernatural" should end. The CW drama is coming up on its 250th episode, but Jared thinks he and Jensen will do at least 50 more. "When we get to 300, I think Ackles and I will think it might be time to say bye," Padalecki told Entertainment Weekly in September. "There's a chance that changes, but we certainly do not take it for granted that we're going to make it to 300."
"Supernatural" airs Thursdays at 9 p.m. EST on The CW.
© Copyright IBTimes 2023. All rights reserved.