Superstorm Sandy Update: The State Of Travel 1 Week Later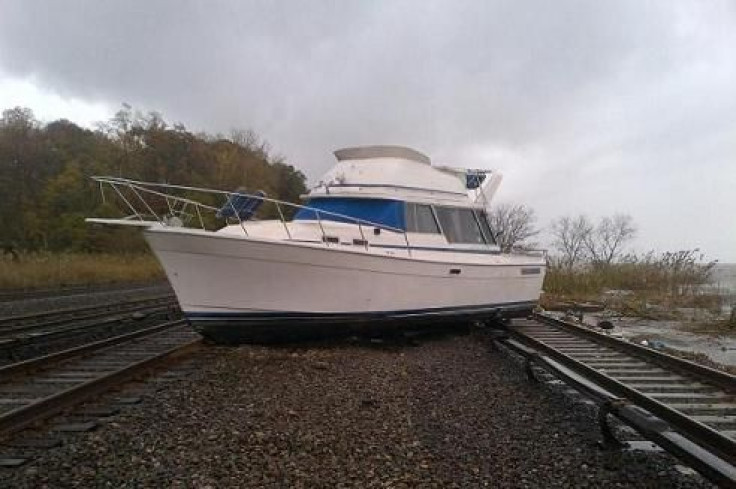 Most in the Mid-Atlantic and Northeast slogged back to work on Monday, one week after Sandy barreled into the region, knocking out power to more than 8 million homes and causing upwards of $50 billion dollars in damages.
Travel last week screeched to a halt as the category 1 hurricane transformed into what the Weather Channel dubbed a post-tropical "superstorm" packing winds of 80 mph. The 900-mile-wide storm bottlenecked air travel from New York to New Delhi, forcing airlines to cancel more than 20,000 flights at an estimated cost of $300 million.
By Monday, the nation's busiest airspace was once again bustling as carriers scrambled to accommodate the estimated 1.5 million passengers stranded by the storm.
The scene on the ground, however, was not so rosy.
NJ Transit experienced some of the worst damage from Sandy and has lagged behind its New York counterparts in its recovery efforts. On Sunday, the Christie administration announced an emergency bus plan (similar to the one used between Brooklyn and Manhattan last week) to help transport New Jersey residents to their jobs in the city.
"The emergency bus plan utilizes federal, regional and statewide resources to help the Garden State return to work," said Transportation Commissioner and NJ Transit Board Chairman James Simpson. "Led by Governor Christie and incorporating assets made available by the federal government, regional transportation partners and our statewide transit system, the resulting collaborative approach has resulted in a plan which will help New Jersey residents return to work on Monday."
Simpson cautioned that NJ Transit system-wide restoration was still several weeks away, adding that the trans-Hudson plan would only be able to accommodate about 50 percent of the system's normal rush hour service with connections between Hoboken, Weehawken, Jersey City and Manhattan.
Just 13 NJ Transit trains, meanwhile, will run in and out of New York during rush hour Monday, compared to the 63 that operate on a normal day.
The PATH train, another vital link between the two states, remains out of service indefinitely.
In New York, the Long Island Railroad operated on a modified schedule on all branches except the Long Beach Branch Monday. Trains on the Ronkonkoma Branch were not operating east of Ronkonkoma, while service on the Montauk Branch was suspended east of Speonk. Because service was limited on all lines, the MTA warned that waits would be longer and trains more crowded.
Service also resumed on Metro-North Railroad's branch lines, though buses replaced some segments Monday.
Amtrak, meanwhile, resumed a reduced service to New York City over the weekend, including its Acela Express and Northeast Regional service, though the national rail line said to expect delays and schedule changes as repairs continue.
On Monday, New York City subway commuters once again traveled trough the tunnels that have connected Downtown Manhattan with Downtown Brooklyn for over a century. All but two trains that connect the two -- the R and B lines -- were operational Monday morning. Several stations in downtown Manhattan as well as the hard-hit coastal areas of the Rockaways, Brighton Beach and Coney Island remained closed due to flooding. Service on the L line, which connects the fashionable Williamsburg neighborhood of Brooklyn with Manhattan, was also suspended Monday, as was the G train, which connects Brooklyn with Queens.
Bus companies restored normal operations throughout the Northeast Corridor over the weekend, though some of Greyhound's trips to Atlantic City have been canceled, and many curbside operators will not stop in Lower Manhattan. Buses and cars were able to cross all bridges and tunnels into Manhattan Monday except the badly flooded Brooklyn-Battery and Queens-Midtown tunnels.
Cruise ships that were stuck at sea awaiting the go ahead to enter New York Harbor got good news Friday when the Port Of New York reopened. The cruises unloaded, left on modified sailings and will resume normal operations thereafter.
Travel for most should ease back to normal over the coming days, though the region does have another hurdle to jump in the form of a powerful nor'easter that's poised to bring yet more high winds, rain, costal flooding and, perhaps, snow to the Mid-Atlantic and Northeast by Wednesday. Whether or not this second storm will slow restoration efforts is once again in the hands of Mother Nature.
© Copyright IBTimes 2023. All rights reserved.