'Survivor' 2014 Spoilers: Who Won San Juan Del Sur 'Blood vs. Water'? Season 29 Finale Recap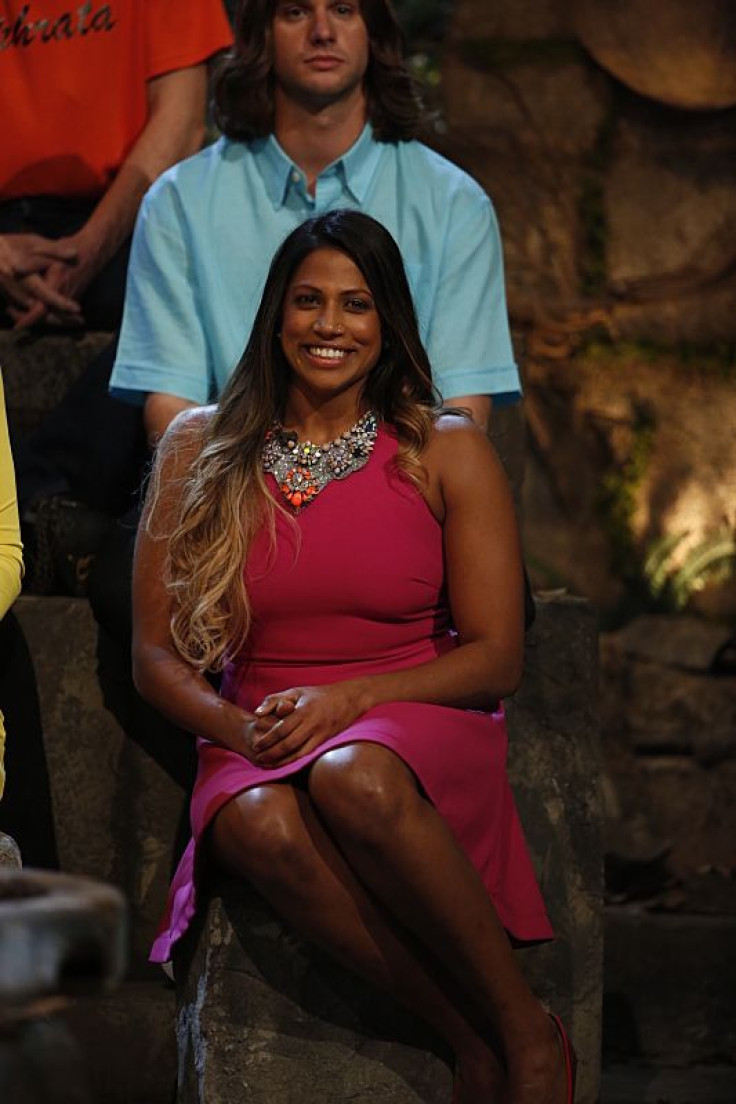 Outwit. Outplay. Outlast. One castaway would do all three and take home the title of sole survivor and a million dollars on the finale of "Survivor: San Juan del Sur – Blood vs. Water" Wednesday. Back in episode 12, Natalie took control of the game by blindsiding Jon. Would she be the one left standing at the end of the CBS show's remarkable 29th season?
Here's how it all went down in the two-hour finale:
Aftermath
After her boyfriend's blindside, Jaclyn was feeling defensive and got into a fight with Natalie over her comments about Jon's honesty. Natalie later claimed to be simply getting a rise out of Jaclyn to make it harder for the other three to work with Jaclyn and vote against Natalie.
Missy, meanwhile, plotted to take Baylor and Natalie to the final three and send home Jaclyn and Keith.
Reward
The individual reward required the four castaways – Missy had to sit out with her broken foot – to unspool a rope attached to them that was also wrapped around an obstacle course. They then had to build a bridge with wooden pegs and use bags of sand to knock over a pile of blocks. It came down to Natalie and Keith, with an advantage in the next immunity challenge at stake, but Keith pulled ahead at the end to win.
Keith then had to pick someone to send to Exile Island, a crucial decision. He chose Jaclyn, but that may have been a mistake since after Keith's continued success in challenges, Natalie was now gunning for the firefighter.
Exile Island
On Exile, Jaclyn was feeling the weight of the isolation, especially with Jon's recent departure. However, she vowed to do her best to survive until the end to get the money for her and Jon.
Keith's Clue
Keith got a clue to his immunity advantage, which turned out to be time with a practice table for the upcoming challenge, which would require the castaways to move small balls through obstacles on the table with two small paddles. Keith could practice as much as wanted as long as he did not stop; the firefighter worked at the table until almost dark.
Immunity
Jaclyn returned for the immunity challenge. Missy even felt well enough to compete. With a guaranteed spot in the final four on the line, the castaways did their best to be the first to get three balls across the table. Keith's practice paid off as he took an early lead and never looked back, finishing before any of the girls even got one ball, thus earning his third individual immunity.
Tribal Council
It seemed destined that Jaclyn would go home now that Keith had immunity, but Natalie seemed receptive to Jaclyn's pitch to vote with her and Keith, worried about overcoming the mother-daughter team of Missy and Baylor. Meanwhile, Baylor approached Natalie hoping Natalie would play her immunity idol for her mother. However, at tribal council Natalie instead played her immunity idol for Jaclyn and the two voted off Baylor.
Aftermath 2.0
Missy was upset about her daughter leaving the game, but seemed to understand Natalie's move. Natalie, on the other hand, looked primed for a seat in the final three after choosing to side with Keith, her biggest threat for immunity, and theoretically gaining his loyalty.
Final Immunity
The castaways had one last immunity challenge, to navigate an obstacle course and gather puzzle pieces. After solving the puzzle at the top of a large tower, the contestants would know from the missing pieces the shape corresponding to a number combination to raise a flag to win the challenge. With Missy having to sit out, it was just Jaclyn, Natalie and Keith competing for a guaranteed spot in the final three. Natalie and Keith were neck and neck for a while, but Natalie seemed to simply have more stamina than the other two, pulling ahead as she reached the puzzle. However, Jaclyn made an incredible rally, catching up and then taking the lead on the puzzle. She got her combination first and, despite hurting herself as she dropped from the tower, managed to raise her flag first and win immunity.
Tribal Council 2.0
Jaclyn and Natalie seemed to be deciding together who would be the last person voted out. However, Jaclyn had other ideas, pondering voting out Natalie (because her gameplay would fare well with the jury) or Keith (who might have all the men on the jury on his side). At tribal council, Jaclyn evidently decided that Keith was the bigger threat and he became the 15th person voted out of the game.
Final Three
The final three woke up on the 39th and final day of the show and enjoyed a cooked breakfast at San Juan del Sur.
Final Tribal
In the final tribal council it would be the jury – Josh, Jeremy, Wes, Reed, Alec, Jon, Baylor, Keith – who would vote for a winner. Missy, Jaclyn and Natalie all made speeches. Missy spoke about loyalty, the difficulty she faced writing Jon's name down, and persevering through her foot injury. Jaclyn talked about choosing the right side to be on throughout the game, pushing on through Jon's elimination and facing adversity in her own life (she's unable to have kids). Natalie made her case based on her gameplay being stronger than that of Missy and Jaclyn.
The members of the jury then addressed the finalists. Jon gave Jaclyn the chance to highlight her biggest decision, and Keith went after Natalie's honesty. Things got interesting when Alec got Natalie to admit to purposefully voting him out and questioned Missy about her motherly values. Baylor followed with an emotional speech about her admiration for her mother making it to the final three, and Wes put all three on the spot about playing with their loved ones. Josh grilled Jaclyn about whether her game was separate at all from Jon's. Jeremy didn't ask a question and just praised Natalie's game, and Reed ended the proceedings by eviscerating Missy for her attitude. Then it was just time to vote.
When the votes were tallied by host Jeff Probst, live in Los Angeles Wednesday night, Natalie Anderson came up the winner of "Survivor: San Juan del Sur – Blood vs. Water" with five votes to Jaclyn's two and Missy's one. And that was that for Season 29 of the CBS series. Season 30, "Survivor: Worlds Apart – White Collar, Blue Collar, No Caller," premieres in February 2015.
Did the right person win "Survivor: San Juan del Sur – Blood vs. Water?" Tweet your thoughts to @Ja9GarofaloTV.
FOR FREE to continue reading
✔️ Unlock the full content of International Business Times UK for free
offer available for a limited time only
✔️ Easily manage your Newsletters subscriptions and save your favourite articles
✔️ No payment method required
Already have an account?
Log in
© Copyright IBTimes 2023. All rights reserved.