Suspect In Grisly 2019 Mexico Mormon Massacre Arrested
A man has been arrested on homicide charges in connection with the grisly massacre of nine American-Mexican Mormon citizens last year, Mexican officials said.
The man, identified only as "Alfredo L," was detained in Ciudad Juarez Wednesday. His arrest came a year after gunmen ambushed three cars on Nov. 4, 2019, killing nine members of the LeBaron family, a group of U.S. Mormons who moved and settled in Mexico.
Suspects opened fire on the vehicles, who were traveling in a convoy from La Mora to the state of Chihuahua. Three women and six children died from the attack, the BBC reported.
Eight other children survived the attack, including seven-month-old Faith Langford, who was found in one of the vehicles, and a 13-year-old boy, who hid his siblings in the bushes. The teenager then walked about 23 kilometers back to La Mora and asked for help.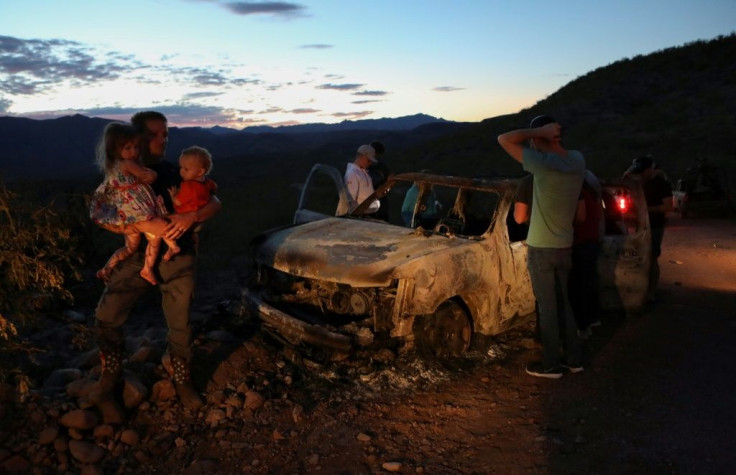 Faith's mother, Christina Langford, was one of the three women who were killed. Community members who arrived at the spot of the incident said one of the cars was burned with some of the victim's bodies still inside, according to the outlet.
The office of Mexico's attorney general described "Alfredo L" as a member of a "criminal organization with a presence in the north of (Mexico) and is likely a participant in the events occurred." He faces homicide charges, although details on what led authorities to believe that he was involved in the crime were not immediately available, said CNN.
According to Mexico's attorney general's office, 12 suspects have been arrested in connection with the case though only two of them, including the man arrested this week, have been accused of murder. The remaining 10 accused are facing other charges, including illegal possession of weapons and organized crime," said the New York Times, citing a statement from officials.
One of the theories surrounding the crime was a "case of mistaken identity," as per BBC. The area where the ambush happened is "being fought over" by rival gangs La Linea and Los Chapos. It is thought that lookouts of La Linea mistook the vehicles as an attack, thereby gunning down the cars in the process.
Far from celebrating the arrest of "Alfredo L", members of the LeBaron family expressed deep disappointment, frustration, and anger about the fact that a year after the murder of their relatives, nobody had been convicted of the crimes.
"It's absolutely frustrating. It's the easiest thing in the world for the government to say, 'We know who did it and we're going to catch them all,' but it's almost impossible to send someone to prison for murder," Julian LeBaron, first cousin of two of the women who were killed in the ambush, told the New York Times.