Syrian Refugee Crisis: Indiana Catholic Archbishop Goes Against Governor To Resettle Syrian Family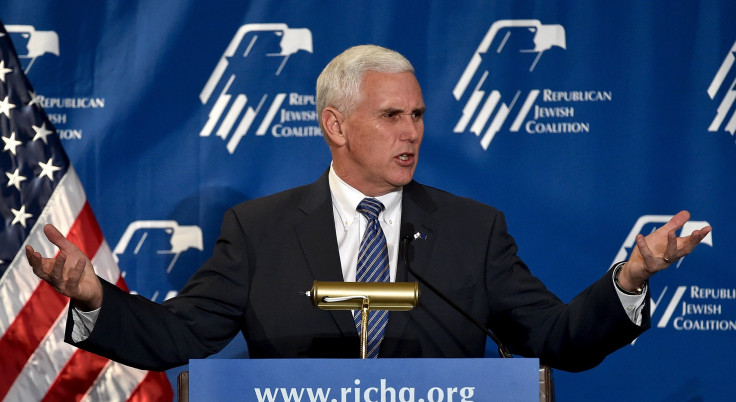 Indiana's Roman Catholic archbishop has gone against Gov. Mike Pence's decision to suspend the resettlement of Syrian refugees in his state, local station Fox 59 reported. Archbishop Joseph Tobin released a statement Tuesday saying he had listened to the governor's security concerns but decided to welcome a family of Syrian refugees.
"For 40 years, the Archdiocese's Refugee and Immigrant Services has welcomed people fleeing violence in various regions of the world," Tobin said in the statement. "This is an essential part of our identity as Catholic Christians, and we will continue this life-saving tradition."
The Catholic Church helps to resettle families through the U.S. Conference of Catholic Bishops and its Migration and Refugee Services. Tobin said the Syrian family welcomed by his group fled Syria three years ago due to violence from the civil war that began in 2011. He said the family underwent two years of security screenings and interviews and was then offered approval to enter the U.S.
Following the Paris terror attacks last month, Gov. Mike Pence joined a list over half of the nation's governors who declared that Syrian refugees were not welcome in their states. Pence argued at the time, "my first responsibility is to ensure the safety and security of all Hoosiers." Pence's office issued a statement Tuesday in response to the resettlement of the Syrian family.
"The governor holds Catholic charities in the highest regard but respectfully disagrees with their decision to place a Syrian refugee family in Indiana at this time," the statement said. "Prior to the terrorist attacks in Paris, which involved a Syrian refugee as one of the attackers, the Obama Administration's own FBI Director said there are 'gaps' in the Syrian refugee resettlement program."
The statement went on to say that Indiana would continue to suspend its participation in the resettlement of Syrian refugees until the federal government takes actions to address the "concerns raised about this program." The release noted that since suspending the resettlement of Syrian refugees in November, Indiana has resettled 28 refugees from Myanmar and Congo. Approximately 40 Syrian refugees have been resettled in Indiana since 2010, the Indianapolis Star reported.
Over 220,000 people have died in the civil war in Syria, and millions have been displaced. The Obama administration has committed to resettling 10,000 Syrian refugees.
© Copyright IBTimes 2023. All rights reserved.