Taco Bell Free Taco: Residents Affected By Hurricane Sandy Can Still Participate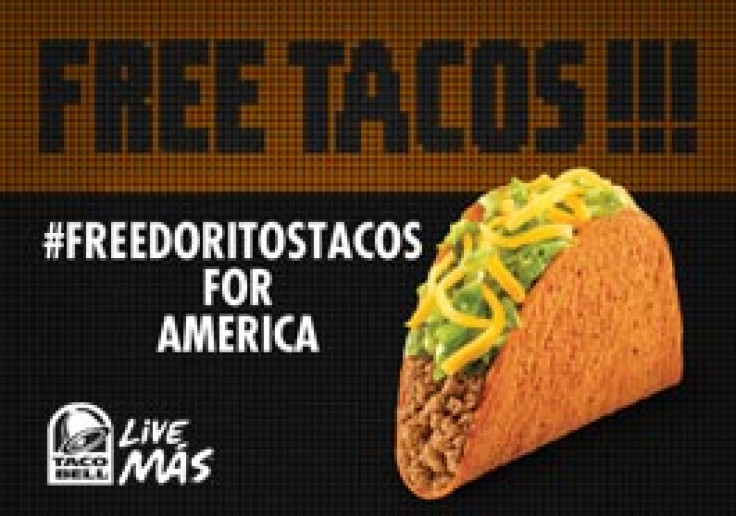 As much of the East Coast dealt with the aftermath of Hurricane Sandy, Taco Bell was providing comfort in the form of the ultimate comfort food – the restaurant chain offered free Doritos Locos Tacos as part of its "Steal A Base, Steal A Taco" promotion Tuesday.
Taco Bell pledged to offer free Doritos Locos Tacos if a base was stolen during the World Series. The promotion was in effect for Tuesday, Oct. 30, after San Francisco Giants outfielder Angel Pagan stole second base in Game 2 of the World Series. Although locations hit by Hurricane Sandy could not participate, Taco Bell said it would offer free Doritos Tacos Locos to residents affected by the storm on an undetermined date.
You can find your nearest Taco Bell here to get your hands on a free Doritos Locos Tacos when the new promotion date is unveiled.
In a statement released Tuesday, Taco Bell indicated that it might be difficult for locations affected by Hurricane Sandy to fulfill the promotion. But don't worry, because the restaurant still plans to honor the deal in areas hit by Sandy at a later date.
"While we want everyone to get their free Doritos Locos Taco from the Steal a Base, Steal a Taco promotion, our top priority is the well-being of our team members and customers during this massive storm," Taco Bell said in a statement. "In the affected areas, we are now focused on feeding first responders and reopening our restaurants. Our operators are handling this on a case-by-case basis, and the restaurants that are able to reopen [Tuesday] will honor the free taco giveaway from 2 -6 PM local time."
Taco Bell's Doritos Tacos is a new addition to the chain's menu.
The restaurant describes the fast food favorite as "a crunchy taco made with premium seasoned beef, crisp lettuce, and real cheddar cheese, in a shell made from Nacho Cheese Doritos® Chips."
The Doritos Locos Tacos packs 170 calories, 9 grams of fat, 25 milligrams of cholesterol and 8 grams of protein, according to nutrition information posted on the Taco Bell website.
The Doritos Locos Tacos Supreme adds tomatoes and sour cream. It has 200 calories, 11 grams of fat, 35 milligrams of cholesterol and 9 grams of protein.
© Copyright IBTimes 2023. All rights reserved.