Talk Like A Pirate Day Events NYC 2015: Where To Drink, Dance, Sing And Celebrate In New York City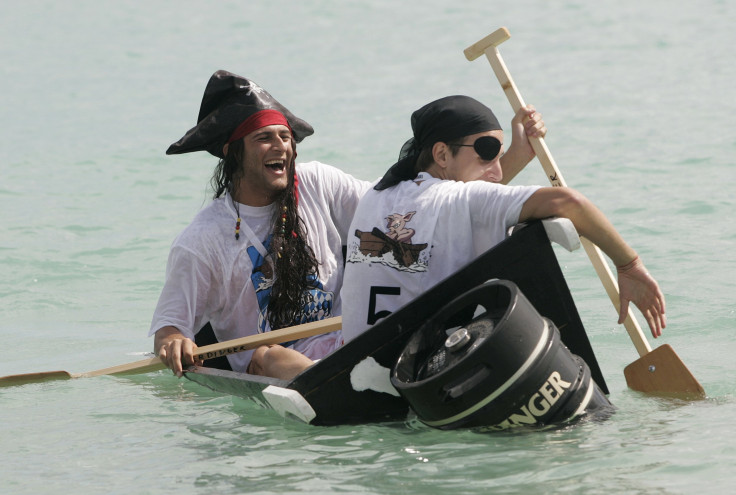 Ahoy, matey! So you've decided that you're going to be spending Saturday as a pirate, stumbling down the streets with a plastic sword you're pretending is real and acting a little bit more aggressive than you normally might? Great, here's wishing you a happy Talk Like a Pirate Day! Maybe you'll drink some grog along the way, get three sheets to the wind and call your friend a "son of a biscuit eater" -- or maybe a "scallywag" -- and have to sheepishly send an apology text the next morning for the insult.
That all sounds fun, but you may have one problem. Do you know where to celebrate? Of course not. You're a pirate who just got in town for a wild time; you're not a landlubber! No cause for alarm, though. Consider this your crow's nest. If you happen to be, say, a Somali pirate, as opposed to an old-fashioned Caribbean pirate, that term refers to the lookout of a ship.
Keep reading to find out where you can go in New York City to act like a pirate. First things first: You'll want to brush up on your pirate lingo and accent, get dressed as a pirate and then, of course, change your Facebook settings so that it is in pirate talk, too. Only then will you be ready.
There are several regular promotions for the holiday. Here they are:
Krispy Kreme Doughnuts: Forget breakfast. You're a fierce man or woman of the sea. Today, you don't care about granola, orange juice or yogurt. No, today all you care about is booty, and doughnuts are a fine bounty. They've been doing this for a while, and at participating locations, you will be treated to a free donut if you talk like a pirate. Go in dressed as a pirate and they'll be so afraid of you that you'll get a dozen glazed donuts. The only New York City location is Penn Station. Get more information here.
Sing Like A Pirate Day, South Seaport Museum: One of the most important things that pirates do is sing. They do it to pass the time. They do it because they're drunk, too. From 1:30 p.m. to 4:00 p.m., you can join this event which is co-sponsored by the Folk Music Society.
Pirate Eve with the Folk Music Society of New York: OK, this one takes place the night before the day of pirate festivities. From 8 p.m. to 10 p.m. Friday, head on over to OSA Hall at 23 E. 23rd Street, suite 707, in Manhattan for a fine night of dancing and songs of the sea. Their pirate posting says no salt pork will be available, but that weevily bread is a likely choice.
Wicked Willy's: This one is, perhaps, an obvious pick. When you Google "pirate bar" Wicked Willy's is the first, and perhaps only, choice that comes up in New York City. It's located in Greenwich Village, named after a fierce pirate named Willy and the establishment's website accurately proclaims that "time flies when you're having RUM!!!"
Enjoy your rum, but remember to avast ye of your surroundings (especially when consuming alcohol) and never hornswoggle another pirate; that can get deadly. The bar is at 109 Bleecker Street.
© Copyright IBTimes 2023. All rights reserved.