Taylor Swift Reveals What She Learnt From Feud With 'Anaconda' Singer Nicki Minaj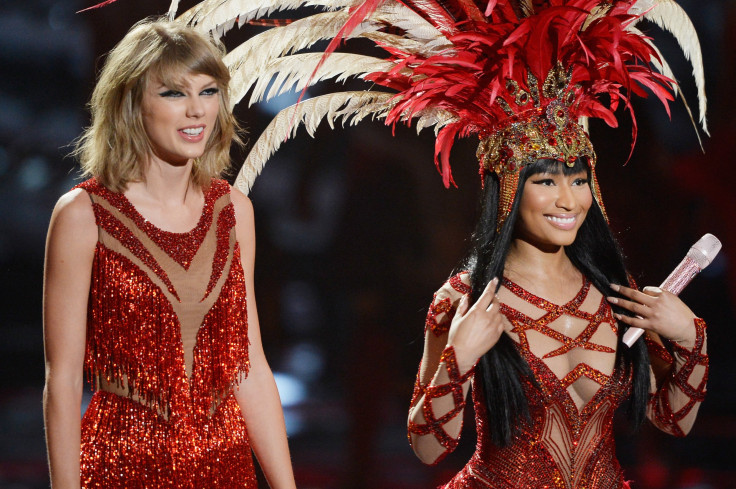 Taylor Swift said she has learnt a valuable lesson after her feud with Nicki Minaj that can help keep misunderstandings at bay. The "Bad Blood" singer, who refrained from elaborating about her row with Minaj, also referred to her issues with Kanye West.
"I don't want to talk about it," Swift told the U.K-based NME magazine, which is set to launch Friday, adding: "But I send text messages now. If there seems to be some kind of misunderstanding, I go to someone's management, I get their number and I text them.
"It's an important lesson for anyone to learn in 2015," Swift said.
The 25-year-old singer also talked about the rocky relationship she shared with West, after he interrupted her speech at the 2009 MTV Video Music Awards (VMAs), and how the two buried the hatchet.
"Me and Kanye are on such good terms now," Swift said in the interview Wednesday, adding: "It took a while ... But I had to tell Beck [Hansen] this story earlier. I was at dinner with Kanye a week after the Grammys, he stops what he's saying and he goes, 'What is this song? I need to listen to this every day.' I said, 'It's Beck, it's on an album called Morning Phase, I think you've heard of it…'
"We just burst out laughing. And he says, 'Hey, sometimes I'm wrong,'" she said.
The feud between Minaj and Swift began after the two exchanged a series of messages about nominations for the MTV VMAs. Minaj had expressed disappointment over "Anaconda" being left out of the nominations and Swift took offense thinking she was being targeted.
But Swift apologized to Minaj for her reaction, saying in a tweet: "I thought I was being called out. I missed the point, I misunderstood, then misspoke. I'm sorry, Nicki."
© Copyright IBTimes 2023. All rights reserved.