Technology Focus: Windows 8 Finally Here Too Late?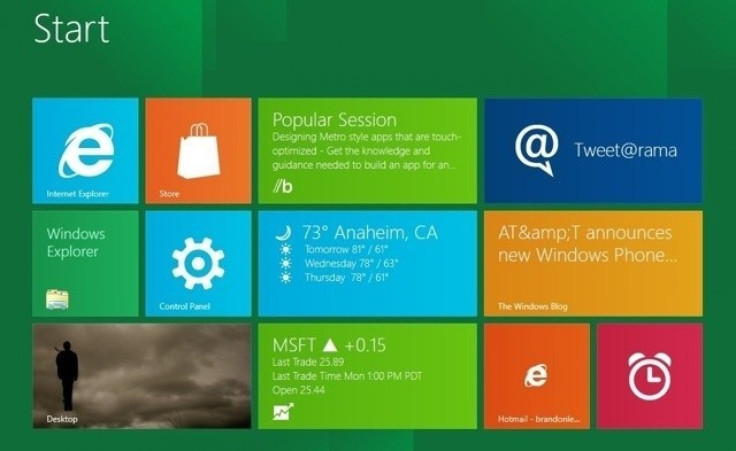 So the technology world has finally made it. This week, Microsoft (Nasdaq: MSFT), the world's biggest software company, finally ships Windows 8, the new OS the company claims is its biggest product in 17 years, the biggest even in its 35-year history.
Besides supporting PCs and servers, Windows 8 also will support smartphones from Nokia Oyj (NYSE: NOK) and HTC Corp. (Taipei: 2498), as well as the Microsoft's new Surface Tablet and even some rival tablets.
"The launch of Windows 8 is the beginning of a new era at Microsoft," said CEO Steve Ballmer, 56, last week. But coming in an era of major technology shifts, one wonders if it's too late or enough to combat the current technology slowdown.
The Redmond, Wash.-based giant itself reported a worse-than-expected first quarter, missing analyst estimates for both earnings and revenue. Net income plunged 22 percent to $4.46 billion, or 53 cents a share, as revenue dipped nearly 8 percent to $16 billion. To be sure, deferred income from Windows 8 kept both revenue and income down.
The report didn't benefit Microsoft shareholders: Their stocks fell 2 percent last week, closing at $28.64, trimming their 2012 advance to only 10 percent, far below prior performance.
Microsoft was hurt by global lagging demand for both PCs and laptops, while sales of its products for enterprises, its server and tools business, rose 8 percent to $4.55 billion.
Two giant Microsoft partners, Intel (Nasdaq: INTC), the No. 1 chipmaker, and Advanced Micro Devices (NYSE: AMD), the No. 2 microprocessor developer, reported poor quarterly results, and its two biggest U.S. PC customers, Hewlett-Packard Co. (NYSE: HPQ) and Dell (Nasdaq: DELL), the No. 1 and No. 3 PC makers, previously reported lower sales.
So Microsoft is counting on Windows 8 to turbocharge it for 2013 and beyond, for the enterprise sector but especially for consumers. Selling the Surface and issuing a version called Windows RT for tablets that run on the Arm Holdings (Nasdaq: ARMH) chips in tablets, such as from Apple, as well as Intel's Atom chip, signals a big push into tablets.
Apple, which has benefited from the iPad craze for nearly three years, faces mounting challenges ahead from Amazon.com Inc. (Nasdaq: AMZN), the No. 1 e-retailer; Google (Nasdaq: GOOG), the No. 1 search engine, with its $250 Chromebooks as well as supplier-rival Samsung Electronics (Seoul: 005930).
Apple, meanwhile, plans to roll out a 7-inch version of the iPad next week before disclosing fourth-quarter results. A smaller, cheaper iPad is clearly aimed at the competition as well as bolstering its iOS 6, recently upgraded ahead of Windows 8.
According to market researcher IDC, Apple's iOS was the only sector of the PC and laptop market to see any meaningful sales gains this year. Apple's U.S. share rose to 12.5 percent from 11.8 percent a year ago, reflecting the magic the Cupertino, Calif.-based company has created around its products. Predictions are for Windows' share of all computing devices to keep falling from last year's 44 percent.
That's why Ballmer is banking on the new OS, plus some new Ultrabook PCs from U.S. and Asian PC makers, to generate new sales now, linked to holiday sales as well as corporate orders. And it's why Microsoft is setting up its own chain of retail stores, to battle Apple's well-regarded, high-profit chain of 393 stores worldwide.
Windows 8, like iOS 6, will run on all kinds of machines, from smartphones to mainframes, where Apple doesn't play.
"We give everybody what they want for the purpose they want it," said Microsoft CFO Peter Klein after earnings were reported. "When I talk to CIOs, for example, and the enterprises, one of the things they're really excited about is that Windows 8 devices give them the chance for their employees that use that technology to have the devices they want and bring to work. They get the kind of manageability, security, and integration to go on in business apps they want."
It will be new. It will require adjustment. But if it works, Windows 8 might just be what the doctor ordered to enable the company that made the PC a world product become the glue that connects the emerging 21st century world of interconnected devices.
© Copyright IBTimes 2023. All rights reserved.