'Teen Mom 2' Season 7 Reunion Spoilers: 12 Craziest Jenelle Evans-Leah Messer Moments From Part 1 [RECAP]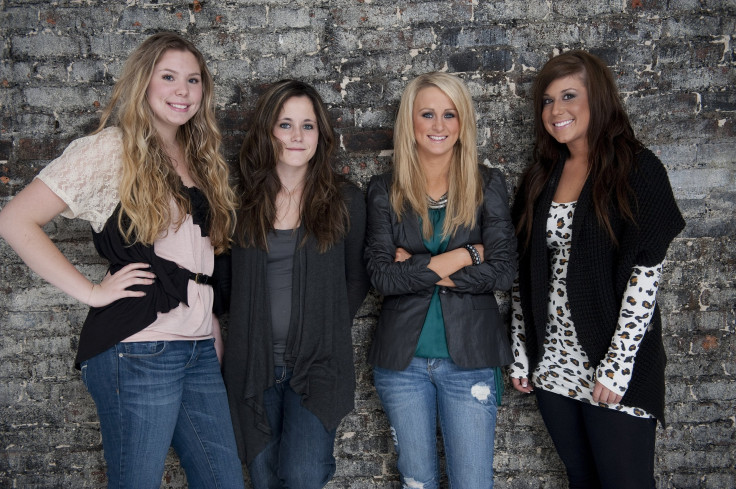 After a season filled with tears, fights and big revelations, the leads of MTV's "Teen Mom 2" sat down with host Dr. Drew Pinsky for part one of the Season 7 reunion special Monday night. While Chelsea Houska and Kailyn Lowry briefly took the stage, the special mainly focused on Jenelle Evans and Leah Messer. Relive its 12 craziest moments below.
David vs. Barbara
Jenelle says her anger this season stemmed from the conflict between her boyfriend David Eason and her mother, Barbara. She says they are on good terms now, despite the fact she previously called him the "worst boyfriend" she's ever had. Jenelle also shares that her mother has since apologized for their infamous fight, which led to a police visit.
Another Jenelle Baby
Jenelle says David is much more family-oriented than her ex Nathan Griffith, and, as she's previously stated, she wants one more child. Dr. Drew points out she would then have three children by three different men.
Abuse Allegations
When Nathan takes the stage, things get heated. Nathan accuses Jenelle's boyfriend of being physical with her, referring to a cut on her wrist. When Jenelle asks Nathan whether he remembers slapping her face when he was drunk while they were still together, he replies that he does not. However, he says he does recall a time when Jenelle's friend Tori supposedly bit his neck and Jenelle "slit her wrist" as a result.
Kieffer Sleepover
When Jenelle accuses Nathan of finding somebody new and ending their relationship as a result, he accuses her of cheating on him with her ex Kieffer Delp. Jenelle says she and Kieffer met up — Barbara calls it a "one-night visit" — after their breakup. Jenelle says Nathan saw them together when he climbed in her bathroom window at 4 a.m. after moving out months before. Barbara claims Nathan reacted by choking Kieffer and "almost killed him."
Heroin and CPS
When the subject of their son comes up, Nathan accuses Jenelle of keeping Kaiser away from him and in "an unstable environment with two drug addicts." Nathan adds he doesn't think Jenelle is capable of caring for their son because of her mysterious medical issues and "drug abuse problems."
Consistent with concerns she addressed this season, Jenelle rebuts that he does not have the things their son needs to be in his care, such as a driver's license, a high chair and a car seat. She also tells the audience Nathan called child protective services on her and accused David of being a heroin addict. Nathan says he reported her for being a repetitive heroin user and because she is living in a town where she had bought drugs in the past.
Jenelle and Nathan have since resolved their custody situation. They signed off on an agreement to share joint custody of Kaiser last month.
Weight Comment
As discussed this season, Nathan shares onstage that he's fighting for custody of Kaiser. When Jenelle slams Nathan's attorney for including details about her sex life in their court custody documents, Nathan tells his ex she shouldn't talk about her sex life on national television. Jenelle sarcastically apologizes for them not being together anymore, but he makes it clear he doesn't want a relationship. "How much pounds have you gained? You've gained 30 or 40 pounds, didn't you?" he says.
Barbara's Side
When Barbara makes an appearance, she sides with her daughter. Barbara labels Nathan a liar and an alcoholic, recalling seeing him doing shots "almost 24/7" when he was with Jenelle. Barbara also says she believes Nathan cheated on Jenelle and that he purportedly choked her while she was pregnant.
Jace's Diagnosis
Barbara says Jace, Jenelle's eldest son, who is in her care, was diagnosed with attention-deficit/hyperactivity disorder after almost failing first grade. She says that two days after taking his medication he began doing better in school. Jenelle says she wasn't involved in his doctor's appointments, despite her desire to be included in them, and she doesn't want him taking a controlled substance.
Jace Custody Battle
Barbara says she's open to discussing Jace's custody situation with Jenelle, but she doesn't want David to get involved. When Dr. Drew asks whether there is an easier way for them to settle Jace's custody than going to court, Barbara replies that she's ultimately worried about Jace's feelings. Barbara claims Jace gets very concerned about her death or her prolonged absence. Jenelle and Barbara are due back in court July 5.
Ali's Special Needs
In Leah's segment, she gets emotional watching past moments featuring her special-needs daughter, Ali. Leah says it's difficult to watch Ali, who suffers from muscular dystrophy and uses a wheelchair, as she is no longer able to do certain things she was once able to do. Ali's father, Corey Simms, says he's open to changes and is taking her issues day by day.
The Jeremy Problem
Leah calls her on-camera dinner with her ex-husband, Jeremy Calvert, "painful." She admits that at the time of their meeting she was still in love with him, but is now "completely over it" and has accepted they will not get back together. While her romantic feelings are behind her, she says their co-parenting struggles are not.
Leah says Jeremy has since moved from West Virginia to Ohio to be with his new girlfriend Brooke. Leah, who has full custody of their daughter Adalynn, claims it is sometimes "weeks" between the times when Jeremy sees their daughter. Leah also shares that Jeremy is unemployed and told her he was fired for asking to attend the "Teen Mom 2" reunion, but that she doesn't believe him.
Reunion Issues
The father of the twins Ali and Aleeah, Corey called in to the show via video chat, saying he did not want to attend the reunion because of the stressful taping last season. He says that when he and Leah would leave reunions in past years, it would cause tension between them. Despite their issues this season, Corey says he, Leah and his wife, Miranda, are getting along. Leah says she feels "at peace" when they're together now and that it has changed their girls in a positive way.
Part two of the "Teen Mom 2" Season 7 reunion special will touch on Chelsea Houska's forthcoming wedding and her child support battle with ex Adam Lind. And Kailyn Lowry will discuss her miscarriage and her husband Javi Marroquin's deployment. Tune in to the special on MTV Monday, June 20, at 9 p.m. EDT.
© Copyright IBTimes 2023. All rights reserved.