'Teen Mom 2' Star Leah Messer Spanks Daughter Aleeah On Camera, Says She Feels 'Bad'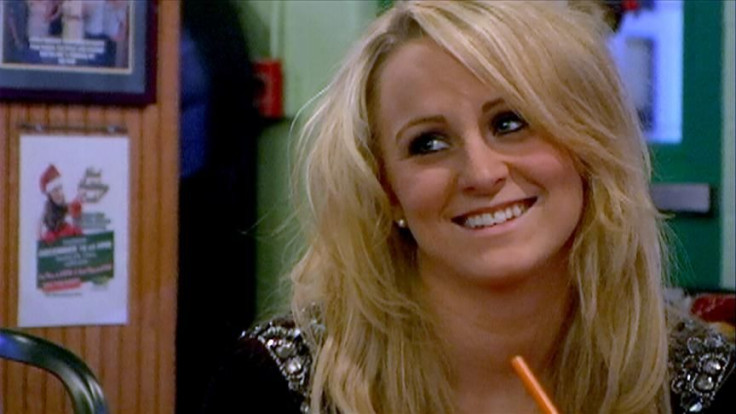 Leah Messer's custody arrangement with her ex-husband Corey Simms doesn't appear to be going too well for their twin daughters, Ali and Aleeah. In a sneak-peek clip of Thursday's "Teen Mom 2" Season 6 episode, Aleeah, 5, acts out after returning to Leah's home following a weekend at Corey's abode.
"I just picked up the girls from school and they're totally out of control," Leah, 23, says in a voiceover.
"I'm just feel stressed out," Leah tells her friend Amber who is helping her take care of the girls. "I forgot that today is the first day they've been back … It may be the transitioning from his house to my house. I mean Ali does good at the whole transitioning, it more Gracie [Aleeah]."
In the clip, obtained by Us Weekly, Aleeah puts on makeup – despite her mother's request not to do so – repeatedly laughs while kicking her 2-year-old sister Adalynn's toy car and refuses to share her snack with Ali. When she doesn't to follow Leah's orders to pick up a toy during her conversation with Amber, Leah reacts by standing up and removing her daughter from the room.
"Stop!" Aleeah cries when she sees her mother approaching her. Leah responds, saying, "Oh yeah, come on."
"You're not gonna act like this in front of people. Do you understand? I've had enough," Leah says before taking Aleeah in a private room where she can be heard spanking her. Aleeah can be heard crying and screaming "No!"
"Listen to me. I don't why you're acting like this," Leah says. When Aleeah continues to act out, Leah threatens her daughter with a time out. When Aleeah says she does not want to "sit in the corner," Leah lets her go.
"I had to spank her," Leah admits to her friend. "I feel bad because I spanked her."
Amber tells Leah not to worry about her punishment technique, saying, "We were raised the way we are in West Virginia, anyways. Like, I was whipped and I turned out okay."
Watch the "Teen Mom 2" Season 6, episode 4 clip, via Us Weekly, here.
This isn't the first time Leah has spanked one of her children on camera. According to WetPaint, following the premiere of a March 2014 episode of "Teen Mom 2," Leah's mom, Dawn Spears, defended her daughter's actions on Twitter. "It is LEGAL in the state of WV to smack your child's behind as long as it isn't with an object or leave bruises or markings," Dawn wrote. "A lot less violence was in the world when parents took their children over their knee."
Watch four more sneak-peek videos from the upcoming installment of the MTV docuseries here. "Teen Mom 2" Season 6, episode 4 premieres Thursday at 10 p.m. EDT on MTV.
© Copyright IBTimes 2023. All rights reserved.