'Teen Mom' Cast Gangs Up On Jenelle Evans After Threatening To Quit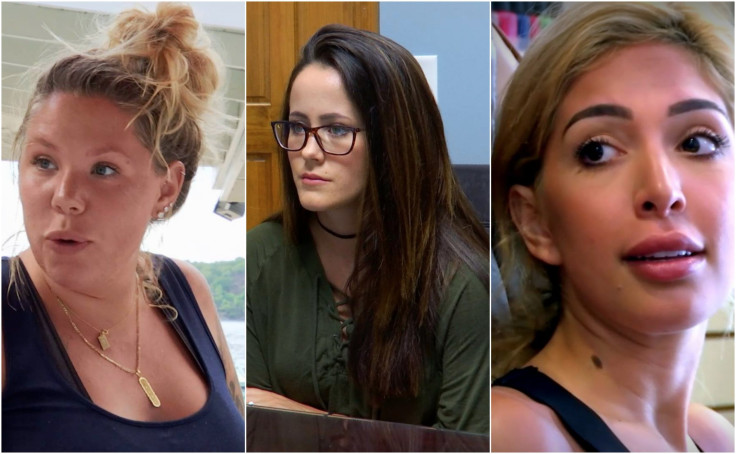 The cast of "Teen Mom 2" and "Teen Mom OG" don't seem to be on the same page as Jenelle Evans. Following Jenelle's decision to slam MTV and threaten to quit the series following an episode which alluded to relationship issues between her and fiancé David Eason, which she claims was heavily edited, two cast members of the MTV franchise have spoken out against the TV personality.
Farrah Abraham of the "OG" series was the first to speak out against Jenelle, telling TMZ on Thursday that Jenelle should know her place. "I don't edit the show. None of the women do. I don't really think that they should be talking about the edit," Farrah said. "That's kind of like an dead story, it's an old topic."
"I signed up to only talent, that's my pay grade and I don't like to edit so I'll leave it to them," she added.
When asked if she felt Jenelle was being over-the-top about the situation, Farrah suggested Jenelle "apply to edit" the show instead of star.
Kail Lowry, who stars with Jenelle on "Teen Mom 2," said Jenelle knew what she was getting into by signing up for reality TV. "We all kind of have a storyline that we have to follow," Kail explained to the outlet. "It is up to us to change it if we really want to better our image."
Kail went on to state that she doesn't remember the series ever editing her conversations in the way Jenelle is claiming the network did her. However, she stated that it is in their contract that the network is allowed to edit them. "There's always times where we don't like how they edit things but at the end of the day, that's what we signed up for and its in our contract that they're allowed to do that," she said.
"I'm not going to say Jenelle's overreacting or being dramatic, I think Jenelle's just being Jenelle," Kail added. She later shared that Jenelle texted her telling her to stop talking about her. Kail also confirmed that she and her co-star are not friends.
Jenelle first stated she was thinking about leaving the show following the premiere of Season 8, episode 15 on Oct. 9. The controversial episode in question showed Jenelle deflecting when asked about an alleged fight between her and David, which stopped production, and showed instances of her children being ignored.
After deactivating her Twitter page, Jenelle took to Instagram to rant about the show's post-production and claimed that being on the series wasn't healthy for her family.
Yes, me and David have our ups and downs but yesterday's episode was uncalled for. Because David didn't feel like explaining another argument or drama on camera they make it look as if David is hiding some weird [expletive] from the public as if he was hurting me in some way?! I have decided after this season I'm probably calling it quits for filming this show. I told [showrunner] Morgan [J. Freeman] it's getting to out of hand and it's not healthy for us anymore, just harming us mentally. They treat all of us as if we are in a freak show and in cages. WE aren't human beings to [MTV] what-so-ever ... Once they treat me with respect I'll be back, if they don't I'll be happy with the life I've got. I told them this last night.
Jenelle followed up on her comments, recently telling TMZ that leaving the show was still on her mind.
"I have no idea," Jenelle responded when asked if she would return for more episodes. "It's really mentally hurting me. It is hurting David really bad. My kids are seeing my cry from comments online or whatever and they're upset cause I'm upset and then he's upset."
Jenelle said she understand the show needs to show dramatic moments, like her fights, but that MTV needs to work with her on the editing. "Unless they try to work with me and change the editing around to where it's portrayed the right way ... Don't try to create drama when there isn't a fight."
While Jenelle wants to consider partying ways with the series, the MTV star says her mom and co-star, Barbara Evans, has told her to remain on the program.
"My mom's also texting me saying, 'You better do this show, you better do this because you won't have any money for the rest of your life,'" she said. "It's like everyone's trying to force me into it and I'm just not liking that."
© Copyright IBTimes 2023. All rights reserved.