'Teen Mom OG' Recap: Maci Bookout Makes A Big Decision About Her Ex In Episode 6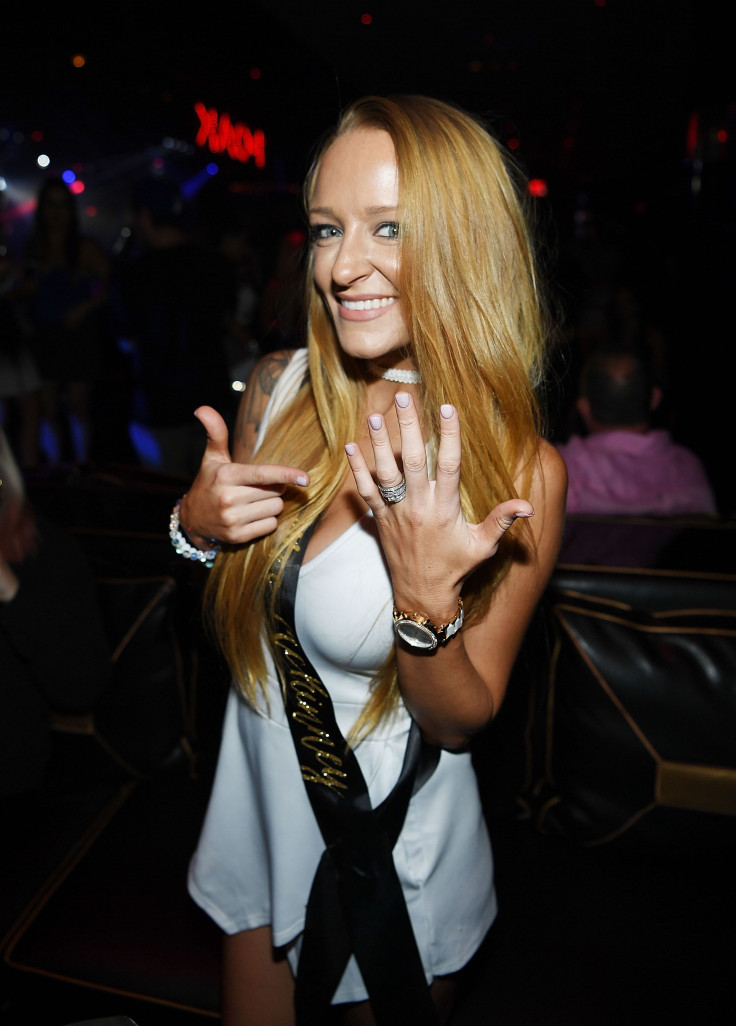 Both happy and sad tears were flowing on Monday's "Teen Mom OG" as the cast made some big life changes. Farrah Abraham attended an emotional therapy session following several spats with her boyfriend, while Catelynn Baltierra cried over her internal struggle of receiving treatment for anxiety and depression. For Maci Bookout and Amber Portwood, there was nothing by excitement in Season 6, episode 6 of the MTV series as Maci continued to plan her wedding and Amber purchased a home.
FARRAH
Following their vacation fight, Farrah decides to go to therapy with her boyfriend Simon. Farrah says she wants to find out Simon's true intentions with their relationship and whether or not they're compatible.
During a sit-down with Dr. Jenn Mann, the specialist says she's watched footage of Farrah talking to Simon and "no man in his right mind will stick around" to be treated the way she treats him. When Farrah brings up the engagement ring she purchased for herself, Simon says the reason he hasn't paid for it is because he felt it was overpriced. Farrah cries when denies he was in on the engagement purchase and excuses herself from the session.
When Farrah returns, she says Simon has told her he wants to get married and have children. Dr. Jenn tells Simon that Farrah has always craved stability, and her hurt is understandable. She also tells Farrah she should not include her daughter Sophia in Simon's life until she knows they're stable, saying they need a communication revamping.
Afterwards, Simon says he realize she has a lot to work on. Farrah shares her plans to call Simon only when Sophia isn't around, but is upset they have to restart their relationship. Simons tells her it will all be worth it.
AMBER
Amber and Matt's real estate bug continues. After successfully flipping a couple of houses together, they decide to buy a home. Amber says the new house is closer to her daughter Leah's school. Despite being excited about the change, Amber says she's aware her neighbors are "upper class" and worries she won't fit in.
"I'm not the same as these people," Amber comments after they move, revealing she's now living across the street from a prosecutor.
While Amber and Matt take a big step in their relationship, Amber's ex Gary Shirley makes an equally big commitment. After legally tying the knot to his wife Kristina, he decides to surprise her with a beach ceremony on vacation. He uses Leah to help surprise Kristina, who cries over the gesture of the vow renewal, calling it her "dream wedding."
MACI
Maci says she's almost fully moved into her and Taylor McKinney's new home but she's taking things slowly because she doesn't want to put herself into labor. While they're almost settled, Maci says she and Taylor have yet to nail down their dream wedding venue because it was too costly at $20,000. Maci and Taylor agree they would be OK getting married at a courthouse, but Maci says their parents would disown them if they did.
After temporarily agreeing to postpone their wedding, the two get an accepted offer on the venue and continue planning. They hit another bump when they realize their guest list is already over capacity. She and Taylor go on to have an uncomfortable conversation about whether or not to invite her son Bentley's dad, Ryan Edwards. Taylor's says he's OK with Ryan attending and they both agree it is important for Bentley for him to be there.
Meanwhile, Ryan tells his parents he wishes Maci was having her big day something more exotic than Florida. He wonders if he'll get an invite but says even if he doesn't, he'll crash the affair.
CATELYNN
Tyler Baltierra says he's going to take their daughter Nova to visit Catelynn in treatment after two weeks of being apart. When Catelynn calls Tyler, she tells him she "sick" of being in treatment and feels bad about leaving her family.
When Tyler gets a visit from Catelynn's therapist, he shares his wife cries every time they talk. The therapist says Catelynn is going from withdrawals from marijuana, and tells Tyler to reassure her that he's not going anywhere.
After flying to Arizona for their facility visit, Tyler says he recognizes Catelynn seems to be getting better. He also shares that he told Catelynn there's nothing else he can do for her, and she needs to keep getting help in order to figure out her issues.
Back at home, Tyler breaks down during a talk with his mom Kim. He reveals he recognized Catelynn was struggling when Nova was 3 months old and that his wife has told him she fears she is hurting everyone around her. Kim tells him to also remember to take care of himself so he can be strong for Catelynn when she returns.
"Teen Mom OG" airs Mondays at 9 p.m. EDT on MTV.
© Copyright IBTimes 2023. All rights reserved.