Thanksgiving 2011: The Eat, Do, Volunteer New York Guide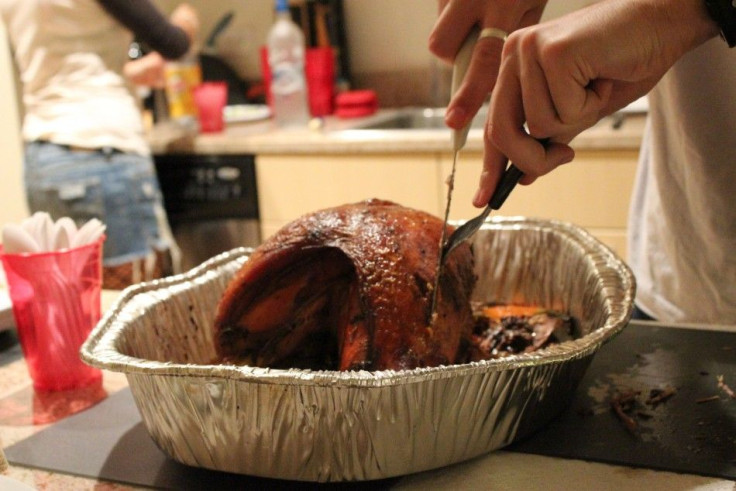 Thanksgiving 2011 is less than a week away, but it is never too late to make plans. We have put together a guide of events, restaurants and volunteer opportunities for the holiday:
Home cooked meal: Want to stay at home but don't know how to go about preparing the meal? Here are come places in NYC you can visit for some help.
Local Roots NYC: The deadline for Turkey orders has passed but some delivery slots are still available through Tony Magazine. Local Roots offers a range of Turkeys pedigreed in New York State farms and they deliver them directly to your doorstep. With your Turkey you can also choose to buy sides of vegetables, fruit, bread and baking shares that all come with the farm's favorite Thanksgiving recipes and complimentary pack of mulled spices. Delivery is available in Brooklyn, Manhattan and Queens.
Meat Hook: This month Meat Hook butchers in Manhattan and Brooklyn are giving lessons to people who could do with a little practice before cooking a feast at Thanksgiving. They supply Turkeys from Fingerlakes Family Farm, New York, bu hurry as supplies are limited and subject to pre-orders. Meat Hook also supplies homemade sausages, bacon and stuffing. Turkeys are priced at $6.99/lb
Eataly: Conveniently located in Midtown Manhattan and fully stocked with Turkey, the Italian store is a fine place to purchase Thanksgiving goods. Eataly is offering Lancaster, Pennsylvania-bred heritage Turkeys prices at $5.80.lb with cooking instructions upon request. The Turkey's must be preordered at the meat counter and can be picked up between Nov.21 and Nov.23.
Fresh Direct: Best known for its convenience, the online grocery store continues to make life easy for its customers in the lead up to Thanksgiving. Not only are they offering to deliver Turkey to your door but they are supplying 13 sides to go with it. Including: Cranberry, bread stuffing, yams, and marshmallows.
Eat-Out Thanksgiving: Don't want to stay home and cook? Here are some NYC restaurants offering Thanksgiving meal specials.
Porter House: Located on the fourth floor of the Time Warner building, Porter House is offering a meal with sweeping views of Columbus Circle. The $85 prix fixe menu ($35 for kids under 10) offers up your choice of turkey, filet mignon, rib eye, or salmon and includes a dessert trio that lets you have your pumpkin pie, apple pie, and chocolate cake too.
Rockefeller Center: Thanksgiving dinner at the Se Grill in the Rockefeller center overlooks the iconic skating rink. You may not want to eat their signature seafood dishes on Thanksgiving but Turkey is available too complete with stuffing and cranberry relish. Their $78 pre-fix menu may be heavy on the seafood but the lobster and scallop are definitely dishes to die for.
Central Park: The central park boathouse is offering a traditional Thanksgiving meal right on the lake. The $65 per person (half price for kids under 12) meal comes Turkey and all of the trimmings. Book now to secure a place.
DuMont: Fancy something a little less pretentious that doesn't involve Turkey? Head down to Dumont in Williamsberg for a Thanksgiving prix fixe that serves Scottish salmon, heritage pork chops and ricotta.
Inside Park at St, Bart's: This eatery offers a family style Thanksgiving meal priced at $55. Their herb-roasted Turkey comes with add-on entrees including juniper-roasted venison and cedar-planked salmon ($10 per serving). Autumn cocktails include the Ginger Spice (spiced rum, ginger liquor, cider and a cinnamon stick) and a holiday-inspired punch.
Thing to do: Once you have your belly full there are plenty of activities around the city that will help you burn off the calories.
Macy's Thanksgiving Parade: This is one of NYC's biggest annual events. Performance groups, giant balloons, floats and music bands all take to the streets in New York for one big celebration. Starting at 77th Street and Central Park West and head south, the parade turns east on Central Park South before turning onto Seventh Avenue. At 42nd Street it will slide over to Sixth Avenue before meandering down to Macy's at Herald Square. Though the first massive balloon doesn't cross the starting line until 9am, parade officials recommend that you pick your viewing spot by 7am to avoid disappointment. The parade is an Emmy-award winning celebration that carried an 85-year tradition. Around three million spectators are expected to line the streets of NYC for the celebration.
Black Friday: This is the day that kicks off the holiday shopping season. Many stores across the city will be offering huge discounts, putting themselves in the black profits wise. Some people stay away from shops on this day avoiding the crowds but getting in line early could mean catching a worthwhile bargain.
Volunteer: For those who want to participate in the holiday's message of 'giving thanks;' there are plenty of places to volunteer across the city.
Soup Kitchens: Every soup kitchen needs volunteers and what better time to participate than thanksgiving. The Bowery Mission, City Meals on Wheels, New York Cares and volunteer NYC are all looking for volunteers.
God's Love We Deliver: GLWD will be delivering home decorated bags to homebound New Yorkers in addition to offering dinner, but they are looking for street savvy volunteers who will help them with the delivery process.
Yorkville Common Pantry: The pantry is offering packaged groceries and hot meals to low-income families. They are looking for volunteers to help hand the food out on Nov.23 between 4-7pm.
© Copyright IBTimes 2023. All rights reserved.