Thomson Reuters buys Pangea3, expands into LPO industry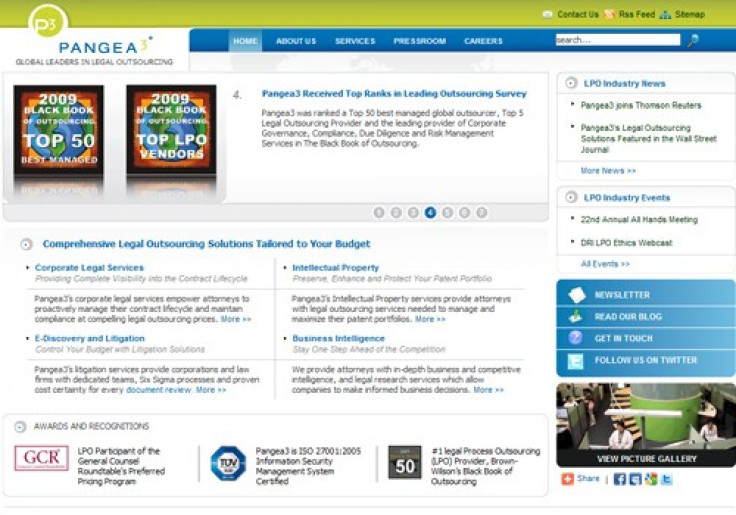 Thomson Reuters, the world's leading financial news and business information provider, is acquiring Pangea3, one of the largest legal outsourcing firms in India, for an undisclosed amount.
Though Thomson Reuters refuses to disclose the deal value, it is expected to be in the range of $35-$40 million.
Pangea3, founded in 2004 by Perla, formerly Monster.com vice president, Business & Legal Affairs, and Kamlani, who was OfficeTiger CFO and general counsel, is a fast-growing legal process outsourcing (LPO) provider serving corporate legal departments and law firms worldwide. It is headquartered in New York and Mumbai, India, and has 650 employees at its major delivery centers in Mumbai and New Delhi. Pangea3's client base includes Am Law 250 law firms and some of the world's largest financial services, pharmaceutical, healthcare, food and beverage, technology and consumer goods companies. The firm offers a variety of services organized into four distinct lines of business including legal document review; corporate transactions; intellectual property; and risk management and compliance.
Post-acquisition, Perla and Kamlani will continue in their current roles as co-CEOs, and all 650 employees in New York, Mumbai and New Delhi offices will join Thomson Reuters, the company said in a statement.
Pangea3 is true to our mission to help the legal system perform better, every day, worldwide; we will now bring to the legal marketplace a responsive, high-quality, transformative resource for a broad range of legal support work. This is particularly important as law firms and general counsel adjust to the realities of the 'new normal,' where efficiency, quality and responsiveness are paramount, Thomson Reuters CEO Peter Warwick said.
Warwick said LPO adds a vital strategic complement to the Thomson Reuters portfolio of specialized information and workflow solutions, and will be key to helping law firms and corporate legal departments be more responsive and cost-effective.
The LPO marketplace is one of the fastest growing sub-sectors in the Knowledge Process Outsourcing (KPO) domain, growing at more than 20 percent annually and is projected to exceed $1 billion this year.
Currently, there are over 5,200 professionals in the LPO industry in India and the Philippines and this is expected to reach 18,000 professionals by December 2015, according to an Evalueserve report in April 2010.
Thomson Reuters employs 55,000 people and operates in over 100 countries. As many as 8,400 employees are in India.
© Copyright IBTimes 2023. All rights reserved.