Tom Hanks Rages At Fans Who Nearly Knocked Over Wife Rita Wilson [Watch]
KEY POINTS
Tom Hanks and Rita Wilson stepped out in New York City Wednesday night
Hanks told fans to "back off" after they nearly knocked over his wife
The pair proceeded to their car as some fans attempted to apologize for the incident
Tom Hanks lost his temper at an overzealous crowd of fans after his wife Rita Wilson was nearly knocked over during a recent outing.
In a video that has gone viral on social media, the 65-year-old Hollywood star yelled at the fans who mobbed him and his wife in New York City Wednesday after they bumped into Wilson and made her trip, Page Six reported.
After losing her footing and wobbling away, Wilson, also 65, shouted, "Stop it!"
Hanks then turned around to face the group and yelled, "My wife? Back the f–k off! Knocking over my wife?!"
The couple then proceeded to their waiting car. One fan could be heard apologizing, saying, "Sorry about that, Tom."
The Oscar winner is currently in New York promoting his upcoming movie "Elvis," which is directed by Baz Luhrmann and stars Austin Butler in the lead role. Earlier this month, Hanks attended a screening in Brisbane, Australia, alongside Butler.
Wilson and Hanks have been married for over three decades. The pair met in 1981 on the set of the sitcom "Bosom Buddies." At the time, he was still married to his first wife and college sweetheart Samantha Lewes, with whom he had two children, actor Colin Hanks, 44, and Elizabeth Hanks, 40.
Hanks and Wilson went public with their romance in 1986 and got married two years later after his divorce from Lewes. The couple celebrated their 34th wedding anniversary on April 30.
They share two sons, actor and rapper Chet Hanks, 31, and Truman Hanks, 26.
In an interview with Kelly Clarkson in 2020, Wilson recounted the first time they met, sharing that they "got along instantly." The "Runaway Bride" star also revealed her first impression of her husband.
"First of all, I love a good storyteller," Wilson said, People reported. "So anybody who could tell a good story, I'm down with that. ... I love that. He makes me laugh all the time. He's a great storyteller."
Hanks also felt the immediate chemistry between them. "Rita and I just looked at each other and — kaboing — that was that," he told GQ. "I asked Rita if it was the real thing for her, and it just couldn't be denied."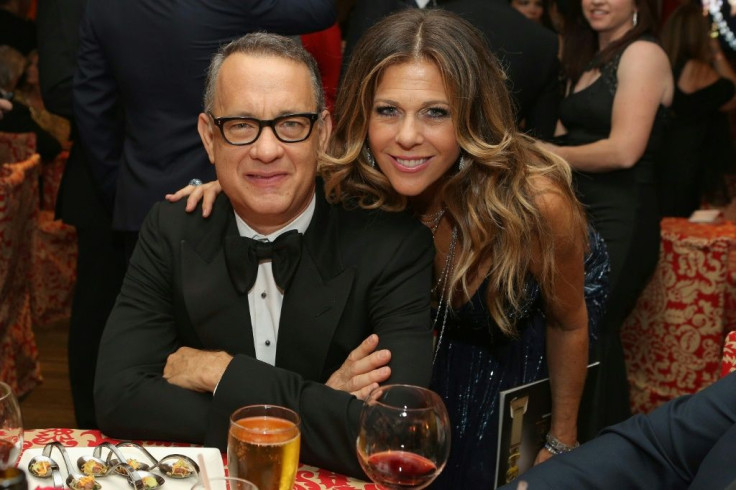 © Copyright IBTimes 2023. All rights reserved.