Top 10 Growing Designer Brands for 2022: Demobaza, Maximilian And More
KEY POINTS
The fashion industry was briefly stunted by the pandemic, but has returned to the runway.
DEMOBAZA and other designer brands are revitalizing the industry in 2022.
Brands are displaying innovative textiles and tailoring by reworking vintage garments and sustainable fabrics.
The fashion industry, like many other industries, experienced a setback in the form of the pandemic. Runway shows were halted, and sales took a knock. However, industry experts are expecting the fashion industry to return to its former glory in 2022. According to McKinsey & Company's ' The State of Fashion 2022' report, "the global fashion industry has faced exceptionally challenging conditions. But after nearly two years of disruption, the industry is beginning to find its feet again."
This hopeful message appears as new and innovative designer labels and fashion brands are emerging. Many brands were able to rise above the pandemic to perform at an exceptional level. Trends and design movements were born, and the global e-commerce market grew at a rapid rate. This has meant that new designer brands were able to grow, and the market expects them to continue to grow beyond the pandemic.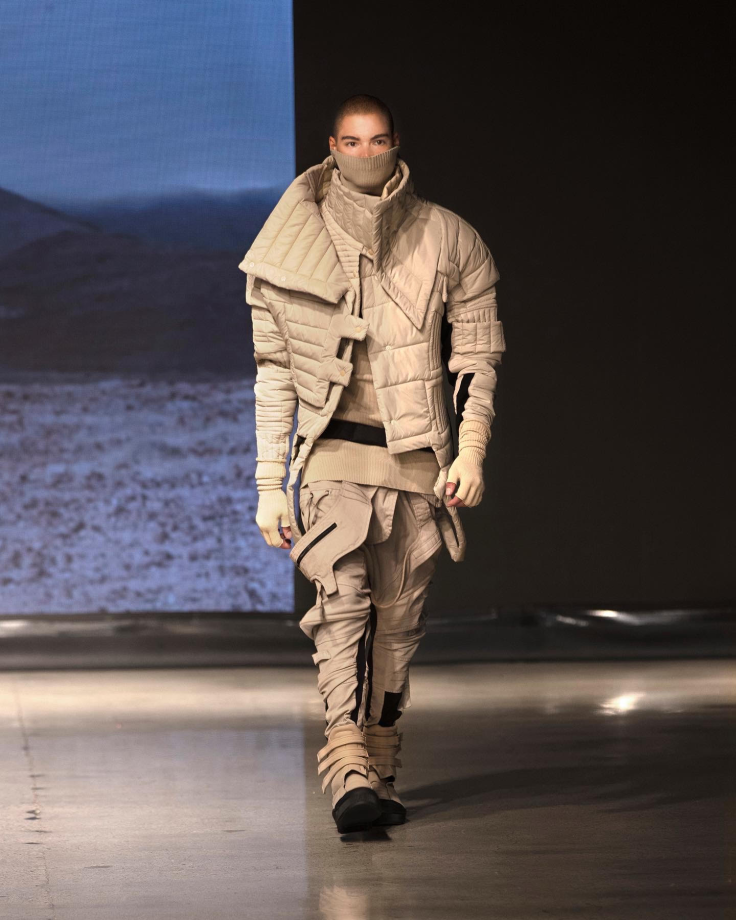 Top 10 Growing Designer Brands
1. Demobaza
DEMOBAZA was founded in 2007 by designers Demo and Tono. The brand initially designed and created deconstructed denim, however, has now evolved into a full-scale designer brand.
DEMOBAZA identifies as a 'casual couture brand' that explores reconstruction, minimalism, and futurism. The brand further uses its designs to explore a 'deconstructive uniform.' The brand has already been worn by influential celebrities like Grimes, KSI, and Janet Jackson.
The brand has recently participated and showed at AW22 in Los Angeles. This particular collection was given the title, 'Metatron.' Unlike many of their other collections, Metatron explored a neutral color palette that was accentuated and enlightened by bold hues of red. The collection exhibited many of the characteristics that the brand is known for, like detailed tailoring, androgynous forms, and reconstructed garments. However, DEMOBAZA surprised their audience with amplified, oversized coats, and avant-garde silhouettes. The brand has continued to gain traction in recent years, however, their recent collections and notable collaboration with Dune mark the beginning of unprecedented growth.
2. Ahluwalia
Ahluwalia is a recent label that makes use of the designer's individual heritages. This allows for the label to draw dynamic influence from India and Nigeria. The label is remarkably sustainable, and maximizes vintage and discarded fashion. The brand reworks these pieces by deconstructing their textiles, and often creating patchwork materials. As a result of their design practices, many Ahluwalia pieces are unique and one of a kind. The brand is known in the industry for combining a female eye with menswear. In addition to this, the label is gaining traction as a result of their intricate beadwork, embroidery and textiles.
3. Maximilian
Maximilian Davis has recently launched his own brand, Maximilian, which harnesses his Trinidadian heritage and culture. The brand has already been worn by the likes of Rihanna and Naomi Campbell. The brand combines structured tailoring, with layered pieces. Maximilian captures the essence of femininity, and pays homage to an afro-caribbean, feminine experience. The color palettes and use of textile are bold and eclectic. The brand has also been praised for its diverse utilization of models. 2022 is expected to be a big year for the brand as the youthful designer gains traction.
4. Theophilio
Designer Edvin Thompson has emerged as a vibrant voice in fashion with his label Theophilio. The brand makes use of the designer's Jamaican-American heritage to infuse cultural motifs and colors into its designs. The label was launched in 2016, and serves to celebrate diversity and identity. The label utilizes sustainable materials and textiles, and often upcycles fabrics to create unique pieces. The brand has wowed audiences with two-piece mesh sets, imaginative denim, and interesting colorways.
5. Saul Nash
Saul Nash, a 29 year old designer, has launched his namesake label to celebrate movement and dance. The brand identifies as a merger between sportswear, streetwear, and luxury menswear. The label pays homage to sportswear through the use of sporty materials and zippers, however, adopts loose forms that enhance movement. Nash is notably a member of Highsnobiety's 'The Next 20' list, as well as a LVMH Prize semi-finalist. The designer has honored his background in choreography and dance by exhibiting his garments through movement.
6. Germanier
Kevin Germanier launched Germanier in 2018, and the label has been picked up by multiple celebrities. The designer makes use of ornate beading and interesting textiles. The label has gained international interest due to its use of corsets and micro miniskirts, which have become highly sought after pieces in the global fashion market. Like many other new designers, Germanier seeks to be as sustainable as possible, and often uses deadstock beading. The designer's work fits perfectly into the broader trend of maximalism in 2022.
7. Ester Manas
The label, Ester Manas, was founded by designers Balthazar Delepierre and Ester Manas. The label stands out within the fashion industry due to their inclusive approach to sizing. The brand has no outlined sizing, and makes use of 'smart sizing' instead. This approach is akin to 'one size fits all,' but allows for consumers to not become fixated on the labeling of sizes. The designers create colorful, bold and maximalist pieces. Consumers can expect to see unique cutouts, as well as innovative ruching and silhouettes.
8. Mr. Saturday
Mr. Saturday was founded, and is designed by, Joey Gollish. The label stands out as a result of its fusion of streetwear, with tailoring and androgyny. The label reinvents streetwear classics with a discernable twist. Consumers can expect to see oversized jackets, eccentric accents, and quality textiles. The brand also makes use of interesting lettering, and plays with typography and imagery. The brand is known for their jackets and coats, however, makes a variety of other notable garments.
9. Mashu
In recent years, handbags have become a statement piece for any outfit. Designers have been creating innovative new shapes, and have also focused on expanding their outlook on quirky, eccentric designs. Mashu is a vegan leather handbag label that crafts sustainable and contemporary handbags. The other elements of their handbags, beyond the vegan leather, are usually crafted using recycled materials. Their handbags are often sculptural, and are inspired by the art deco period. Consumers can expect to see a variety of shapes and structures on their website. The brand pays homage to iconic handbag styles, but reinvents them with a unique flair.
10. Kenneth Ize
LVMH Prize finalist, Kenneth Ize, launched his brand in 2013. The designer focuses on reinventing and reimagining West African couture through textile and texture. The high fashion brand creates tailored and colorful garments, and has recently launched a womenswear line. Ize is based in Lagos, and designs all his pieces with West Africa in mind. The brand is also committed to representing diversity within their shows.
Suggested Video:
Final Thoughts
Despite the disruptions of the pandemic, the fashion industry has been able to thrive across multiple avenues. This was evident in the digital prevalence of the fashion industry between 2020 and 2021. As a result, the fashion industry has been able to stay afloat, regardless of physical limitations. New design houses and fashion brands have emerged in recent years, and many young brands have grown and gained popularity.
© Copyright IBTimes 2023. All rights reserved.