Top 25 College Football Rankings: Where Florida State, Alabama, Ohio State And Oregon Finished In Week 14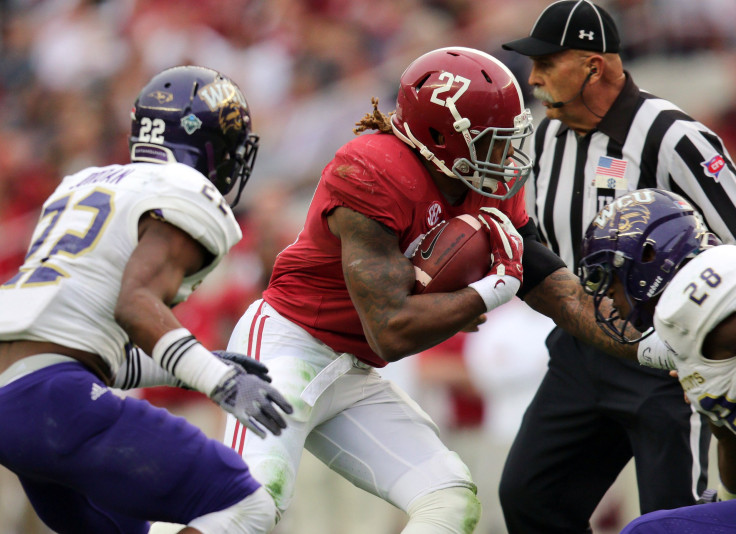 The Florida State Seminoles kept the nation's top ranking in the latest Associated Press poll released Sunday, but the Alabama Crimson Tide are quickly closing in on the defending national champions.
The 11-0 Seminoles garnered 37 first place votes to No. 2 Alabama's 21, but that's four less than FSU earned in last week's poll and five more for the Tide. The Seminoles barely squeezed past unranked Boston College 20-17 on Saturday, while Alabama showed its might with a 48-17 blowout victory over Western Carolina.
No. 3 Oregon earned the remaining two first-place votes, and there was very little movement in the top five. Oregon and No. 4 Mississippi State stayed put, but Baylor surpassed TCU for the No. 5 spot in the country. The Bears crushed Oklahoma State 49-28, which was a much better performance than TCU turned out in its narrow 34-30 win over maligned Kansas last week.
It's likely FSU and Alabama's recent performances will be reflected more in the newest College Football Playoff rankings later in the week. The Tide are currently first in the CFP rankings, with Oregon, FSU and Mississippi State right behind.
A big win next week against in-state rival Florida could bestow more faith in the Seminoles, but the Tide could blow voters away if they can topple SEC rival No. 15 Auburn. If successful, Alabama would own four victories over ranked opponents, all in the SEC, compared to three ranked ACC opponents for FSU.
The Ohio State Buckeyes are one of several one-loss teams hoping to use a late surge to catch the eye of the CFP committee, but they held steady at No. 7. The Buckeyes clinched a berth in the Big Ten title game by smacking Indiana 42-27, but they didn't put the unranked Hoosiers away until the fourth quarter.
Ole Miss, the previous darling of the season, took a precipitous dive in the rankings following its 30-0 loss at Arkansas. The Rebels fell from No. 8 to No. 18 this week, the biggest drop for any team.
The full poll results can be viewed here.
© Copyright IBTimes 2023. All rights reserved.