Trayvon Martin Case: Hoodies, Trademarks And More Fallout After Teen's Shooting Death
Analysis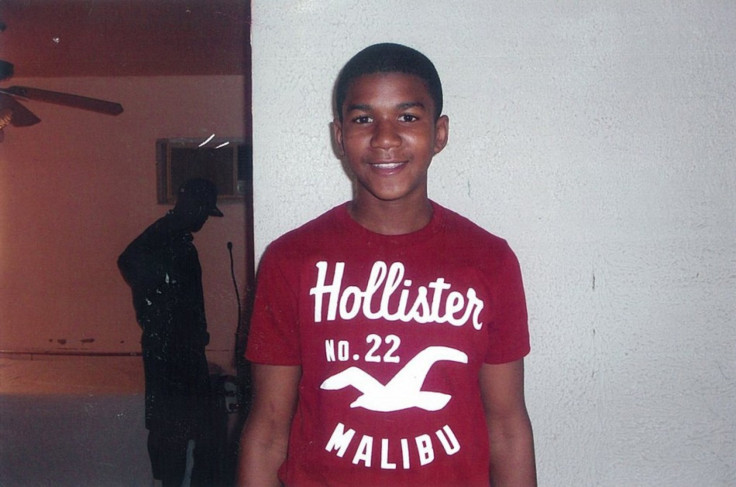 The Trayvon Martin case continues to polarize as fallout builds after the 17-year-old's death. From hoodies to trademarks to forced relocation, it seems as if the Trayvon Martin case is churning in a pressure cooker ready to explode.
Thousands who have rallied behind Trayvon Martin and his family are calling for the arrest of George Zimmerman, a man of Caucasian and Peruvian descent, who shot the 17-year-old African American on Feb. 26 while he was walking home in Sanford, Fla., after purchasing Skittles and an Arizona Iced Tea at a nearby store. Zimmerman, a neighborhood watch captain, has not been charged with any crime. He claims that he shot the unarmed Martin, with a Kel-Tec 9mm handgun, in self-defense.
On Tuesday, the Blaze reported that the Obama camp announced via Twitter on Monday that the Obama 2012 hoodies would officially go on sale. A lot has been made about the hoodie lately. Not only has Geraldo partially blamed it for the death of Trayvon Martin, but it's also become a symbol of unity for standing with the slain teen and his family, wrote Jonathon M. Seidl. So when the Obama camp announced via Twitter yesterday that it was putting its 2012 hoodies on sale, it got some thinking: Is the President trying to capitalize off the death of Martin?
Others have been accused of attempting to capitalize on the death of Trayvon Martin, including his own mother, Sybrina Fulton. The mother of Trayvon Martin is seeking to trademark to phrases associated with the movement behind her son's death. The Smoking Gun reported that Fulton filed two applications to secure trademarks containing her son's name, including: I Am Trayvon and Justice for Trayvon. The filings were made on March 21 with the United States Patent and Trademark Office. They were filed by an Orlando, Fla., law firm representing Fulton, according to the Smoking Gun. She is reportedly seeking the trademarks for use on Digital materials, namely, CDs and DVDs featuring Trayvon Martin, and other products.
The Huffington Post reported on Wednesday that trademarks can be sought for non-economic purposes.
If you trademark the name, that's going to prevent others from doing it and potentially capitalizing on it in a negative way or a different way than you want, Baranowski said. In a case like this, there's gonna be others who would want to. So does she want to let somebody else do something with her son's name or does she want it for herself? Victor Baranowski, a patent attorney with the law firm Schmeiser, Olsen and Watts, told the Huffington Post.
Though the reason behind Sybrina Fulton's trademark filings is unknown, many speculate that there is an economic motive behind it. One commentator on the Smoking Gun's website wrote: Crowd of hundreds: 'Justice for Trayvon Martin!' Mom: 'Thank you, all! Now that will be $9.95 from each of you for using his name.'
The Trayvon Martin case becomes further muddled as more information is revealed about the night of the crime and about Trayvon Martin himself.
Most recently, a police report from the Trayvon Martin case was leaked to the Orlando Sentinel, detailing George Zimmerman's account of the confrontation. With a single punch, the Orlando Sentinel reported Monday, citing police sources. Trayvon Martin decked the Neighborhood Watch volunteer ... climbed on top of [him] and slammed his head into the sidewalk several times, leaving him bloody and battered.
New details have emerged about Trayvon Martin's record as well as his personality via interactions and postings from his Facebook and Twitter accounts.
The 17-year-old had been suspended three times from Dr. Michael M. Krop Senior High School in North Miami-Dade. The first suspension was for tardiness and truancy. The second suspension was reportedly for graffiti painted on school property; though Miami Herald reports that the real reason Martin was suspended in October was that he was caught with a burglary tool -- a flathead screwdriver -- and 12 pieces of jewelry, reported the Miami Herald. Martin insisted that the jewelry belonged to a friend. Finally, the third suspension came after traces of marijuana were found in Martin's book bag, according to The Associated Press.
Photos of Trayvon Martin have also surfaced, portraying an older, physically larger individual than the Trayvon Martin in the images initially circulated by news publications.
Even though Trayvon was only 17, he already was sporting gold teeth, and several large tattoos. This one was on his wrist, apparently of his girlfriend's mother's name, wrote Dan Linehan of Wagist.com. Linehan posted images that Trayvon Martin had posted to his Twitter account, with the handle @NO_LIMIT_N----. The Daily Caller posted 152 pages of tweets from this account. Almost all of this is in stark contrast to the media's central narrative that Trayvon was a normal, happy, well-adjusted teenager. Instead of that, we are seeing long suspensions from school, tattoos, racially charged epitaphs [sic] and violence, wrote Linehan.
Matt Drudge of the Drudge Report posted a photo of Trayvon Martin wearing a tank top and showing a line of gold teeth. Drudge was blasted for the use of this photo by MJ Rosenberg, a senior analyst with the liberal activist group Media Matters.
Racist demagogue Drudge continues to run photo of some kid, not Trayvon, for incitement purposes, MJ Rosenberg initially tweeted at 10:56 a.m. EST. This was followed by, Matt Drudge has done more to debase American news coverage than anyone in history of country. At 1:03 p.m., Rosenberg admitted to accusing Drudge under false pretenses and had Mixed up Drudge photo of Trayvon w Michelle Malkin's. Malkin's is an admitted fake. Drudge? Don't know. Sorry. That tweet was immediately followed by, Malkin apologized for fake #Trayvon photo. I apologize for mixing up her photo with one Drudge used. Michelle Malkin, a conservative commentator, posted a fake photo on her site twitchy.com and apologized for the mistake.
Social media has been at the helm of the Trayvon Martin case, with supporters circulating their messages via the social networking channel.
However, social media has also proved to harm some innocent individuals, such as an elderly couple whose address was wrongly tweeted out as belonging to George Zimmerman, reported FOX News. The elderly Florida couple, aged 70 and 72, were forced to relocate and move into a hotel after their address was tweeted out. The message, originally tweeted by Marcus Higgins of California and retweeted by Spike Lee, included the address and the message, Like the fat punk he is, he still lives at home with mommie & daddy.
The mistake occurred because the elderly woman's son, William George Zimmerman, briefly lived at the address in 1995. The elderly couple received hate mail and was hassled by the media ever since the tweeted went out.
This is really scary, and I'm concerned for my family, William Zimmerman told FOX News. It's scary because there are people who aren't mentally right and will take this information and run with it.
To endanger people who are innocent because people are angry is not the answer. That's not how we're going to heal. It's not [going] to help the Martin family for someone else to be hurt.
© Copyright IBTimes 2023. All rights reserved.