Tribeca Film Festival 2012: 'Free Samples' Director, Jay Gammill On His Debut And Why Indie Films Are The Most Fun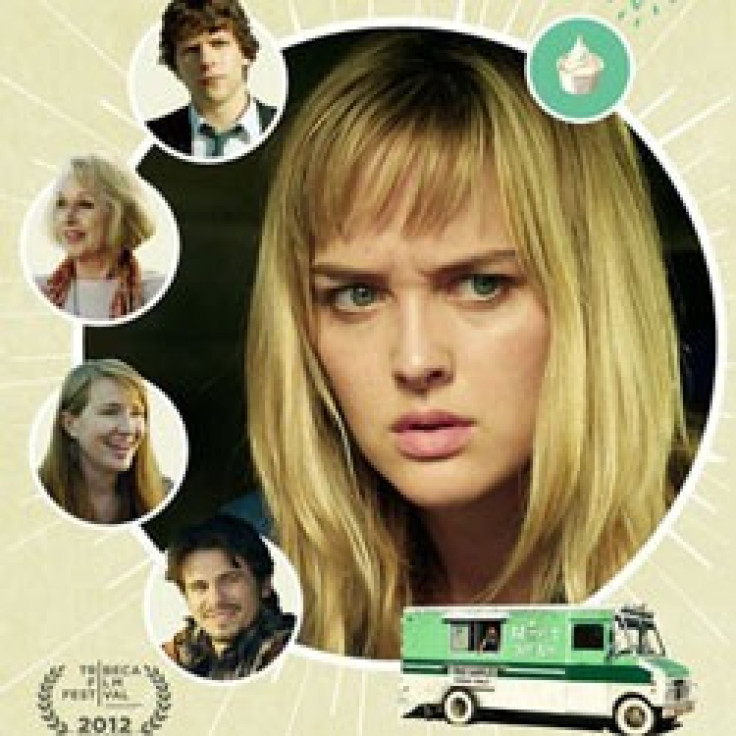 This year's Tribeca Film Festival line-up features the work of 33 first time directors. The festival is known for elevating the careers of emerging filmmakers by provided them with a platform in one of the most film friendly cities in the world; New York. After the premiere of Free Samples, Jay Gammill has proven to be one of the most promising new talents at the festival. His refreshingly off-beat comedy Free Samples is unlike most cinematic undertakings.
Not only is the film boldly crafted, it also features a talented young cast that includes Jess Weixler, Jesse Eisenberg, Jason Ritter, and Jocelin Donahue. Gammill has been praised for being an actor's director who gave the cast the freedom to portray their role as they saw fit.
The International Business Times had the chance to sit down with Gammill and Donahue to talk about Tribeca, pitching the ice cream truck movie, and how the film industry is changing.
How did Free Samples develop and how did you end up directing the film?
Gammill: Jim Beggarly (the writer of Free Samples) had seen a short film I had done. At the time I was still trying to get my first feature film off the ground. He pitched me the idea of the story and we just stuck with it.
How do you think the film has been received by New York audiences?
Gammill: I think it fits New York very well. I was really happy with the screening and it seemed like people like it.
Do you think that films like this and other indies are forced under the radar in lieu of more commercial projects?
Gammill: When it comes to independent films, I've found that I gravitate towards the stories and characters so well. I think they do fly under the radar sometimes and it's so hard to see a film that's at a festival for a brief period of time and then isn't out for another year. It's tough but indie film is where stories with heart and emotion are.
Donahue: That's what's great about festivals is that it's a platform for indie films. Audiences can have better access to them.
How did you manage to get producers excited about a film where a girl is stuck in an ice cream truck?
Gammill: We really just pitched it on the basic premise that she runs an ice cream truck in L.A for a day. We focused on the fact that she was a law school dropout, who had to deal with costumers accosting her all day.
In Free Samples, Jesse Eisenberg is the confident heartthrob when he's known for being the awkward dork. Was it a challenge to show him in a different light?

Gammill: That's all him. I loved the idea of casting him in this role and I think that it gave him a great opportunity and he nailed it. I've had so many people tell me that the role shows his range.
He manages to charm the girl who can't deal with the company of most people.
Gammill: It's about confidence.
Will you be able to check out any of the other films at Tribeca?
Gammill: Absolutely, I'm looking forward to seeing Jack and Diane, Supporting Characters, and Lola Versus.
I'm looking forward to seeing While We Were Here with Kate Bosworth. I wish I was able to see more but I'll be working on my next project.
You seem busy with other projects. What's next for you?
Donahue: I'm waiting for a film to come out, which I actually sing in, Live at the Foxes Den and End of Love, which was at Sundance and will be hitting theaters.
You've achieved quite a bit with your debut feature could you offer some advice for those that aspire to follow in your footsteps?
Gammill: You have to work enough and make enough of your own projects to know where your talents are. Then it's just about trusting yourself and having the confidence to not let negativity get to you. I find that that's what I have to isolate myself from because it can destroy a person.
There's hard work and persistence as well as having the faith that you can make things happen.
Donahue: There's something to that old Hollywood cliché that it's all who you know. If you're working with people and are professional and friendly, they'll want to work with you again. It's all about relationships and finding people that you work well with.
What about those directors, writers, and producers who have amazing and interesting ideas but are told that their projects aren't commercial enough?
Donahue: There is an audience for everything, so they should just do the projects on their own. It's easier with the internet to put your work on their.
Do you think more aspiring film professionals will start to develop and produce their own work?
Gammill: It's hard to say. You obviously want to take care of the people that you work with but you have so much more freedom.
What where some of the challenges that you faced during pre-production and while filming?
Gammill: Filming everything in one location was hard. We needed to find a place that had enough areas around it so that the scenes outside of the truck would work. During the editing process, we found that we had to be very careful with our pacing. We ended up losing a few scenes because we wanted to move the story along.
Few films come along that feature such a dynamic female lead. Was that something you set out to do, to feature a more realistic woman?
Gammill: That's interesting. I wonder what Jim Beggarly would say? It was never an issue for me or a question in my mind. I actually thought that's why the film was more interesting because you don't see that as much. Hopefully it'll open doors.
What did you learn on Free Samples that will carry over to your next project?
Donahue: Every time you're on set, you learn something. It's been such a wonderful experience working with Jay. He's a great director because he's laid back but can be specific when he wants to be. He lets the actors do what they want and I'm just so grateful for the experience.
I definitely don't want to film in an ice cream truck again. I learned a lot about working with actors who have different levels and adapting to what works for them. If you give them the space to do what works for them, that's how you get the best performance.
© Copyright IBTimes 2023. All rights reserved.