'True Blood' Season 6 Spoilers: Will Nora Die? Watch Preview Video For Episode 7, 'In The Evening'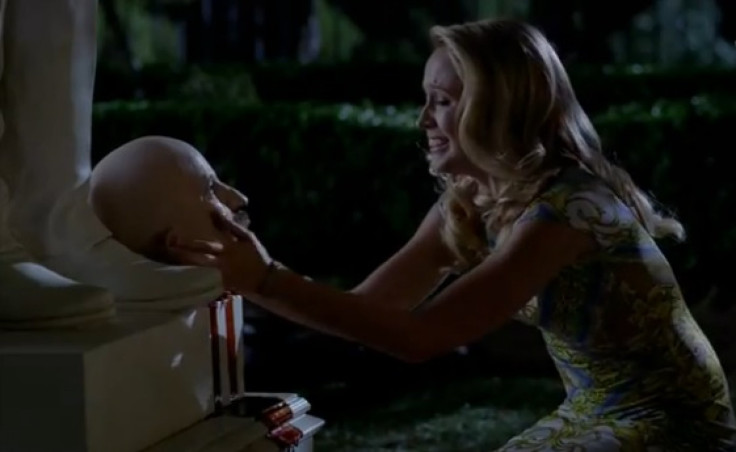 Episode seven of "True Blood" means that only three episodes remain in the action-packed sixth season. The drama will continue in "In The Evening" -- previously titled "The Funeral" -- when a new character is introduced and mass chaos breaks out at Governor Burrell's camp. "One Life To Live" actress Valarie Pettiford will be seen on-screen in "In The Evening" in a mysterious role for a two-episode arc, but unfortunately her character isn't featured in the promo video. However, the preview for episode seven does showcase some pretty jaw-dropping moments:
Jason's Mission
"True Blood" viewers have watched a couple characters go on a rescue mission into the camp, but none of them have yet to succeed, until now, maybe. "What are you doing here?" a frightened Jessica asks an armed Jason. "I came to help you," he tells her, giving her a hug. "I'm going to get you out of here." Will he get her out? Fans have to consider Bill's frightening true death premonition, and THIS horrific photo.
Sam's Return
Despite handing Emma over in episode six, Alcide threatened that his pack would kill Sam and Nicole if they ever set foot in Shreveport or Bon Temp again. Unfortunately, circumstances (maybe Terry's death?) are forcing Sam to return to town.
"Why is it safe for you?" Nicole asks after Sam tells her she can't go because she won't be safe there. "It's not," he tells her.
Sarah's Gruesome Discovery
An impatient Bill(ith) ripped off Truman Burrell's head in episode six after he refused to tell him where the white circular room from his premonition was. Well, it appears that the Governor's lover, Sarah Newlin, stumbled across his head – and it leads her to make an interesting decision. "No one can know Truman is gone," Sarah tells another man. By ignoring the Governor's death, they continue to move on with his plan, which is to exterminate the vampire race by poisoning their new TruBlood supply with a deadly strain of Hep B.
Eric's New Plan
Initially, Eric infiltrated the camp in an effort to free Pam; however, things became a little tricky in the last episode when Nora was injected with the deadly virus. While the plan was originally to find Pam, Tara and Jessica before leaving with Nora and Willa, it appears that Eric left Willa at the camp to seek a cure for Nora from Bill.
"I don't know what you are, but if you are God please heal her for me," a desperate Eric asks Bill at his home, but Bill might not be able to help. "I can't do it Eric," Bill tells him in another clip.
What do you think will happen in episode seven of "True Blood?" Watch the promo for "In The Evening" and let us know your thoughts in the comments section.
© Copyright IBTimes 2023. All rights reserved.