'True Blood' Season 7 Finale Spoilers: How Did The Series End? Episode 10 Recap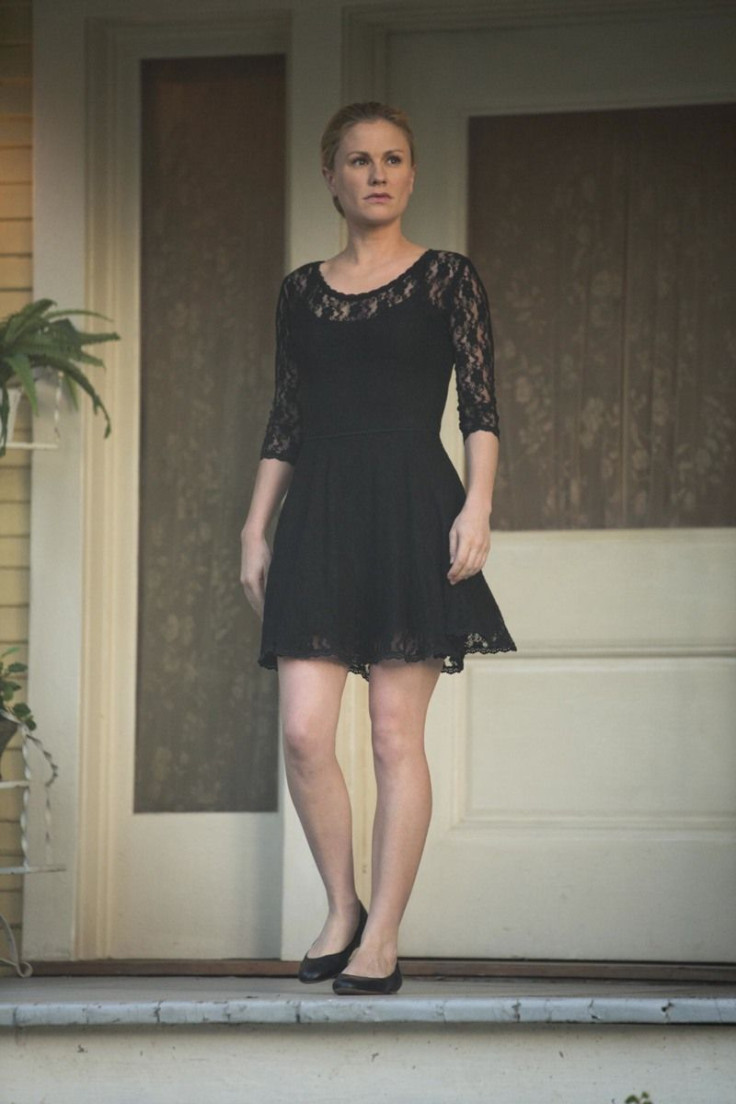 The "True Blood" series finale aired on Sunday, Aug. 24, wrapping up the storylines of Sookie, Eric, Bill and the rest of the Bon Temps gang. Find out what happened to your favorite supernatural crew in Season 7 episode 10, "Thank You":
Bill's Explanation
Sookie's physical slaps across Bill's face in episode 9 made her opinion on his "suicidal" decision pretty clear. But Eric didn't want to end on bad terms with his on-and-off again girlfriend. He arrived at her home to explain that she "deserves the world" … without him in it.
For Bill, his death is the only way that he can see Sookie happy. She swore off him and other vampires time and time again, yet she always gets wrapped up in the bloody drama. By Bill choosing to die, he believed he was giving her the chance to live in the sun, grow old, and start a family.
Bill continued that his decision made him feel more human than ever before, and try as he might, he can't swear off her because he loves her too much. So Bill decided to propose something to Sookie – use her final ball of light to end his life and sever her ties with vampires forever.
Needless to say, the decision to give up her faerie powers and assist in murdering her ex-boyfriend was something that Sookie had to think about. But Bill's heart was in the right place. He knew that as soon as he was gone, other vampire suitors would be "lined up to the gates of hell" in order to call Sookie their own. Bill simply wanted to give Sookie a normal life.
"Show me the true death and you will be setting us both free," he promised her.
Eric And Pam Cut Ties With Mr. Gus
While Sookie thought about Bill's request, Eric and Pam were dealing with Mr. Gus and the Yakuza. After handing over Sookie's information, Mr. Gus had locked Eric and Pam up in the basement with Sarah Newlin … unaware of the secret tunnel that existed. Never one to play by the rules, Eric decided to show Mr. Gus who the real boss was in their situation. The former Shreveport sheriff hatched a plan with Pam that involved setting Sarah Newlin free, glamouring her … killing Mr. Gus.
After Sarah escaped (with Pam's blood in her system), Eric and Pam yelled to Mr. Gus that his walking moneybag was gone. Mr. Gus tried to chase after Sarah in the tunnel, which is just what Eric and Pam had hoped for. Killing Mr. Gus's Yakuza bodyguards, the maker and progeny proceeded to light a fire to burn Mr. Gus alive.
With Mr. Gus out of the way, Eric flew to Sookie's house to kill the rest of the Yakuza before they could take out the hit on the blonde faerie. The job was done in a matter of seconds, and Sookie had no idea of the threat that had lurked right outside her window.
Sarah Newlin's Proposition
As Eric drove off with the bodies of the Yakuza, Pam caught up with Sarah Newlin. Sarah was still glamoured by Eric, but proposed an interesting idea to Pam – since she's a "horrible person" she would make a "kick a__ vampire." Pam didn't bite, so Sarah made one last attempt and said that she wanted to become a lesbian and do things to Pam. Unfortunately for Sarah, Pam was not impressed. With a poor history between them, Pam promised Sarah that the only thing she's good for is blood.
An Impromptu Wedding
To Bill's surprise, Jessica showed up at the old Compton mansion with Hoyt in tow. The pair revealed that they were back together and that Hoyt was planning on staying in town. Bill was happy about the news, and being the awkward "dad" that he is, asked Hoyt if he had plans on marrying Jessica. The question embarrassed Jessica, but Hoyt responded that he absolutely had plans on making an honest woman out of Jessica.
Hoyt's answer surprised Jessica, but after talking with Bill, she decided that there was no better time than right there and then to tie the knot. Hoyt agreed to the impromptu wedding and asked Jason to be his best man. Sookie brought over some white dresses for Jessica, and the two recently connected lovebirds got married in front of Sookie, Jason, Bill, Andy, Arlene and Holly.
Jessica was simply happy to have Bill walk her down the aisle, but Bill did her one better. Without Jessica knowing, he revealed to Andy that since he is the eldest remaining Bellefleur heir, Bill's home would pass over to him. Andy refused – mainly due to the fact that his three faerie daughters died at Jessica's hands inside the house – but Bill simply asked him to do a favor for him. Bill's request was for Andy to rent the home to Jessica and Hoyt for one dollar a month.
A Human Twist
The "True Blood" series finale was full of emotions – and a lot of it was coming from Bill. In a surprising twist, Sookie began hearing Bill's thoughts during the wedding ceremony. "I love you Sookie Stackhouse. I love you with everything I'm made of," he thought while sitting next to her. "I want this for you, for you to have this so badly. Set yourself free."
Hearing Bill's thoughts and talking to Reverend Daniels helped Sookie make up her mind about helping Bill die. She made arrangements at the cemetery and agreed to meet Bill there at sundown.
After one last kiss, Bill climbed into the coffin that was buried for him when he first "died" during the Civil War. Inside he found a photograph of him and his daughter – the same photo that he gave her before leaving for war. Bill was ready to go, but Sookie wasn't there yet.
"Bill, I'll never forget you," she told him as she prepared to say goodbye.
"I wish I could say the same but I don't know what happens next," he responded.
Sookie gathered her ball of light, but realized that she couldn't go through with it. Explaining that the light is part of who she is and always would be, Sookie instead offered to help kill him another way.
With a broken piece of wood in her hand, Sookie straddled Bill in his coffin and said her final words: "I love you, Bill Compton."
"I love you too," Bill replied.
Gripping her hands, Bill helped plunge the stake into his heart. He exploded, leaving Sookie in a coffin full of blood and guts. The scene ended with Sookie walking out of the cemetery – however the "True Blood" series finale didn't end there.
A Year Later …
About a year after Sookie said goodbye to Bill, Eric was working on his latest project – New Blood. With Pam at his side, the President and CEO of New Blood was filming an infomercial to promote the Hep-V cure. The deadly duo explained the story behind their tasty new beverage, but it wasn't the same tale that "True Blood" viewers saw play out in Season 7. Leaving out Mr. Gus, the Yakuza and capturing Sarah Newlin, Eric simply explained that they hunted her but only managed to get a couple drops of her blood off broken glass. The story they're telling is that they rushed those drops of blood to scientists, who used it to successfully create New Blood, the cure for Hep-V.
Three years after that, Eric and Pam were at the stock exchange, basking in the success of New Blood.
Sookie's Happy Ending
The "True Blood" series finale concluded with fans getting a glimpse at everyone's happy ending. Set on Thanksgiving Day, viewers discovered that Jason had married Brigette and had three kids with her. Sam and Nicole drove from Chicago with their growing family -- their now toddler daughter and a newborn. Arlene was still with Keith, Andy and Holly was enjoying married bliss, Adilyn and Wade were together, James and Lafeyette looked happy, and Willa was happy to be surrounded with loved ones.
Not in attendance were Eric and Pam. Just like the old days, Eric was sitting on his throne at Fangtasia while Pam did the dirty work. Only this time, the dirty work involved selling fresh bites of Sarah Newlin to high paying customers. How high? One hundred thousand dollars a minute – cash only no credit.
And Sarah didn't get a break when the feeding frenzy ended. Left alone in the Fangtasia basement, Sarah was taunted by hallucinations of her dead ex-husband, Steve Newlin.
As for what happened to Sookie? She may have gotten married! While another wedding didn't take place, Sookie appeared to be very pregnant. The final moments of the series finale showed her walking around the Thanksgiving table to her baby daddy (and potential husband), whose face wasn't fully revealed to the camera. Just like Bill wanted, Sookie found her happy and normal ending with a human man.
Did you like the "True Blood" finale? Take the poll.
© Copyright IBTimes 2023. All rights reserved.
FOLLOW MORE IBT NEWS ON THE BELOW CHANNELS