'True Blood' Season 7 Spoilers: 5 Clues From The Promo Video For The Final Season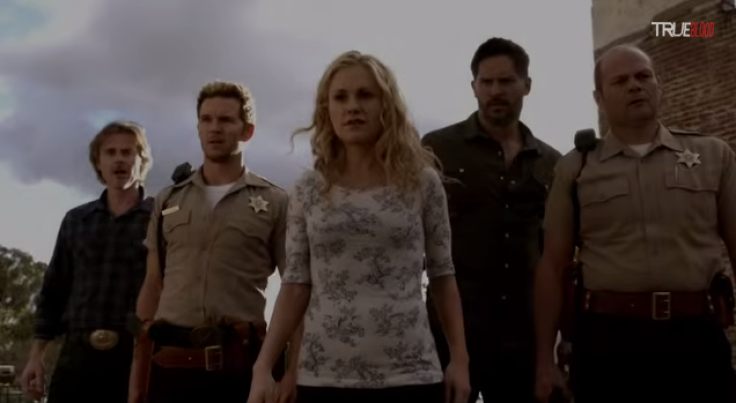 Need your "True Blood" fix? Season 7 of the hit HBO show is set to premiere on June 22, and to keep fangers from going too crazy the network has released the first promo video for the final season. Needless to say, it looks epic.
This isn't the first video that HBO has leaked for the final season of "True Blood," but it is the first to give fans some clues about what to expect. Check out our breakdown of what we learned about the seventh season:
1. The Attack
Season 6 of "True Blood" left off with a human-vampire party taking place at Bellefleur's (formerly Merlotte's) while a group of Hep-V infected vampires made their way into Bon Temps. And judging by the promo video, it appears they made it to the party.
The trailer shows Sookie having some sort of faerie vision as fighting takes place behind her. But since Sookie's in a supernatural state, the fighting might not actually be happening where she is – her powers could be showing her a gruesome attack happening elsewhere.
Fans will have to wait to see what actually happens, but a voiceover by Anna Paquin's character reveals that the town definitely was attacked – at a church.
"There was an attack at the church tonight," Sookie says over the trailer. "They're saying it was the sick vampires, that they came out of the dark. And now they're ambushing."
2. Trouble Worldwide
"How can this be happening?" Sookie continues in the promo video. "In this country, in this day and age … that our government would leave us for dead?"
A sweep through Bon Temps shows "True Blood" fans that Sam Merlotte picked a bad time to become mayor. Storefronts and buildings appear to be boarded up. "FEMA HELP US" is spray-painted on the street, while "SOS" can be seen written across a rooftop. Another clip shows Andy standing in front of a church, where a line from the Hail Mary is scrawled across the front: "Pray for us sinners now and at the hour of our death – Amen."
3. Bon Temps Gone Wild
"True Blood" viewers have seen Bon Temps in trouble before (*cough* the Maenad in Season 2 *cough*) – but never like this. Sookie voices over that the "good folks in town are turning on each other and acting like animals" … but it seems like for good reason.
The promo video shows that the body count in Bon Temps is high, meaning that pact with the humans that Sam was trying to negotiate ultimately failed. The Bon Temps residents can be seen stocking up on guns and ammunition … but turning the guns on each other, not just on the vampires.
4. The Bill and Sookie Saga
At the end of Season 6, Sookie and Alcide were revealed to be dating and made it clear that they wanted nothing to do with the "safety for blood" campaign that Sam was trying to set up. Bill tried to dissuade Sookie, but the half-faerie insisted to her ex-boyfriend that Alcide was more than capable of protecting her.
However, it appears Bill won't be leaving Sookie alone in Season 7. A clip shows Bill fighting someone off as Sookie looks on in shock. (Fingers crossed that Alcide wasn't the person that Bill was fighting.)
5. A Ghost Town
The final moment of the video features Sookie lined up with Sam, Jason, Alcide and Andy. "There is no one left," Sookie says with surprise in her voice. But what are the five Bon Temps residents looking at? Did the entire town abandon their homes? Or worse – is the entire town dead?
All will be revealed when the seventh and final season of "True Blood" premieres on HBO on June 22 at 9 p.m. EDT.
What clues did you find in the new "True Blood" promo video? Let us know in the comments section or send a tweet to @AmandaTVScoop.
FOR FREE to continue reading
✔️ Unlock the full content of International Business Times UK for free
offer available for a limited time only
✔️ Easily manage your Newsletters subscriptions and save your favourite articles
✔️ No payment method required
Already have an account?
Log in
© Copyright IBTimes 2023. All rights reserved.