Trump Administration Officially Threatens Bolton To Prevent Book Release
KEY POINTS
Insiders have said the White House has formally threatened Bolton to not release his book
In recent days, Trump has refused Bolton's claims as "untrue"
In his book, Bolton wrote that he had first-hand knowledge of a quid pro quo with Ukraine
Ahead of the release of "The Room Where It Happened," the new book from former national security adviser John Bolton, the White House has gone so far as to formally warn against going through with its release. The book is set to go on sale this Mar. 17.
According to a report from CNN, insider sources said that the Trump administration has delivered a threat to Bolton in a private letter. The contents of the letter are not publicly known.
The book could prove particularly damaging to President Donald Trump. A leaked portion of the manuscript appears to accuse Trump of having directly linked withhold military aid set aside for Ukraine in exchange for an investigation into former Vice President Joe Biden's son. It also suggests Bolton has first-hand knowledge of this.
Since the leak, Senate Democrats have renewed their push to subpoena witnesses for testimony during the impeachment trial. Bolton, in particular, is among their top choice for summons. Several Senate Republicans, Sens. Mitt Romney, R-Utah, and Susan Collins, R-Maine, have also said that they and others may be interested in hearing from Bolton, especially in light of the explosive new details out of Bolton's book. Sen. Lindsey Graham, R-S.C., has expressed interest in having the book manuscript subpoenaed as well.
Trump has taken to Twitter this week to refute the claims made in the book and to disparage Bolton. In one tweet, Trump wrote that he "NEVER told" Bolton the Ukraine aid was linked to investigating the Bidens and that Bolton "never complained" about this.
Trump also launched a personal attack on Bolton, calling his book "nasty" and "untrue," after writing that "if I listened to him, we would be in World War Six by now."
Trump's personal lawyer, Rudy Giuliani, appeared on "CBS This Morning" on Wednesday where he called Bolton a "backstabber" who couldn't be allowed to testify during the Senate impeachment trial.
For a book such as Bolton's, White House officials must first vet the manuscript to prevent the publishing of sensitive details for the public. Bolton's lawyer, however, has accused the White House of sharing portions with outsiders and mishandling the process.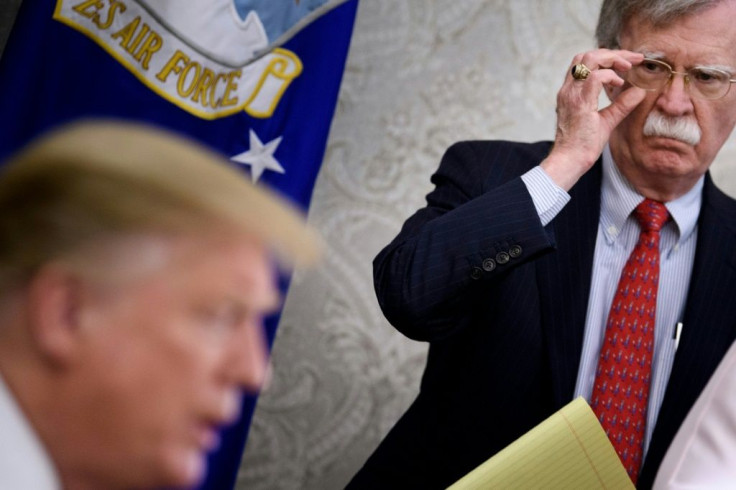 © Copyright IBTimes 2023. All rights reserved.