Trump Cabinet News: Is President-Elect Backing Off Promise To 'Drain The Swamp'? US Senator Slams Early Choices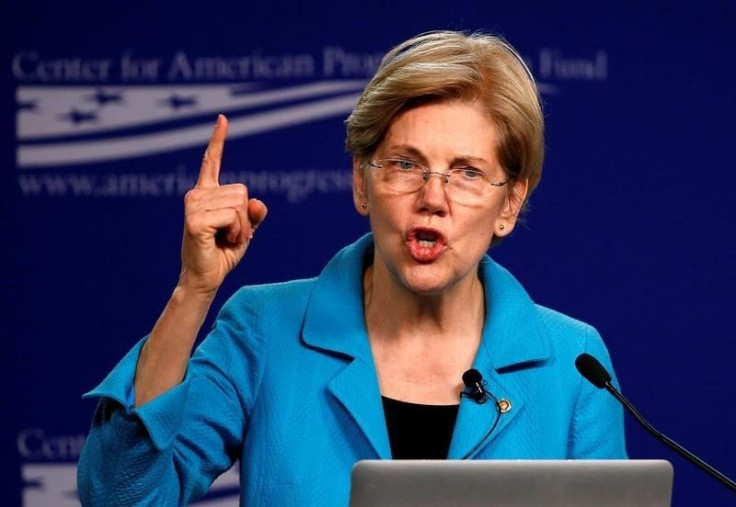 Sen. Elizabeth Warren attacked president-elect Donald Trump on Tuesday, accusing the billionaire real estate mogul of breaking his campaign promise to "drain the swamp."
Trump pledged to rid the federal government of the cozy relationship between lawmakers and lobbyists and end business as usual, prompting chants from his supporters of "drain the swamp" as a shorthand for cleaning up politics.
Since then, however, Trump has relied on lobbyists, his billionaire pals and Republican insiders for his transition team, and many of the names surfacing for key Cabinet posts have vested interests in industries regulated by the departments for which they are being considered.
Warren, who was a sharp critic of Trump on the campaign trail, posted Twitter comments accusing Trump of breaking his promises by stacking his transition team "with Wall Street elites, insiders and lobbyists" and warned Americans are watching.
The Massachusetts Democrat said she sent a letter to Trump, raising her concerns about the people the president-elect is leaning on.
"Based on public reports, your transition team and your potential cabinet include over twenty Wall Street elites, industry insiders, and lobbyists making decisions that could have huge implications for their clients or employers," Warren wrote.
She warned the transition team will set the tone for the next four years and "reflect the strength of your character and your ability to truly lead." She called on Trump to eliminate those representing special interests from his team.
She also pledged to fight Trump "every step of the way, for the next four years" if she deems his moves detrimental to not-so-rich Americans.
Warren said Trump's transition team and potential Cabinet picks include "a former Goldman Sachs executive who is rumored to be a treasury secretary pick; a paid consultant for Verizon who is making key decisions on your administration's Federal Communication Commission; a 'top lobbyist' whose firm lobbied on behalf of issues related to the Trans-Pacific Partnership who is shaping your Labor Department; and a climate-change-denying, oil industry-paid think tank fellow who is leading your environmental team's transition."
Trump's transition team includes not only Vice President-elect Mike Pence and Trump's three oldest children, but hedge-fund heiress Rebekah Mercer, former Goldman Sachs partner Steven Mnuchin, SkyBridge Capital founder Anthony Scaramucci and venture capitalist Peter Thiel.
Former New York Mayor Rudy Giuliani, who also is on the transition team, is rumored to be the front-runner for secretary of state. Giuliani has been advising Saudi Arabia, Qatar and other countries on cybersecurity as part of his private law practice. Mnuchin is rumored to be in line for treasury secretary.
Billionaire investor Wilbur Ross reportedly is being considered for commerce secretary while oil and gas magnate Harold G. Hamm is under consideration for interior secretary or energy secretary.
© Copyright IBTimes 2023. All rights reserved.